The Complete Guide to Studying Nursing in Malaysia
What do you need to become a nurse in Malaysia? Discover entry requirements, qualifications and explore top universities to study Nursing in this guide.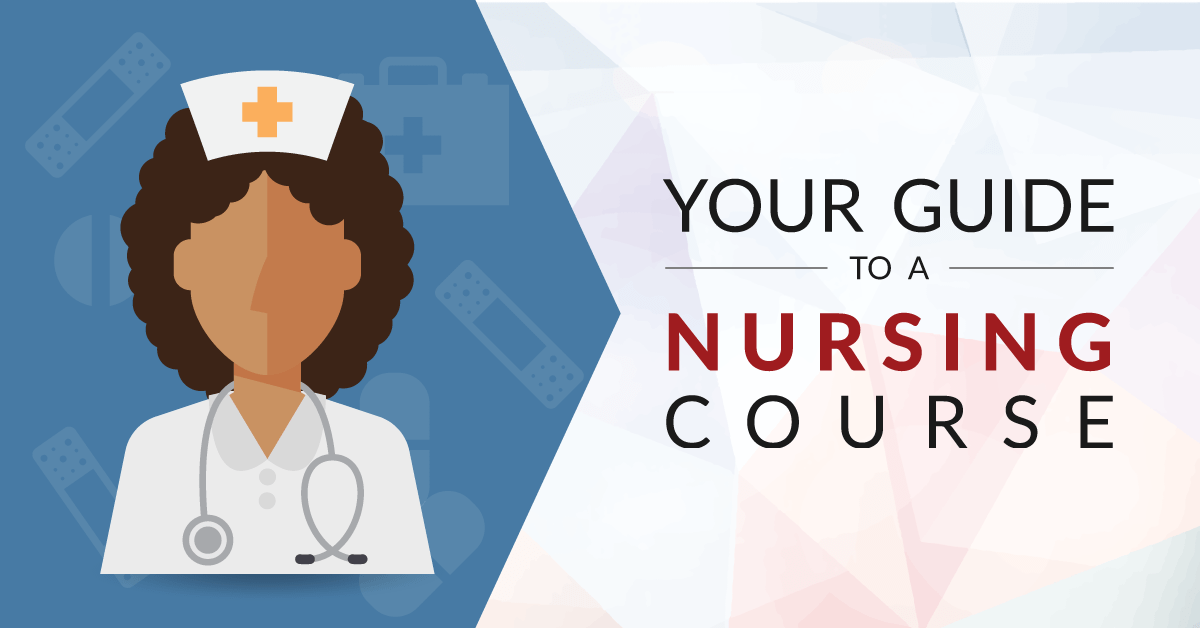 Do you have the impression that nurses are merely doctors' assistants, performing menial tasks like changing diapers and urinary drain bags, or feeding patients their medication?
The truth is that nurses do more than play second fiddle to the doctor.
Whenever there is a medical emergency, nurses are there to provide first aid. They help newborn babies take their first breaths and accompany the elderly when they take their last. They're also the ones who provide a shoulder to cry on and counsel grieving family members when things get tough.
Simply put, medical care would not be possible without the hard work and dedication of nurses all over the world.
If you want to explore a career as a nurse, this guide will shed some light on studying nursing in Malaysia and help you determine if nursing is the right course for you.
#1. The Basics of Nursing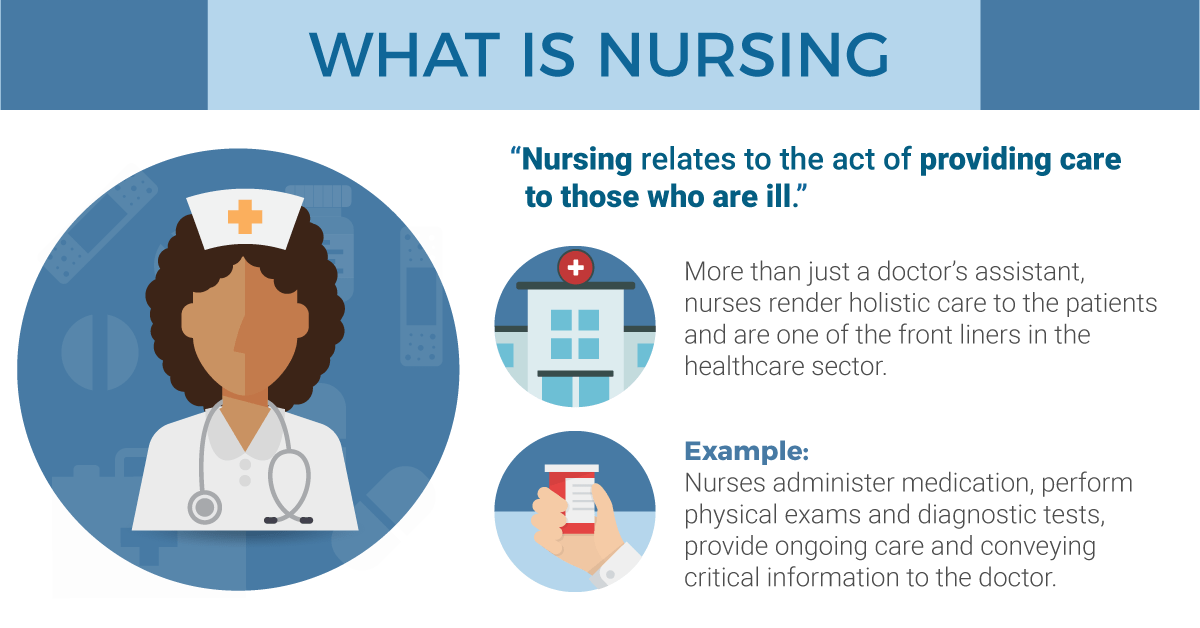 a) What is Nursing
Nursing relates to the act of providing care to those who are ill, both physically and mentally.
As one of the front liners in the healthcare sector, nurses are responsible for a multitude of tasks, such as administering medication, wound care and treatment, performing physical exams and diagnostic tests, monitoring vital signs and nurturing the recovery of patients.
While there is no denying the importance of doctors, it is nurses who render holistic care to the sick, checking allergies and drug interactions, providing ongoing care and conveying critical information to the doctor.
In fact, nurses are so crucial to the healthcare ecosystem that studies have shown that hospital death rates are higher when there are fewer nurses staffed in hospital wards.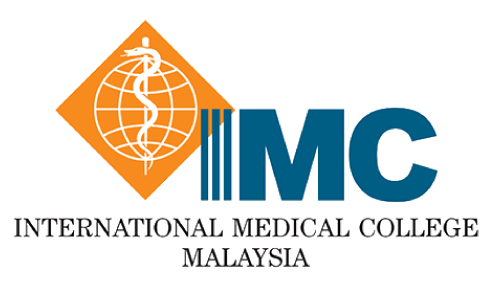 International Medical College (IMC)
✓Full sponsorship, including accommodation and monthly allowances of up to RM1,000
b) What Are the Various Fields of Nursing?
With the expansion and diversification of the healthcare industry, nurses are now needed across multiple fields. There are currently over 20 fields of nursing specialisations. Some of the more common fields are:
| Field | What Is It All About |
| --- | --- |
| Paediatrics | Provide care for newborns, children and young teens |
| Obstetrics | Provide care for mothers before, during and after delivery |
| Geriatrics | Provide care for the elderly |
| Accident & Emergency | Treat patients in emergency situations during trauma or injury |
| Ophthalmology | Provide care for patients with eye disorders |
| Oncology | Provide care for cancer patients |
As part of your Degree or Diploma in Nursing, you will cover the basics for most of these fields. You can also choose to specialise in one of these areas during your Postgraduate Studies (Masters and PhD).
#2. Studying a Nursing Course
a) Entry Requirements & Qualifications
In order to take up a course in nursing, you will be required to meet the entry requirements set by colleges / universities.
(i) Diploma in Nursing
Here are the general entry requirements for a Diploma in Nursing:
SPM / O-Level: Minimum 5 credits, including Bahasa Melayu, Mathematics and a Science subject. You will need to pass your English too.
A Diploma in Nursing is normally 3 years long.
Upon completion of your Diploma in Nursing, you can register with the Nursing Board Malaysia as a Staff Nurse and start your career as a nurse.
If you intend to progress to a Nursing Degree, you will need to obtain at least 3 years of working experience and obtain your Annual Practicing Certificate (APC) first.
Important Note:
In order to register with the
Nursing Board Malaysia
, you will first need to sit for examinations.

(ii) Degree in Nursing (Pre-Registration)
A basic Degree in Nursing (Pre-Registration) is open for students who have completed SPM (or equivalent) AND a Pre-University or a Foundation course.
In general, the minimum entry requirements that you need to have in your Pre-University or Foundation to enrol in a Degree in Nursing (Pre-Registration) are:
On top of that, you'll need to have at least a minimum of 5 credits including Mathematics, a Science subject and 3 other subjects in SPM. You will also be required to obtain at least a Band 3 in MUET or Band 5.5 in IELTS.
A Degree in Nursing (Pre-Registration) is typically 4 years long.
(iii) Degree in Nursing (Post-Registration)
A Nursing Degree (Post-Registration) is catered to students who have completed a Diploma in Nursing. The general requirements for this Nursing Degree course are:
Diploma in Nursing or equivalent
Registered with the Nursing Board Malaysia
Obtained the latest Annual Practicing Certificate (APC)
Have at least 3 years of relevant working experience
A Degree in Nursing (Post-Registration) is usually 2 – 2.5 years long.
Important Note: Bear in mind that the entry requirements may be higher for some universities, so make sure you conduct the required research first!
In addition to the academic requirements above, you will also need to have a medical check-up to be certified as medically fit before enrolling into a nursing programme. Typically, you will not be able to enrol into a nursing course if you have any of the following medical conditions:
Epilepsy
Hepatitis B & C
Tuberculosis
HIV & AIDS
Mental Health Disorders
Physical or impaired senses (e.g. colour blindness) that can hinder dexterity
Other chronic diseases
b) How Does Your Education Pathway Look Like?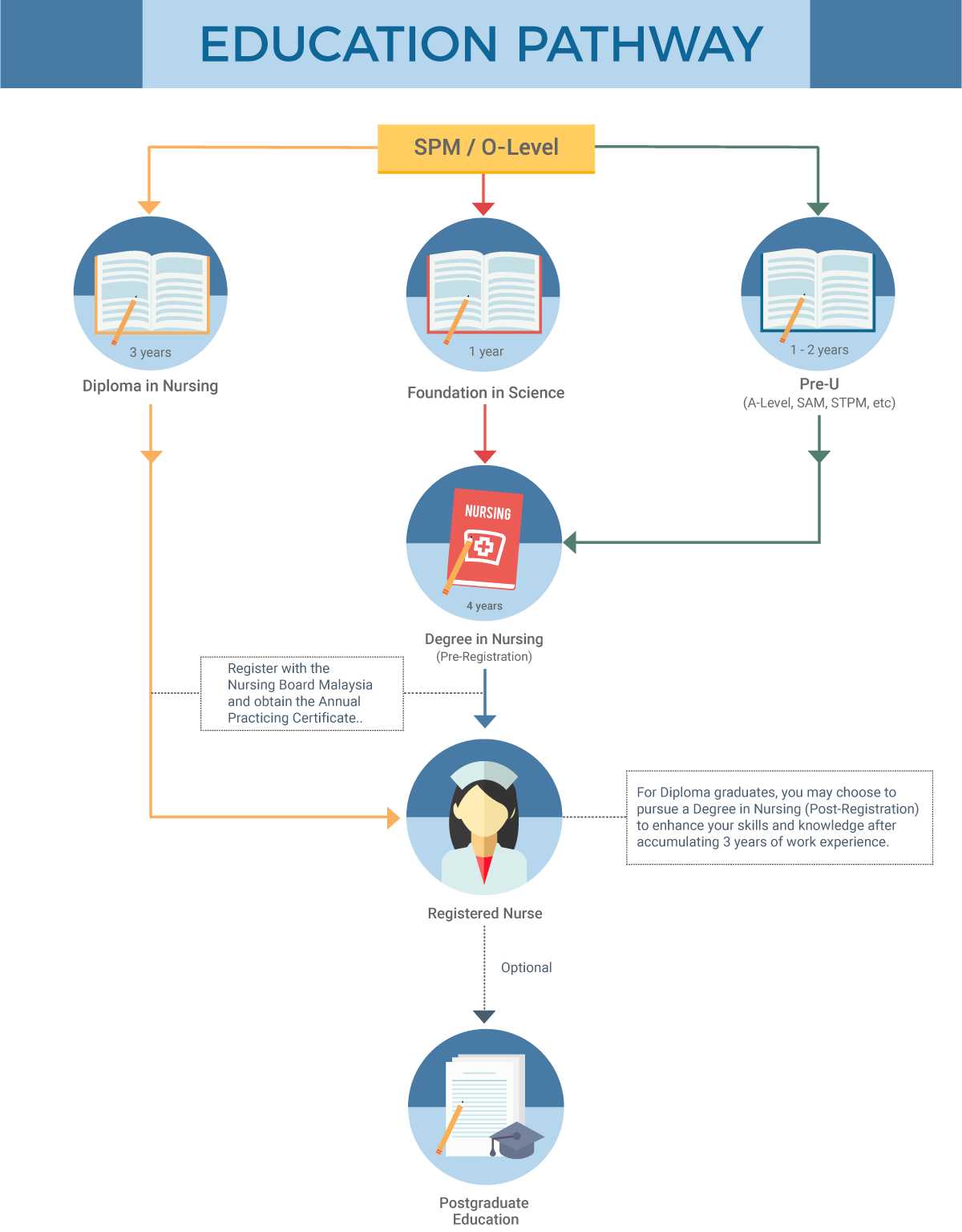 Upon the completion of your SPM or equivalent qualification, you can opt for a Pre-University (STPM, A-Level, etc) or a Foundation in Science course. Alternatively, you can also take up a Diploma in Nursing.
Completing a Pre-University, Foundation in Science or a Diploma course will enable you to proceed to a Degree in Nursing (either Pre-Registration or Post-Registration). You will need to register with the Nursing Board Malaysia before being able to practise as a registered nurse.
If you are planning to specialise in a specific brand of nursing care (e.g. Oncology, Gerontology, Paediatric, Critical Care, Midwifery, etc.), you can choose to pursue a Postgraduate Degree.
c) What Will You Study in Nursing?

Generally, a nursing course covers 3 main core sciences – namely health sciences, behavioural sciences and nursing sciences.
Here are some of the subjects that you may study in a Nursing Degree.
Anatomy and Physiology
Microbiology & Parasitology
Pharmacology
Epidemiology
Nutrition
Environmental Health
Psychology & Sociology
Integrated Nursing Sciences
Nursing Skills & Practice
Over the course of your nursing programme, there will also be multiple clinical postings (i.e. placements in health institutions, community health and rehabilitation centres) throughout your Degree in Nursing for you to gain practical hands-on experiences and necessary skills.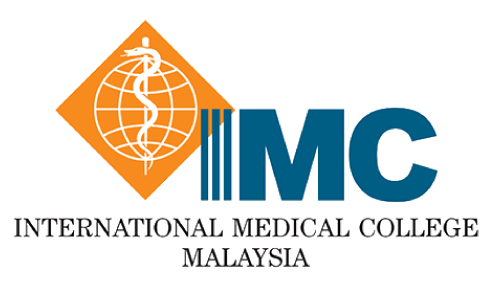 International Medical College (IMC)
✓Full sponsorship, including accommodation and monthly allowances of up to RM1,000
#3. Why Should You Study Nursing?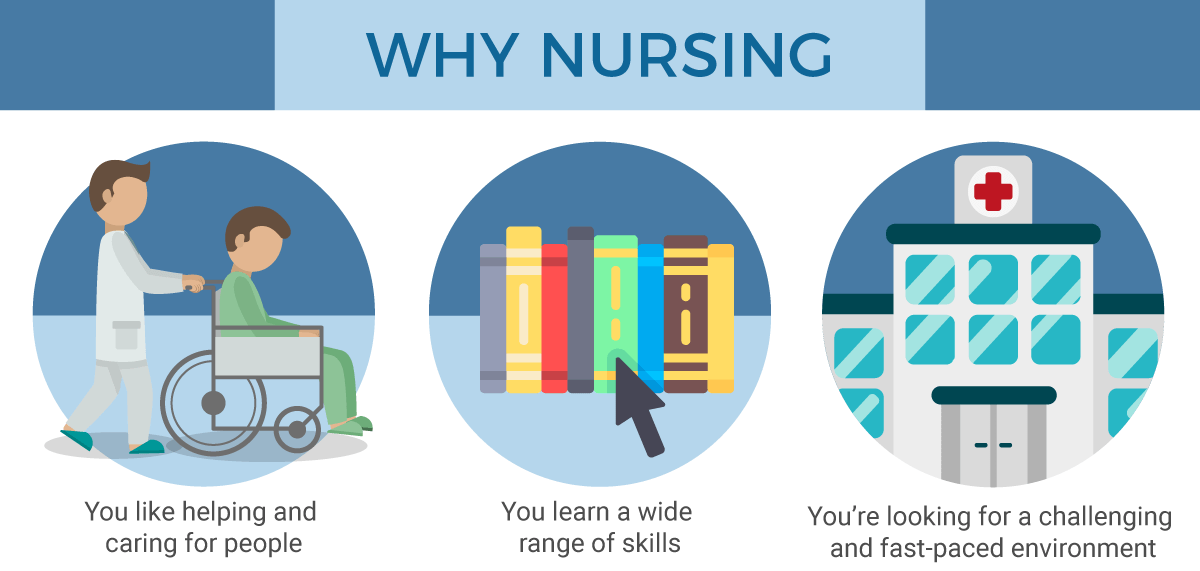 Always wanted to pursue your studies in Health Science but still undecided if nursing is the one you should go for? Here are some of the reasons why you should consider taking up nursing.
(a) You like helping and caring for people
Nurses are at the front line of the healthcare profession, providing constant care to patients. Whether it's taking blood samples, administering medication, tending to wounds or just making things a little better, nurses are instrumental in improving someone's quality of life.
As a noble and altruistic profession, the fact that you can impact someone's well-being directly and witness with your own eyes the smiles and gratitude of happy patients can make nursing a highly rewarding and satisfying career.
(b) You learn a wide range of skills
Nursing is way more than giving your best shot with needles and syringes.
Hospitals and clinics are constantly buzzing with activity and you will face different kinds of situations and conditions on a daily, possibly even on an hourly basis.
This means that as a nurse, you will not only learn the hard skills and knowledge required to be a nurse (e.g. performing diagnostic tests, operating medical equipment, etc.), but also the soft skills needed to provide quality patient care, such as communication skills, critical thinking skills and organisational skills.
(c) You're looking for a challenging and fast-paced environment
As a nurse, you could be monitoring multiple patients at once, performing treatments and administering medication while helping patients feel more comfortable, preparing patient reports while reviewing doctors' notes and instructions – all at the same time.
If daily routines are a bore to you and you can't imagine spending the whole day cooped up at a desk, then nursing can definitely keep you on your toes!

#4. What Skills Do You Need for a Nursing Course?

To do well in both the theoretical and practical aspect of a nursing course, here are some of the main qualities and skills that you need to develop.
(a) Compassion for the sick
During your clinical postings and also as part of your job, you will come across many patients who are ill. And if you've ever been sick before, you'll know that it isn't a pleasant experience. Illnesses can trigger a concoction of negative emotions, from anxiety and distress to frustration and anger.
As a nurse, you will need to have genuine compassion for your patients and help them feel at ease by showing sensitivity, respect and empathy. Sometimes, a listening ear and an empathetic nurse are all patients have to look forward to.
(b) Effective communication skills
As part of your nursing course, you will need to undergo clinical training where you will be attached to private / public hospitals or placed in community health centres to gain practical experience. This is where your communication skills will be put to the test.
You will need to ensure that information and instructions are communicated clearly, especially to your fellow nurses, doctors, patients and their family members. A slight inaccurate description of symptoms can result in an erroneous diagnosis that can come with grave consequences.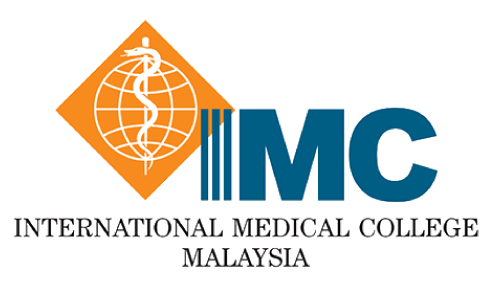 International Medical College (IMC)
✓Full sponsorship, including accommodation and monthly allowances of up to RM1,000
(c) Ability to think critically
Nurses are often required to make crucial decisions on a daily basis, sometimes under extreme pressure. As someone who is often more well-versed with a patient's pain and condition than the doctor, medical practitioners depend on nurses to look for and observe signs and symptoms, scrutinise and analyse facts as well as determine the best solution.
As such, solid critical thinking skills and the ability to solve problems is an important element if you choose to pursue a career in nursing.
(d) Emotional stability
Nursing can be a highly stressful job, where traumatic situations, suffering and death all make regular appearances. It is crucial that you are able to weather the ups and downs without letting it affect you personally while maintaining compassion and empathy for your patients.
This, however, is not to say that it's all doom and gloom. There are many heartwarming moments in nursing, from seeing patients make a full recovery to helping newborns take their first breath.
A great nurse is one who can manage the stress of heartbreaking situations and, at the same time, draw strength from the incredible moments when they happen.
Don't fret if you feel ill-equipped. The diverse topics that you need to tackle during your nursing course will prepare you for the challenging circumstances that you will face during your career.

#5. What Career Options Do You Have with a Nursing Degree?
With a Nursing Degree, you can look for career opportunities at healthcare institutions (think hospitals and clinics), social organisations, research facilities and academic institutions.
Typically, upon completion of a Nursing Degree, you can pursue the following careers:
Staff nurse
Nurse researcher
Nurse risk manager
Nurse informaticists
Healthcare product specialist
As nurses are considered as one of the most in-demand professions in the world, you could also potentially seek employment opportunities abroad.
#6. Where Can You Study Nursing in Malaysia?
Here are some popular colleges / universities where you can pursue a nursing course in Malaysia. Alternatively, compare more universities for nursing here.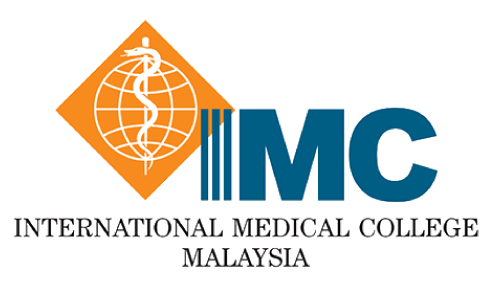 International Medical College (IMC)
Subang Jaya, Selangor
View other institutions