The Complete Guide to Studying Dietetics in Malaysia
Learn what career a dietetics degree lead to. Discover the study pathway, requirements to study dietetics and work in Malaysia with this course guide.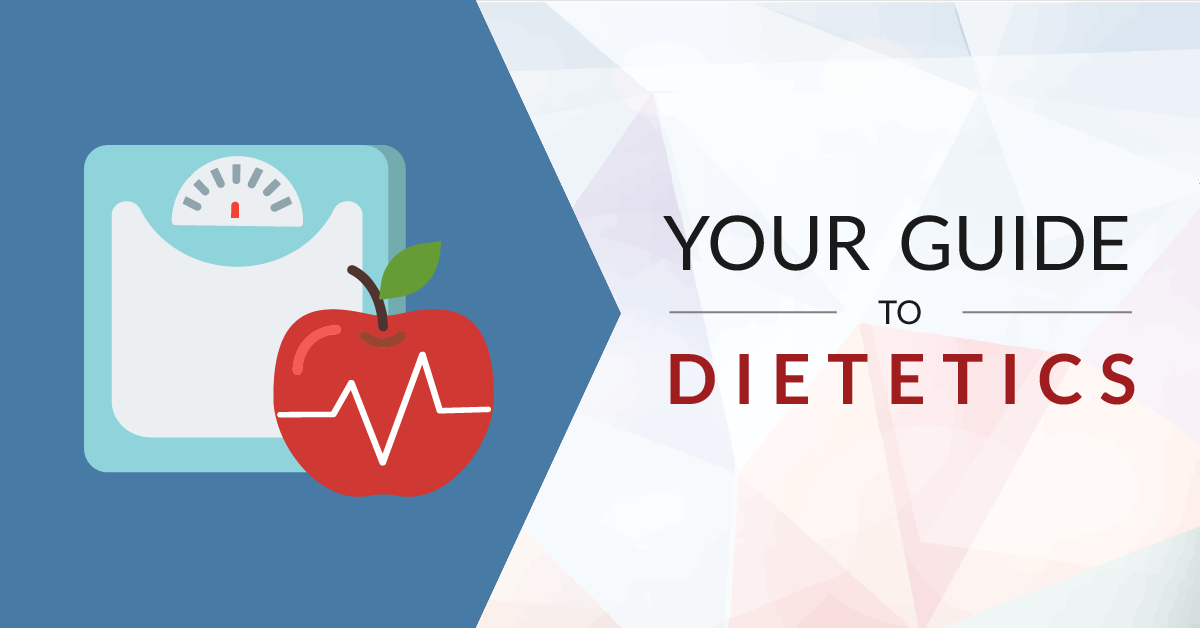 Have you always been curious about how certain foods can help you feel better when you're sick? Do you have a keen interest in promoting healthy living through a nutritious diet? Or maybe you want to work in the healthcare industry to assess and diagnose nutritional problems.
If you're considering putting your interest into good use by pursuing a career in this field, you may be a dietitian in disguise! Learn more about this fascinating field of science in our comprehensive guide on dietetics in Malaysia.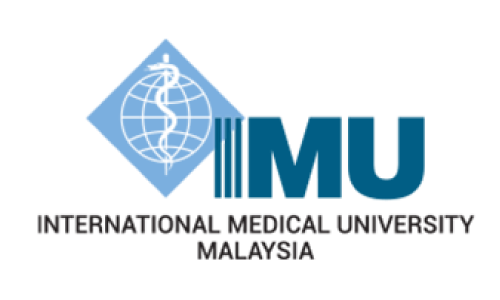 International Medical University (IMU)
Bachelor of Science (Hons) Dietetics with Nutrition
✓Accredited by the International Confederation of Dietetics Association (ICDA)
#1. The Basics of Dietetics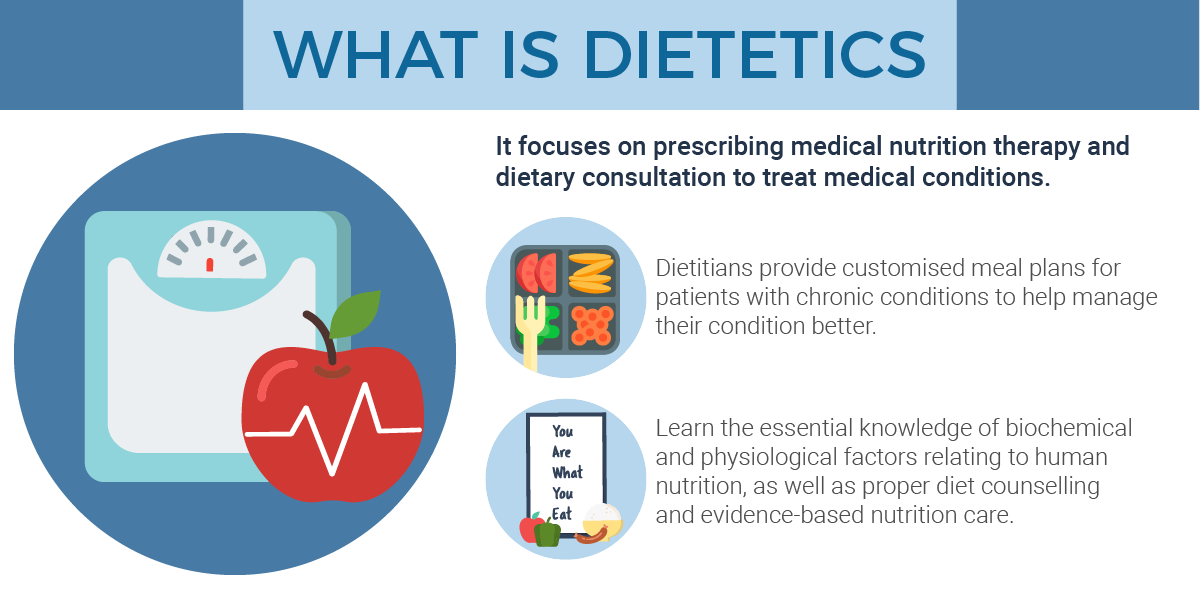 a) What is Dietetics
Dietetics is a field of health science that focuses on prescribing medical nutrition therapy and dietary consultation to treat medical conditions.
Dietitians often provide customised meal plans for patients with chronic conditions (e.g. diabetes, high cholesterol, obesity) at hospitals and medical centres to help manage their condition better. For example, if a patient has diabetes, a dietitian will advise the person on what foods that should and shouldn't be consumed.
Studying dietetics will provide you with the essential knowledge of the biochemical and physiological factors relating to human nutrition. This is important so that you can assess the nutritional needs of your patients and effectively prescribe them the best dietary recommendations. You will also learn how to conduct proper diet counselling and deliver evidence-based nutrition care.
DID YOU KNOW
A dietitian is not the same as a nutritionist. Dietitians can provide advice to those with chronic conditions while a nutritionist is restricted to working with healthy individuals only.

#2. Studying Dietetics
a) Entry Requirements & Qualifications
One of the pathways to a Dietetics Degree is to obtain a pre-university qualification, such as A-Level, STPM or a Foundation in Science, before progressing to your degree.
(i) Degree in Dietetics
To pursue a Degree in Dietetics, you need to complete your SPM (or equivalent) and a pre-university programme.
The requirements needed to pursue a Dietetics Degree are:
A-Level:

Minimum 2Ds in Biology, Chemistry or Physics/Mathematics;

or

STPM:

Minimum CGPA of 2.50 including 2C+s in Biology, Chemistry or Physics/Mathematics;

or

Australian Matriculation:

Minimum of ATAR 70 including 2Bs in Biology, Chemistry or Physics/Mathematics;

or

Foundation in Science:

Minimum CGPA of 2.50 including 2C+s in Biology, Chemistry or Physics/Mathematics;

or

Relevant Diploma:

Minimum CGPA of 2.75
Important Note: Entry requirements for some universities may differ, so it's important that you read the details for each institution carefully.
A Degree in Dietetics is usually 4 years long.
Upon completion of your degree, you will apply your understanding of food and nutrition in a clinical setting, counsel patients in a caring manner and gain the knowledge needed to better educate health professionals and the community on ways to consume a healthier diet.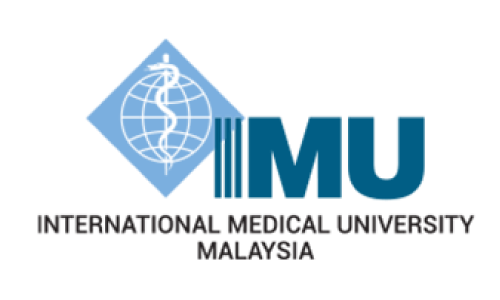 International Medical University (IMU)
✓Direct pathway into IMU's undergraduate programmes and most of IMU's international partner universities
b) How Does Your Education Pathway Look Like?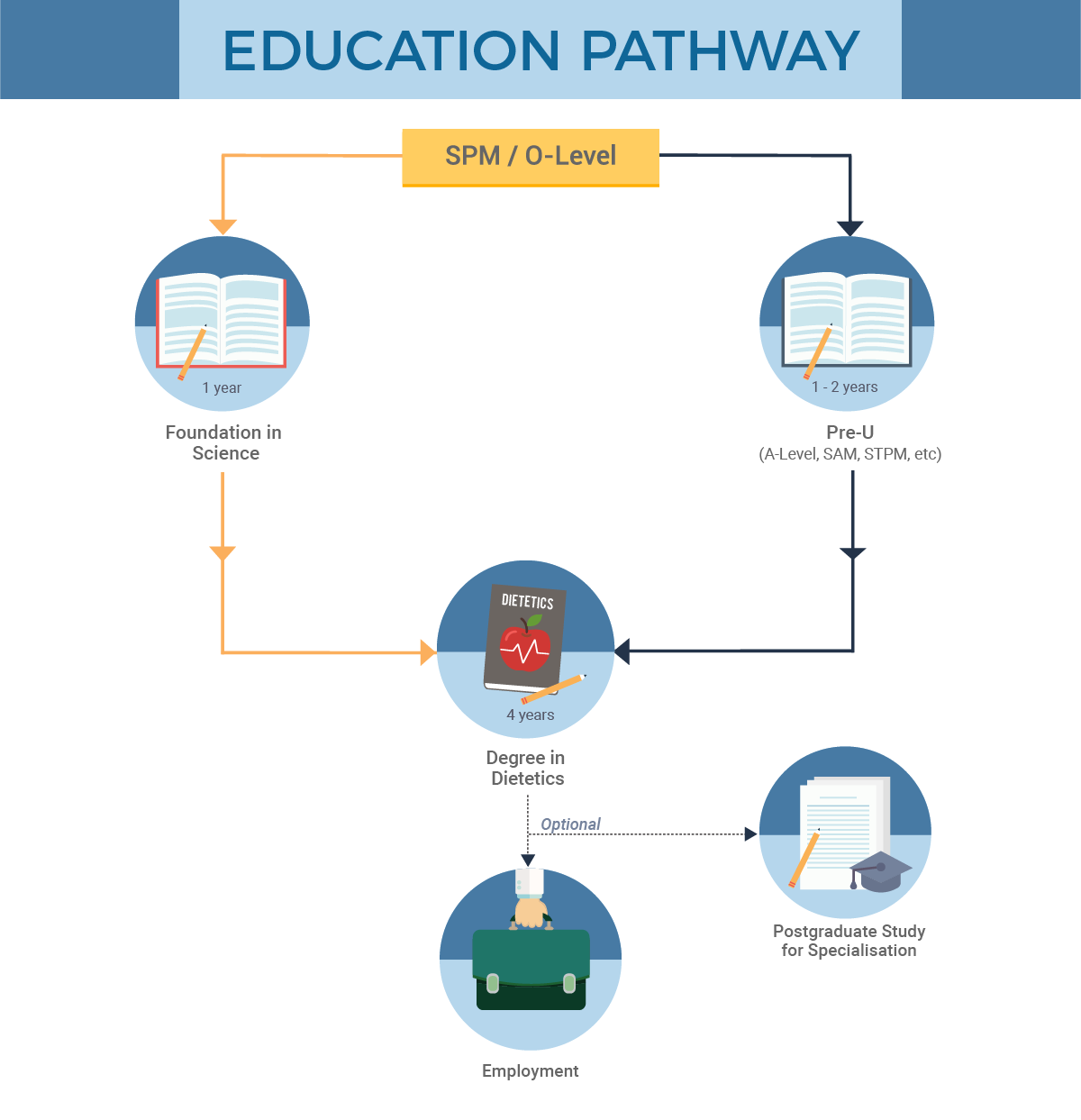 Upon the completion of your SPM or equivalent qualification, you can opt to enrol into a pre-university (STPM, A-Level, etc.) or Foundation in Science programme.
Completing a pre-university or foundation programme will enable you to proceed to a Dietetics Degree. Thereafter, you can also choose to pursue your postgraduate studies or join the workforce.
PRO TIP
If you obtained a degree that is not relevant to dietetics but suddenly realise your passion for the field later on in life, you can still become a dietitian by getting a postgraduate qualification in dietetics and completing a Dietetics Internship Training.
c) What Will You Study in Dietetics?
A Degree in Dietetics will provide you with a range of knowledge and skills related to food, nutrition and the human body. Typically, you will be exposed to the basics of biology and chemistry, as well as hands-on practical experience using cutting-edge technology and laboratory equipment.
Some examples of core modules taught in a Dietetics Degree are:
Anatomy and Physiology

Genetics

Food Science

Food Preparation

Clinical Biochemistry

Microbiology

Behavioural Psychology

Medical Nutrition Therapy

Therapeutic Diet Preparation
As part of your degree, you will also need to undergo 3 types of industrial placements — clinical placement (to provide medical nutrition therapy), community dietetics placement (to develop health promotion programmes) and food service placement (to manage food production and provide quality meals to patients).

#3. Why Should You Study Dietetics?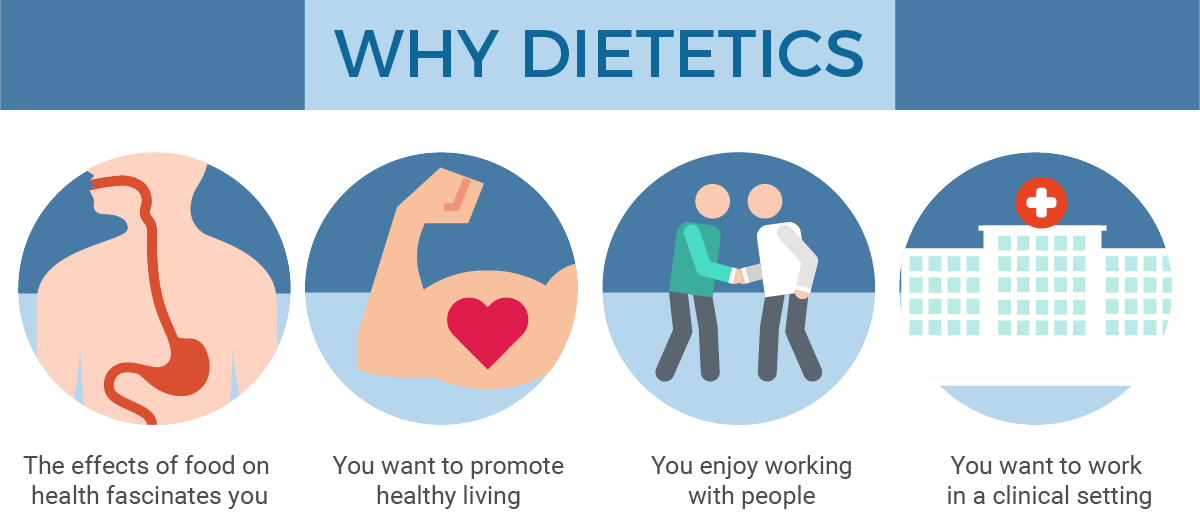 Dietitians play an important role in society and can be a fulfilling career if you are passionate about health and nutrition. Here are some reasons why you may want to consider a Degree in Dietetics.
(a) The effects of food on health fascinates you
There are many factors that affect the body, with food being a major one. If you're curious to learn about the science of food and how food can improve illnesses and benefit health conditions, then perhaps a career in dietetics may be your calling.
(b) You want to promote healthy living
You enjoy living a healthy lifestyle and want to promote this to people so that they can reap the benefits and feel as good as you do. You also hate to see people sick and want to help them get better through proper diet instead of relying solely on medication.
(c) You enjoy working with people
As a dietitian, you will need to have a genuine love for interacting with people. After all, you will be providing consultation and recommending dietary meal plans to patients on a daily basis, ensuring that they eat better to improve their medical conditions.
(d) You want to work in a clinical setting
In contrast to nutritionists who often work in commercial settings, dietitians can usually be found in medical environments, such as hospitals, health clinics and rehabilitative health centres. If you want to pursue a career in the healthcare industry but don't fancy becoming a doctor or a pharmacist, you may want to consider being a dietitian instead.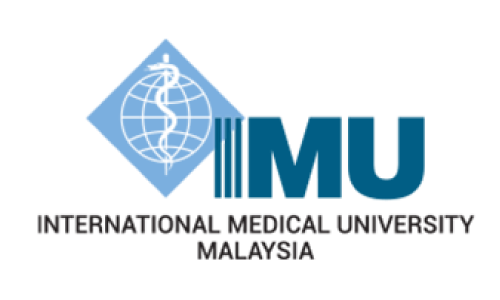 International Medical University (IMU)
Bachelor of Science (Hons) Dietetics with Nutrition
✓Accredited by the International Confederation of Dietetics Association (ICDA)
#4. What Skills Do You Need for a Dietetics Course?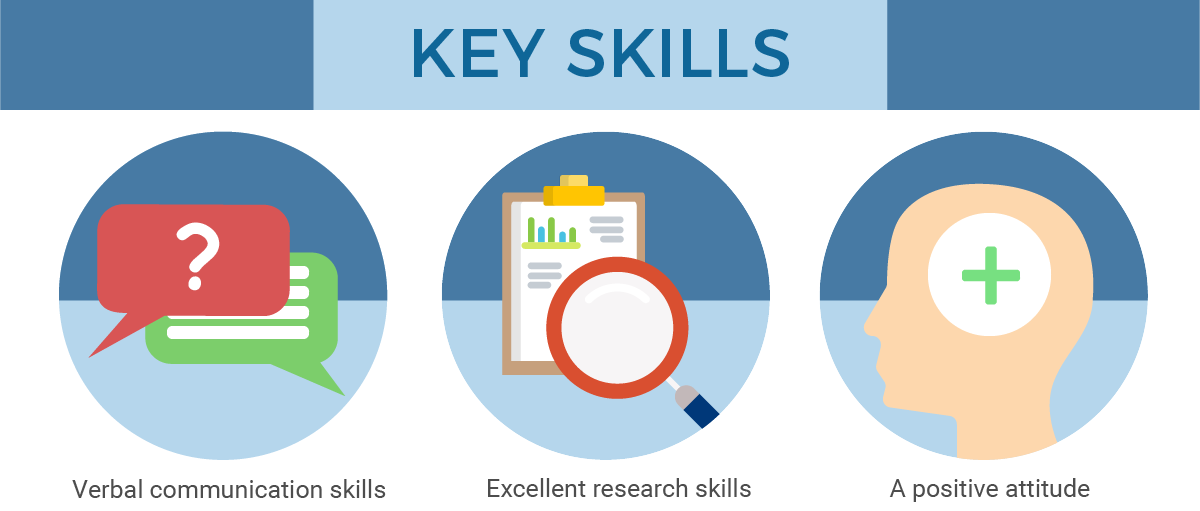 Here are some of the key skills you need to develop to do well in a dietetics programme.
(a) Verbal communication skills
To ensure your patients follow the optimal meal plans that you've carefully created to meet their nutritional needs, you will need to be able to clearly articulate your plans in a way that they can understand. This doesn't just mean conveying information effectively but also listening carefully to what your patients have to say about their problems and conditions.
(b) Excellent research skills
As a dietitian, you will need to stay up-to-date with the latest developments in the field of food and health so that you can provide your patients with accurate information and evidence-based treatment plans.
(c) A positive attitude
As a specialist in health and wellbeing, dealing with different patients and their needs can be mentally draining. However, as patients look to you for guidance and advice, you will need to exude confidence and build their trust so that you can motivate them to lead a healthier lifestyle to improve their medical conditions.
Don't worry if you have yet to master any of these skills. Taking a dietetics course will equip you with the required skills so you can face the challenges and demands of the programme.
#5. What Career Options Do You Have with a Dietetics Degree?
Dietitians often work in medical settings, such as hospitals, health clinics and long-term care facilities. At times, they may also expand their roles to pharmacies, insurance companies and public health agencies. Dietetics graduates can also work in commercial settings, such as wellness centres, health food restaurants and sports and fitness centres.
Here are some dietetics-related careers that you can seek upon graduating:
Clinical dietitian

Consultant dietitian

Special products manager (in pharmaceutical companies)

Food service dietitian

Researcher

Health educator
#6. Where Can You Study Dietetics in Malaysia?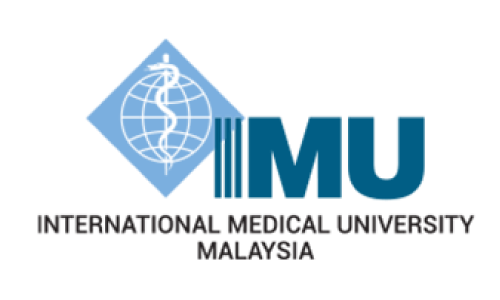 View other institutions