The Complete Guide to Studying Nutrition in Malaysia
If you're curious as to what a nutrition graduate do, we got you. This guide explains what the course entails, entry requirements and career pathway.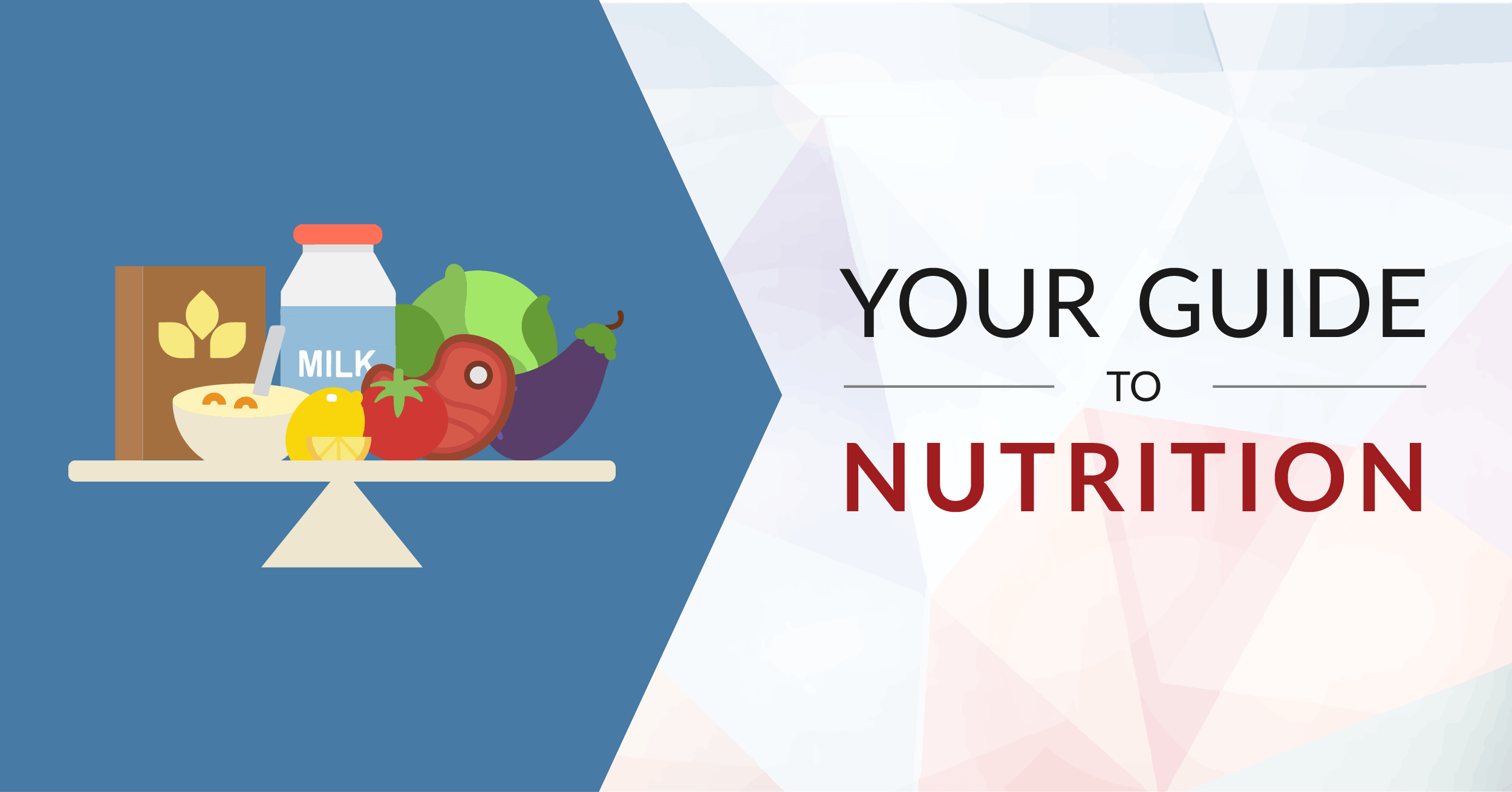 Have you always been conscious about how you nourish your body? Always making sure that you get your daily serving of fruits and veggies at every meal? If you've been branded a health nut by your friends and family, it might be time to put your dedication for diet to good use!
A career in Nutrition will expose you to the world of nutrients in food and how they can help the human body to not just survive but thrive.
In this guide, we're introducing you to the basics of Nutrition, what you'll learn when you study the course as well as the multitude of careers you can dabble in as a Nutrition graduate!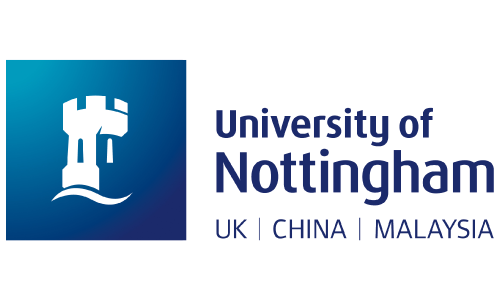 University of Nottingham Malaysia
✓A 3-year British quality education programme accredited by the Malaysian Qualifications Agency and UK Association for Nutrition (AfN, UK)
#1. The Basics of Nutrition
a) What is Nutrition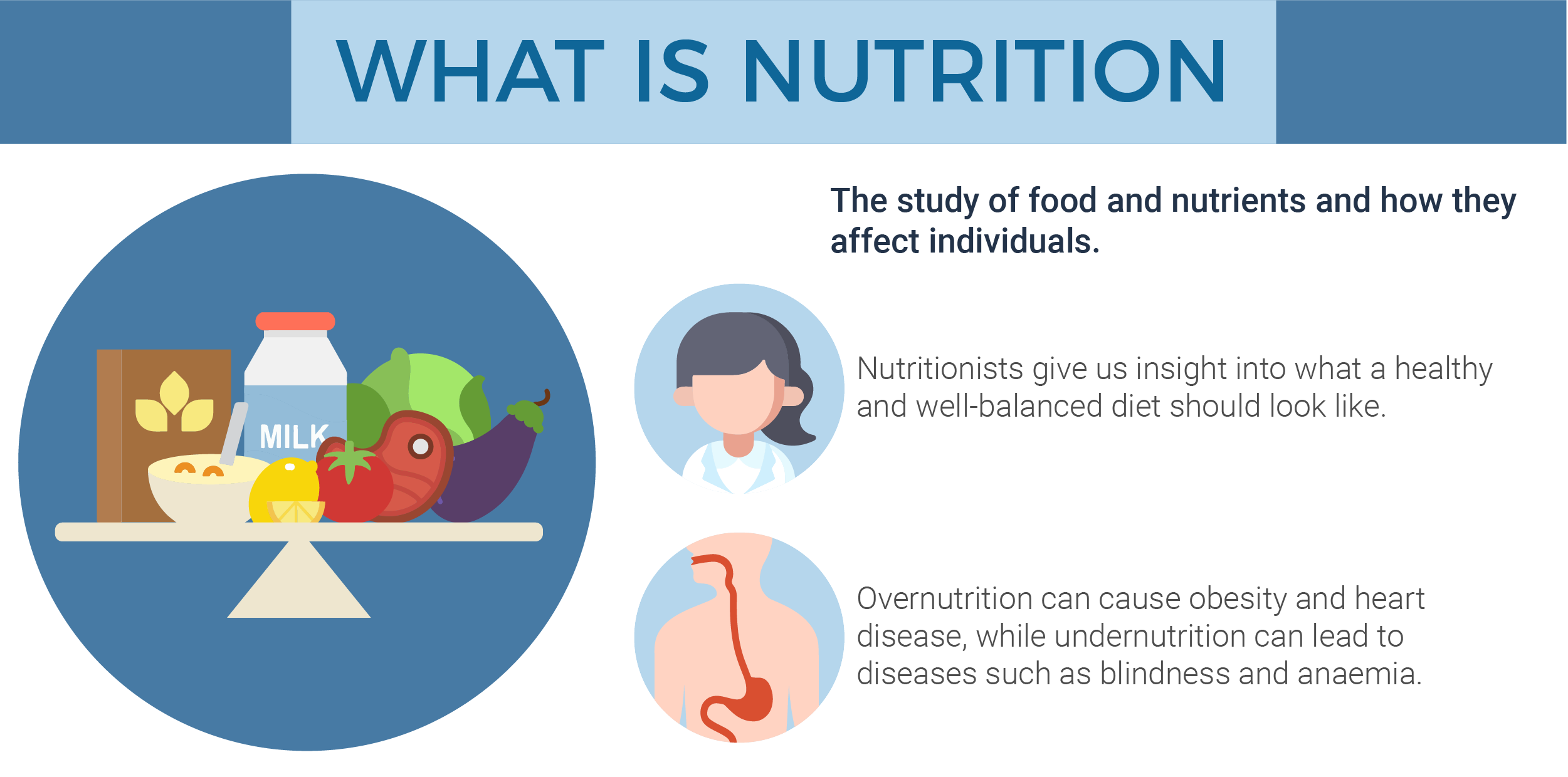 Nutrition deals with the study of food and nutrients and how they affect individuals.
The study of nutrition covers a number of areas, including how the body digests and utilises nutrients in food as well as the relation between these nutrients with health and disease.
While eating may be a subconscious decision to you, how we feed ourselves has a significant impact on our health. Overnutrition (i.e. eating more food or nutrients than you should) can cause obesity and heart disease, while undernutrition (i.e. not eating enough food or nutrients) can lead to diseases such as blindness, anaemia and scurvy.
As experts in this field, nutritionists give us insight into what a healthy and well-balanced diet should look like. They also show us how poor nutrition can impact our immunity as well as our physical and mental development.
DID YOU KNOW
: A nutritionist is not the same as a dietitian — a dietitian can provide dietary consultation to individuals with illnesses while a nutritionist's expertise is restricted to giving advice to healthy individuals.
#2. Studying a Nutrition Degree
a) Entry Requirements & Qualifications
To pursue a Degree in Nutrition, you will generally need to complete SPM (or equivalent) and a pre-university programme.
The requirements to pursue a Nutrition Degree are:
STPM:

Minimum of 2Cs, including Biology, Chemistry and Physics / Mathematics

A-Level:

Minimum of 2Ds, including Biology, Chemistry and Physics / Mathematics

Australian Matriculation:

Minimum of ATAR 60, including 60% in Biology, Chemistry and Physics / Mathematics

Foundation in Science:

Minimum CGPA of 2.50

Relevant Diploma:

CGPA of 2.75
Additionally, you may also need a minimum of 5 credits in SPM, with good grades in Mathematics and 1 Science subject.
Important Note:
Entry requirements for some universities may differ, so it's important to look over the details carefully.
b) What Does Your Education Pathway Look Like?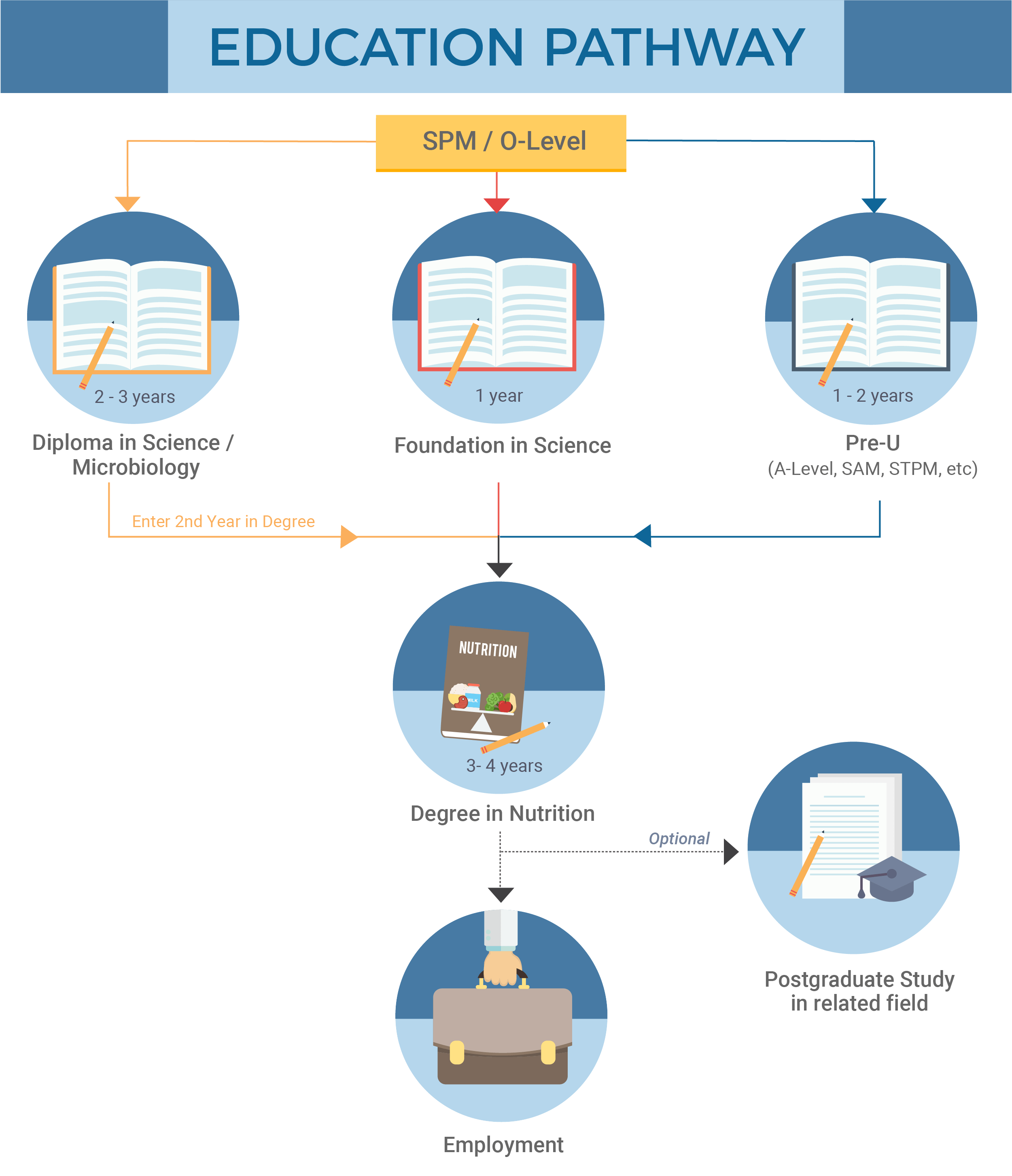 Upon completing SPM (or an equivalent qualification), you can enrol in a pre-university programme (e.g. A-Level, STPM, etc.) or a Foundation in Science course. Alternatively, you can pursue a diploma in a relevant field such as a Diploma in Science or a Diploma in Microbiology which you can use to fast-track into Year 2 of your degree programme.
A Degree in Nutrition is usually 3 to 4 years long. After graduating, you can enter the workforce immediately or pursue a postgraduate degree in a related field.

c) What Will You Study in a Nutrition Course?
A Nutrition degree will equip you with an in-depth understanding of the relationship between food, health and disease.
Here are some of the subjects you might study as part of your Nutrition Degree:
Principles of Nutrition

Biochemistry

Human Biology

Nutrition, Metabolism and Disease

Nutritional Immunology

Health Psychology

Nutrition Counselling and Education
#3. Why Should You Study Nutrition?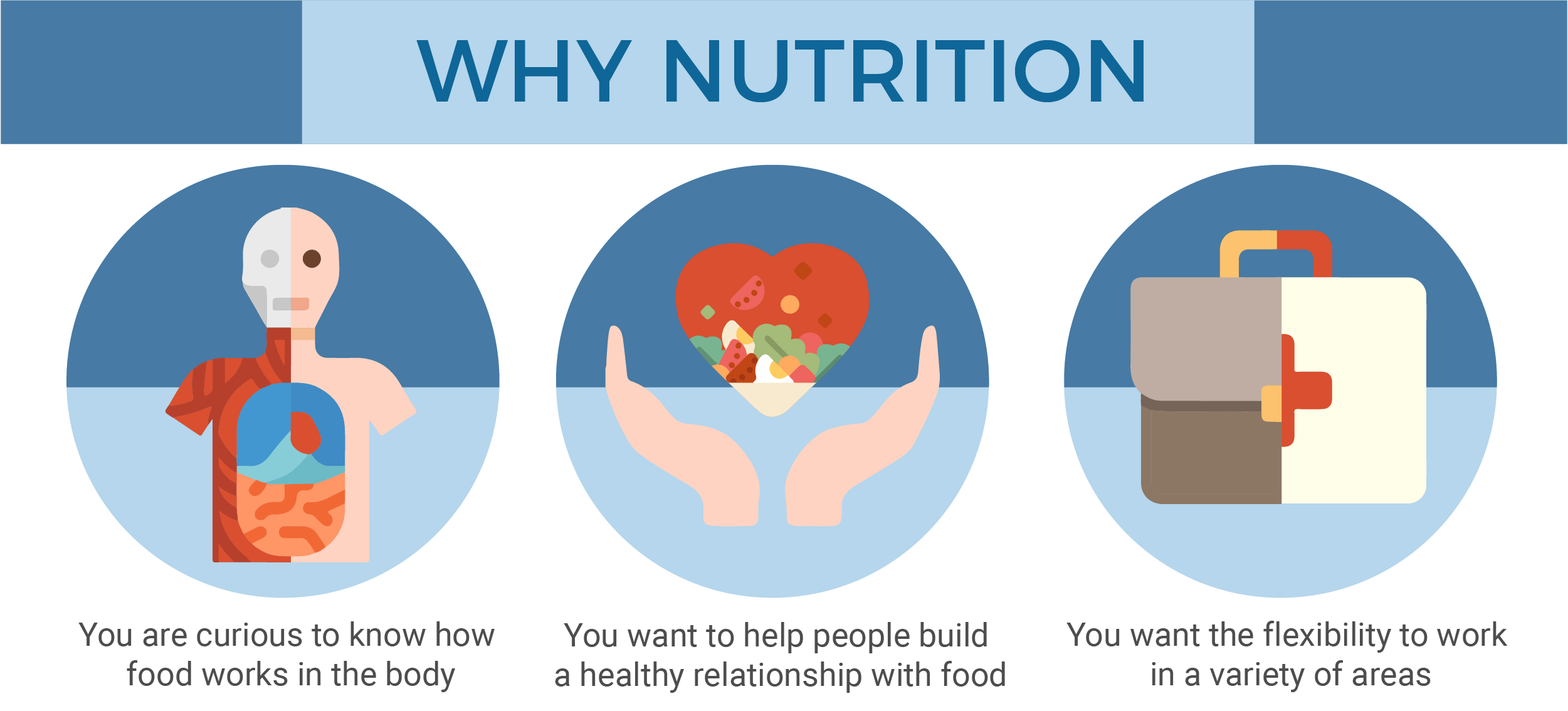 Nutritionists play an important but grossly underrated role in the healthcare industry. Here are some reasons you might want to consider a Degree in Nutrition.
(a) You are curious to know how food works in the body
As a Nutrition student, you will gain insight into vital bodily functions that cannot be perceived with the naked eye and whose importance is often overlooked. You will get a glimpse into how micronutrients in food are broken down during the digestive process, how the body absorbs these nutrients and how they affect the physical and cognitive processes of the body that enable us to operate at optimum levels.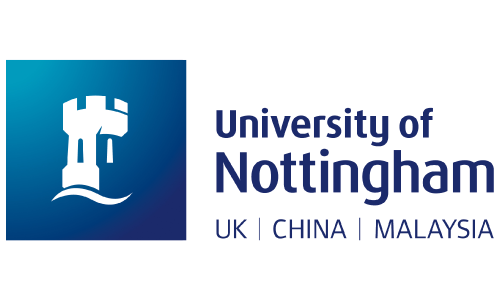 University of Nottingham Malaysia
✓Established programme with quality teaching to provide a seamless transition into your preferred degree programme (Pharmacy, Biosciences, Environmental Science, Computer Science and Psychology)
(b) You want to help people build a healthy relationship with food
As a nutritionist, your role will be to promote well-balanced diets and healthy eating. You might also be working with other health professionals to educate the public about the importance of a nourishing diet and the debilitating implications of poor eating habits.
(c) You want the flexibility to work in a variety of areas
Nutritionists can work in a variety of sectors, including government agencies, the media and businesses involved with food, nutrition and wellness, among others. So, if you love food and want the flexibility to branch into different sectors upon graduating, a Nutrition Degree could be your calling.
#4. What Skills Do You Need for a Nutrition Course?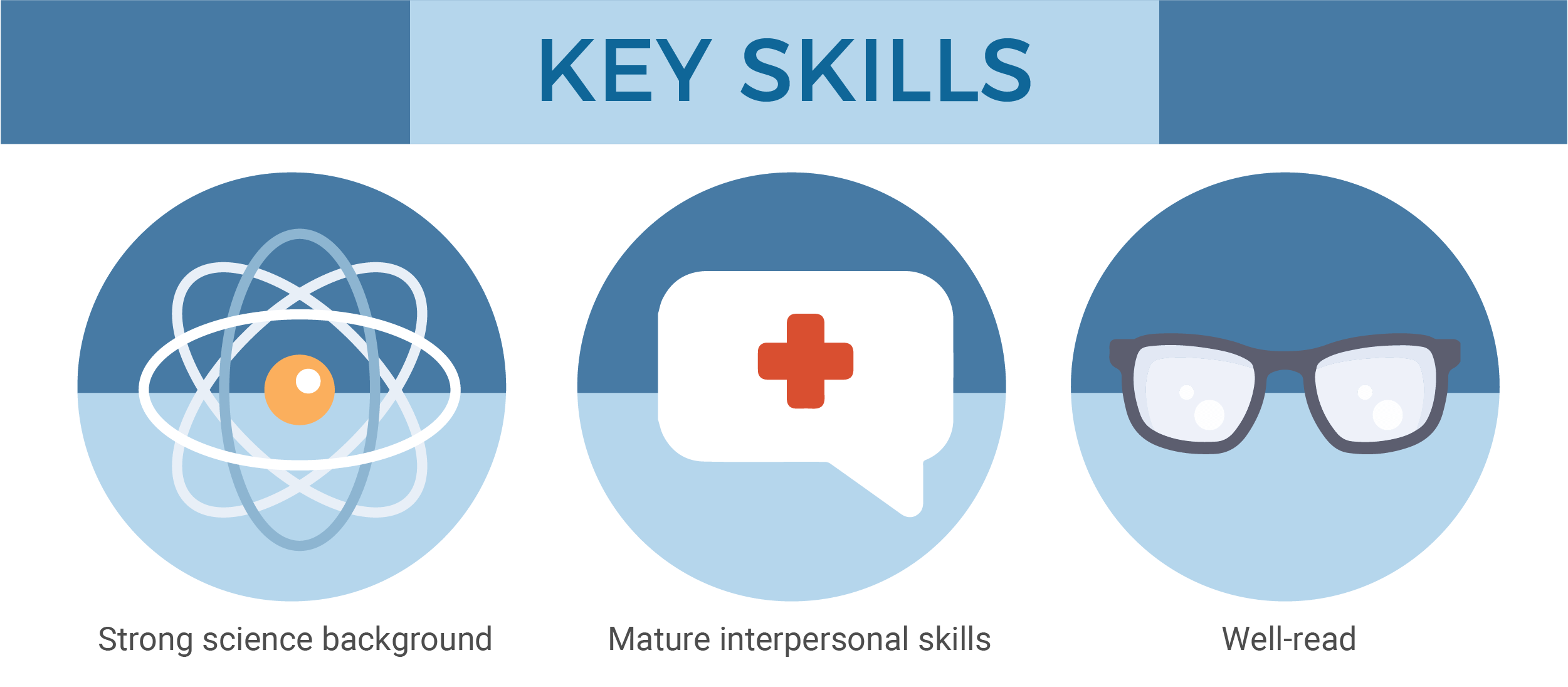 Here are some of the key skills and qualities you will need to develop to do well in a Nutrition programme.
(a) Strong science background
A background in science will be invaluable in a Nutrition course as you will be faced with subjects such as biology, biochemistry and genetics, requiring you to learn and analyse highly technical medical and scientific information. This fundamental knowledge will help ease you into the programme and better equip you to apply your theoretical knowledge in your career.
(b) Mature interpersonal skills
During your career as a nutritionist, you'll need to develop excellent communication skills as you may be interacting with people from all walks of life in your career — from athletes to teenagers — about their nutritional needs.
(c) Well-read
As a nutritionist, it's important that you keep abreast with the latest developments in the field of nutrition to ensure that you are able to give your clients the most up-to-date information on foods that could affect their health.
Don't worry if you have yet to master any of these skills. Taking a Nutrition course will equip you with the required skills to prepare you to face the challenges and demands of the programme.

#5. What Career Options Do You Have With a Nutrition Degree?
Nutritionists typically work with healthy individuals to help cultivate a balanced lifestyle, playing the supplementary role of a healthcare professional rather than a problem-solving one.
Nevertheless, Nutrition graduates can seek employment opportunities in a wide range of industries — from health and wellness to food and beverage. Some of the workplaces include wellness centres, sports and fitness centres, nutritional supplement companies and health food restaurants.
Here are some Nutrition-related careers that you can seek upon graduating:
Nutritionist

Nutritional supplement specialist

Public health nutritionist

Nutrition journalist

Fitness nutrition specialist

Nutrition consultant

Wellness consultant
#6. Where Can You Study Nutrition in Malaysia?
Below are some institutions that offer nutrition courses in Malaysia.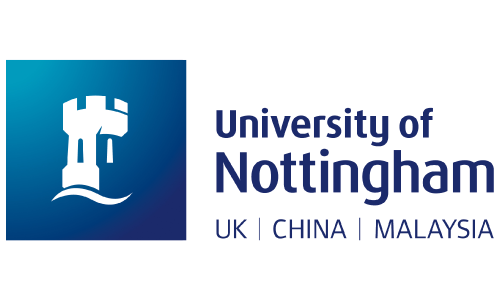 View other institutions