You've Got Your UPU Results. What's Next?
The UPUonline results for undergraduate degree admission is finally out! Now that you've got your UPU results, what should you do next?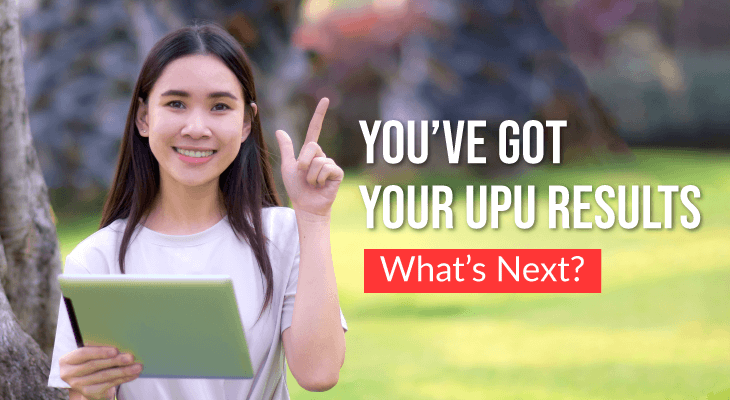 For most STPM, Matrikulasi and Asasi students, as well as those planning to pursue their tertiary studies in public universities (IPTA), D-Day is here!
For those who have applied for undergraduate degree admission into public universities, the Unit Pusat Universiti (UPU), or now known as the Bahagian Pengurusan Kemasukan Pelajar (BPKP), is set to release the results at 12pm today, 8th August.
Now, if you are still at a loss about how you can check your UPU results, here's a quick run through of all your options to find out your destiny admission results:
a) Through the internet
b) Through Short Messaging Service (SMS)
Type UPU <space> RESULT <space> IC Number and SMS to 15888
c) Through UPU hotline
03-8870 6777 / 6755 / 6766 / 6767
Now that that's all clear, we'd like to bring you through some crucial things that you need to be mindful after getting your UPU results.
Outcome #1: You got what you wanted!
First of all, congratulations! You deserve it for all the hard work that you've put in for the past 1-2 years. Remember to click 'Accept' and print out your university offer letter (don't forget to save the soft copy too).
Don't spend too much time celebrating though because there's a looming question yet to be answered - now what?
Update (15 August 2016): Keep in mind that the deadline to accept your UPU offer is before August 19th, 2016 (Friday). Registrations for new student intakes for IPTA will start from August 28th, 2016 to September 4th, 2016.
#1. Seek out scholarships, education grants or loans
Of course, you should have done your research months before. But if you haven't, do not worry, there's still time.
Although the costs of studying in a public university is a lot cheaper compared to studying in a private institution, it can be quite a significant amount of money for some.
A lot of students seem to find themselves running short of money throughout every semester. Some may even starve to last till the end of the term.
So it's definitely wise to actively seek out education scholarships while you still have some time before your first semester commences.
There are many government institutions and private entities that offer scholarships for students. Some universities, such as Universiti Teknologi Malaysia (UTM), offer endowment scholarships for deserving students. Some scholarships may also include small stipends that you can use to purchase stationeries and books.
Of course, there are also education loans offered by the Perbadanan Tabung Pendidikan Tinggi Nasional (PTPTN) that you can apply (find out how to apply for PTPTN here). But certainly, if you can, it's best to be debt-free when you graduate.

#2. Prepare copies of your important documents
This is a no-brainer. You'll need to bring all your important personal documents with you when you head to your respective universities next month. Remember to get your school-related documents verified as true copy by your school administrators.
Here is a brief checklist of documents that you need to prepare:
2x copies of your university offer letter
2 - 3x copies of your identification card (I.C.)
2 - 3x copies of your birth certificate
2 - 3x copies of your SPM results slip
2 - 3x copies of your STPM (or equivalent) results slip
2 - 3x copies of your MUET results slip
2x copies of your distinctive certificates, if any (yes, you can leave your certificates of participation at home)
2x copies of your parents' salary slips
2x copies of your high school completion certificate
2x copies of other personal documents (academic and co-curricular activities) that you deemed necessary
Health check-up report / X-Ray
15x Passport-sized photos (may vary according to university)
There may be other documents that you will need to bring along and the number of copies may differ depending on the university. But rest assured, you will receive a comprehensive checklist of documents needed from your respective universities.
Make sure you always carry a spare copy of all your documents (besides your X-Ray), just in case. If you find any running down to the last copy, make an extra so that you will always have a spare copy.
Keep these personal documents in a personal folder and keep it safe at all times.
You will surely find yourself needing these documents during your initial days at university.
Enrol for college with EduAdvisor
There's no best college — only the one that's best for you. Speak to our advisors.
Start now
#3. Check out other necessary things to do
Here are some other necessary details that you may want to be mindful of before heading to your university:
a) Banking account
Be sure to open a banking account with the appropriate bank before you join your other peers in university.
This is because there is usually a panel bank or two that's associated with each IPTA. You can find out which bank services are available in your university through their respective official online portals, or through PTPTN's website.
You certainly do not want to go through the inconvenience or pay extra banking charges every time you want to reload on cash just because there isn't an appropriate automated teller machines (ATM) on campus.
b) Dress codes
One important rule not to overlook is the dress code in campus. Most of our public universities do impose strict dress codes on their students – and breaching it will result in penalties.
Remember to stock up on a few sets of formal and smart casual clothes – it's highly unlikely that you will go wrong with them. Oh, you can also get one or two pieces of traditional clothes like batik, baju Melayu, etc. just in case you're attending any official events in university.
c) And of course.. your other necessities and belongings as well
Stepping into university will never be like how it used to be. Most of you will be far away from home and you'll need to step up to take good care of yourself.
And you'll find yourself having to take a lot of things with you, even things that you never considered to be a necessity before this. Some must-haves are:
Handphone and laptop (with their chargers!)
Comfortable sneakers (because you'll be walking a lot in campus)
Slippers (for showers)
Broom, mop, pail and wiping cloths (your room is definitely going to be hideous dusty)
Sufficient stationeries
Backpack (for classes)
Kettle (boiling water for your late night instant noodles routine)
Necessary medications (Panadol, flu medicine, and maybe some plasters and bandages)
Outcome #2: You didn't get a course that you wanted
Remember there's an extra option at the end of your UPUonline submission to offer you an alternative course in the event that you didn't get any offers among your 12 choices?
If you gave your permission, then there's a possibility to end up with a course that may not be what you wanted. *yikes
So, what can you do?
#1. Accept the course given to you
UPU decision is final and conclusive.
If you reject your UPU result, then you are NOT going to be given another chance at public universities anymore. Therefore, make sure you think this through – twice! Needless to say, you won't be allowed to appeal for a change of decision as well.
Most of the time, the choice given to you may not be bad. You may come to love the course and learn much from it. With the bulk of students going after professional-based courses, it may be good for you to pursue something out of the norm too.
#2. Reject the course given to you
In case you're really certain that you do not want to pursue the course given to you, then you can choose to reject the course given to you.
Instead, you can opt to go to a private institution and apply for the course that you really wanted. This is what you can do.

Outcome #3: You didn't manage to secure a place
If you didn't give UPU the permission to offer you an alternative course, then there's a possibility that you may end up not getting a place at public university at all. If you don't get any offers, there are still things that you can do, such as:
#1. Submit an appeal
In the event that you did not get any placements at all (find out how UPU makes their selections here), you can submit an appeal through the same online portal that you used to check your UPU results (read: Through the internet).
Remember that you need to submit your appeal within five days after your UPU results are announced. You will get to place four choices in your appeal and you can change your choices whenever you like before the deadline.
The success of your appeal depends on the empty places after the registration of new student intakes on the final week of August. Naturally, you will only get to know your appeal results on the final week of August.
Update (15 August 2016): Results for appeals will be released on August 25th, 2016 and September 13th, 2016. If you did not receive any offer by September 13th, then your appeal is unsuccessful.
Otherwise...
#2. Get in touch with us
You can always opt to go to private universities/colleges.
But if you are still sitting on a fence about which course you want to pursue in university, then help is just a call (or a few clicks) away! You can always get in touch with EduAdvisor for free counselling and unbiased recommendations.
Just drop us an email with your enquiries at [email protected] or give us a call at +03 7931 2212. Our counsellors will be able to guide you through to find out which path is the BEST for you!
Whatever the outcomes are, know that it is not a dead end yet.
Even if you have lost interest in studying, you can always choose to take a gap year first or get into the working world, such as the F&B industry, to gain more experience before deciding if you would like to continue studying.
Don't worry if you were offered a course that leads you to a career that defies conventional gender stereotypes. They may just be myths that are not based on facts.