5 Myths About American Degree Programs Debunked
Unlike what you may have heard, the American Degree Program (ADP) is not limited to the US. Let us clear up some of the common myths about the ADP for you here.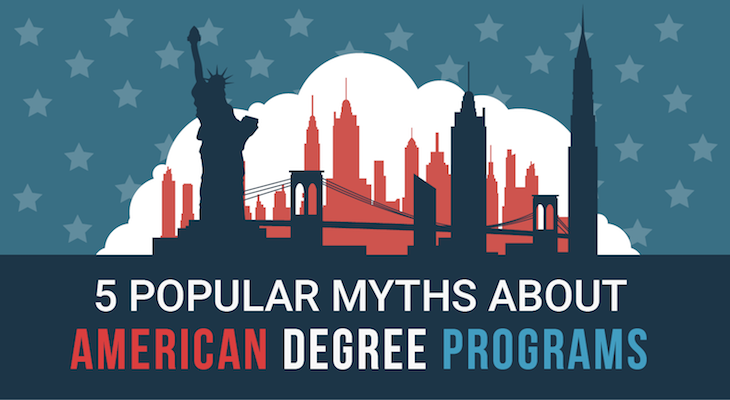 "You can only pursue the American Degree Program (ADP) in the United States."
"The ADP is a chilled-out course and it is very easy to score high marks."
You may have heard these unofficial statements when you asked your peers about the ADP... But are they true? Let us clarify some of the biggest myths about this programme with facts!
#1. The United States is your only option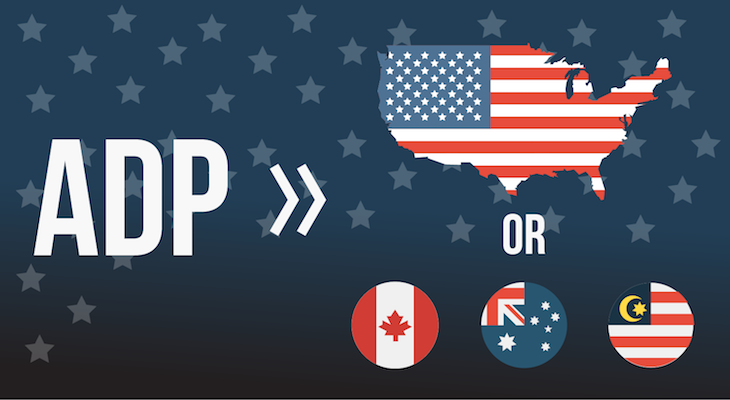 Typically, most ADP courses in Malaysia offer 1+3 and 2+2 programmeswith the first number indicating the duration (year) in Malaysia and the latter being the duration spent overseas.
Although most people will transfer to universities in the USA to complete their degree, the programme is notlimited to the United States— you can also opt to pursue your studies in other countries such as Canada or Australia.
Some local universities also offer a 4+0 ADP. This means you can save on cost and complete your entire programme locally!
#2. It's as easy as apple pie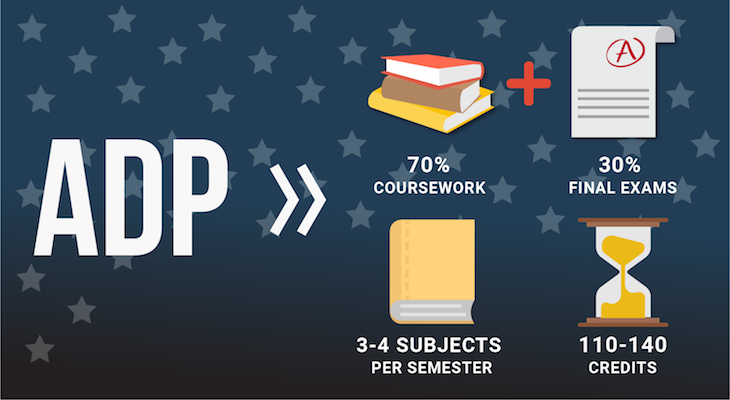 "ADP students are very chilled out and have shorter class hours. Their course must be easy"
Don't be misled by this popular myth about the ADP. Although the final exams in the programme will contribute to only 30% of your grades, this puts pressure on you to do well in your coursework. 70% of the course is largely based on group projects, assignments, tests and presentations, so you need to put in continuous effort and be consistent throughout your semesters to score well.
Besides that, the class hours are actually the same as other study programmes, with 3 to 4 subjects per semester. Students are required to obtain 110 - 140 credits to graduate, which is similar to obtaininga bachelor's degree (120 credits).
PRO TIP
Nothing comes easy in life, especially when it comes to pursuing your tertiary education. The key is to be determined and perform your level best for every task and obstacle regardless of your choice of studies.
#3. It's available for
all

types of courses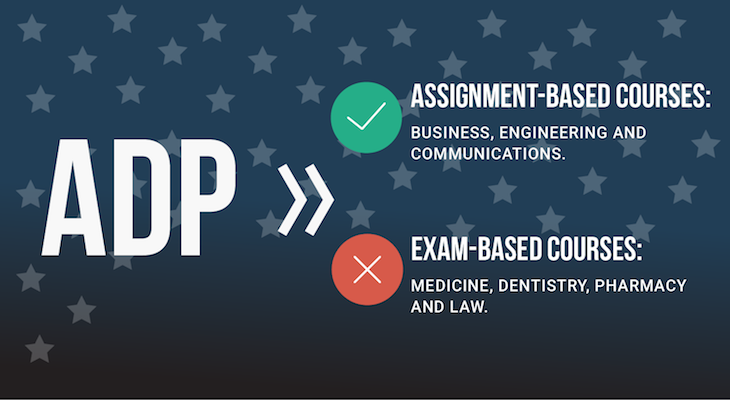 The ADP is not recommended for students who wish to study courses such as medicine, dentistry, pharmacy and law. This is because, for ADP, the bulk of your grades come from coursework where else the degrees mentioned are more exam-based — so you will not be prepared for your degree if you take the ADP and pursue these exam-heavy courses. Therefore the ADP is not suited for studies that require you to be a pro at acing exams.
The American Degree Program is, however, more suited for students interested in disciplines such as Business, Engineeringand Communications. These courses require students to be more interactive and involve practical work.
Do note that it is always best to do thorough research on your courses and the universities you are keen onpursuing before investing in your education.
Scholarship Genie
Upload your SPM results and get a list of personalised scholarship offers — instantly.
Start Now
#4. You can switch between 2 different types of qualifications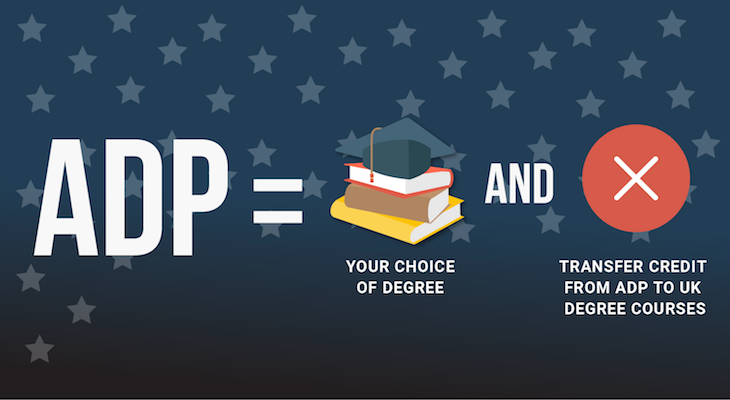 The ADP is nota pre-university programme like A-Level, SAMand STPM. Once you're enrolled in the ADP, you're already pursuing your degree. While your options are still open to a wide variety of courses, youwon't be able to transfer your creditsfrom an American Degree Program to a UK bachelor's degree.
Hence, it's crucial that you are 100% certain about your education pathwayif you decide to pursue the ADP. Else, you will end up spending more on retaking the same subjects for a different programme!

#5. You are guaranteed a job in the US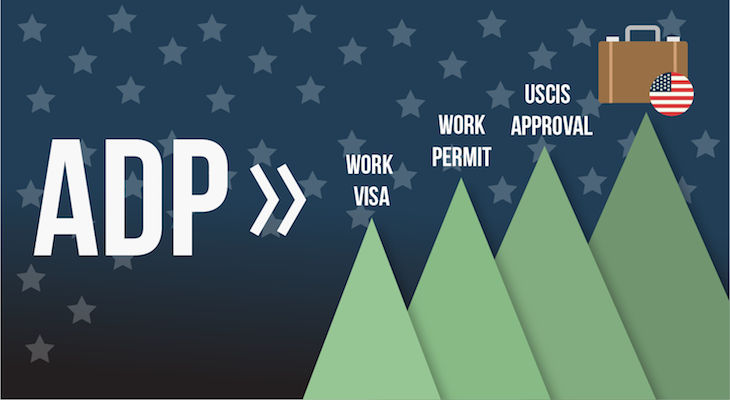 Although it is not impossible to secure a job in the USA after completing the ADP programme, you are notguaranteed a job position there after you graduate.
In order for you to work in the USA, you need a work visa. There are several types of visas for foreign nationals such as temporary work visas, seasonal work visas and exchange worker visas. In addition to the work visa, you must obtain a work permit also known as an Employment Authorization Document (EAD)to prove your eligibility to work in America. This is not easy to obtain.
Your employability in America post-graduation is subject to the approval of the United States Citizenship and Immigration Services (USCIS)as well as the company that you wish to work in. This entire process could take anywhere from a few months to a few years and you may or may notbe approved!
We hope that this article has cleared your doubts about the American Degree Program. Be sure to conduct ample amount of research and speak to education counsellors regarding your chosen course or university before committing to a programme. Alternatively, you may also consult our team at EduAdvisor should you have more queries about the ADP!