The Complete Guide to Studying Food Science in Malaysia
Curious to know how much does a Food Science degree cost? From requirements to fees and subjects, here's an A-Z to studying Food Science in Malaysia.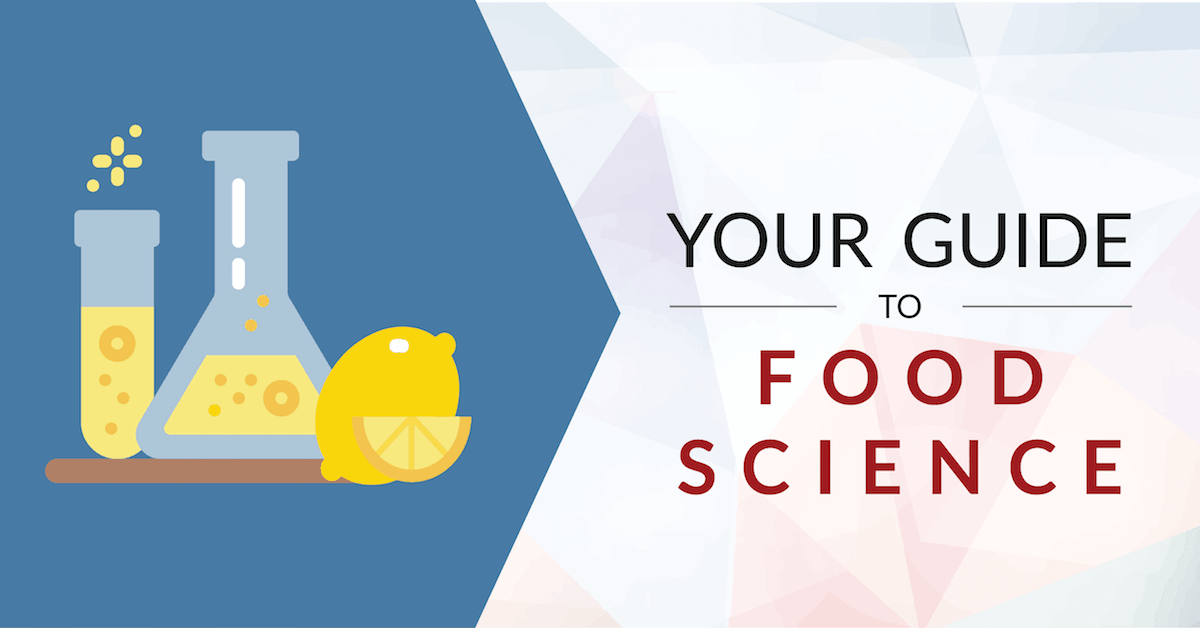 Have you ever wondered how popular food brands such as Pringles, Campbell's and Haagen-Dazs come up with such innovative yet delicious flavours? Ever wondered how your food was processed and packaged?
This is all made possible with the help of food science, where a team of scientists conduct extensive research and development to create unique flavours for food brands that result in delicious products for supermarket shelves.
Interested to know more? Our comprehensive guide on food science will reveal all you need to know about the course in Malaysia and help you determine if it's right for you.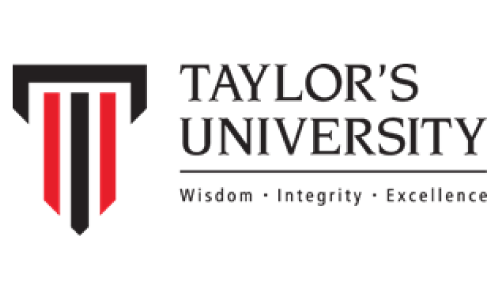 Bachelor of Food Science (Honours)
✓Insights from industry experts to ensure an industry-relevant curriculum, as well as partnerships for internship placements with Nestle, Dutch Lady and F&N
#1. The Basics of Food Science
a) What is Food Science
Food science is about applying science and engineering to develop new food products or improve existing ones.
Studying food science will teach you the different food processing methods used when creating new products, including how various foods should be harvested, prepared, preserved and packaged. You will also learn how to analyse food texture, flavours and nutritional composition as well as gain in-depth knowledge about food safety.
This knowledge is essential to food brands such as Kellogg's, Nestle and Hershey's as it helps with the creation of new flavours (durian-flavoured Hershey's, anyone?) while assuring quality control during all stages of development. Even Malaysian brands like Gardenia and NutriVite Beverage look to hire people with a background in food science as they have the skills to ensure all products are well-made and adhere to food safety guidelines.

#2. Studying a Food Science Degree
a) Entry Requirements & Qualifications
To pursue a course in food science, you are required to meet the entry requirements set by colleges or universities.
(i) Diploma in Food Science
These are the general entry requirements for a Diploma in Food Science:
SPM / O-Level:

Minimum 3 credits, including a C in Mathematics and Chemistry. You will also need to pass English.
A Diploma in Food Science typically takes about 2 years to complete.
Upon completion, you can choose to join the working world, or further your studies to a Degree in Food Science (entering from the second year onwards).
(ii) Degree in Food Science
To pursue a Degree in Food Science, you need to complete your SPM or equivalent qualification anda pre-university programme.
The requirements needed to pursue a Food Science Degree are:
In addition to that, you will also need a minimum of 5 credits in SPM, with Cs in 3 of the following subjects: Chemistry, Biology, Physics, Mathematics, English.
Important Note: Entry requirements for some universities may differ, so it's important that you scrutinise the details carefully.
A Degree in Food Science is usually 3 years long.
Upon completing your degree, you will be equipped with an in-depth understanding of the nature of raw food materials and their transformation into consumable products. You will also develop a range of skills, which can help you excel in product development or managerial positions in food-related industries.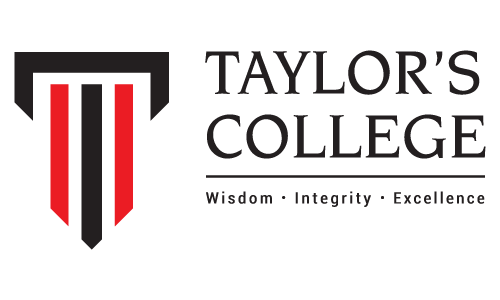 ✓Comprehensive curriculum that stimulates critical thinking and nurtures your interest through interactive workshops and experiments
b) How Does Your Education Pathway Look Like?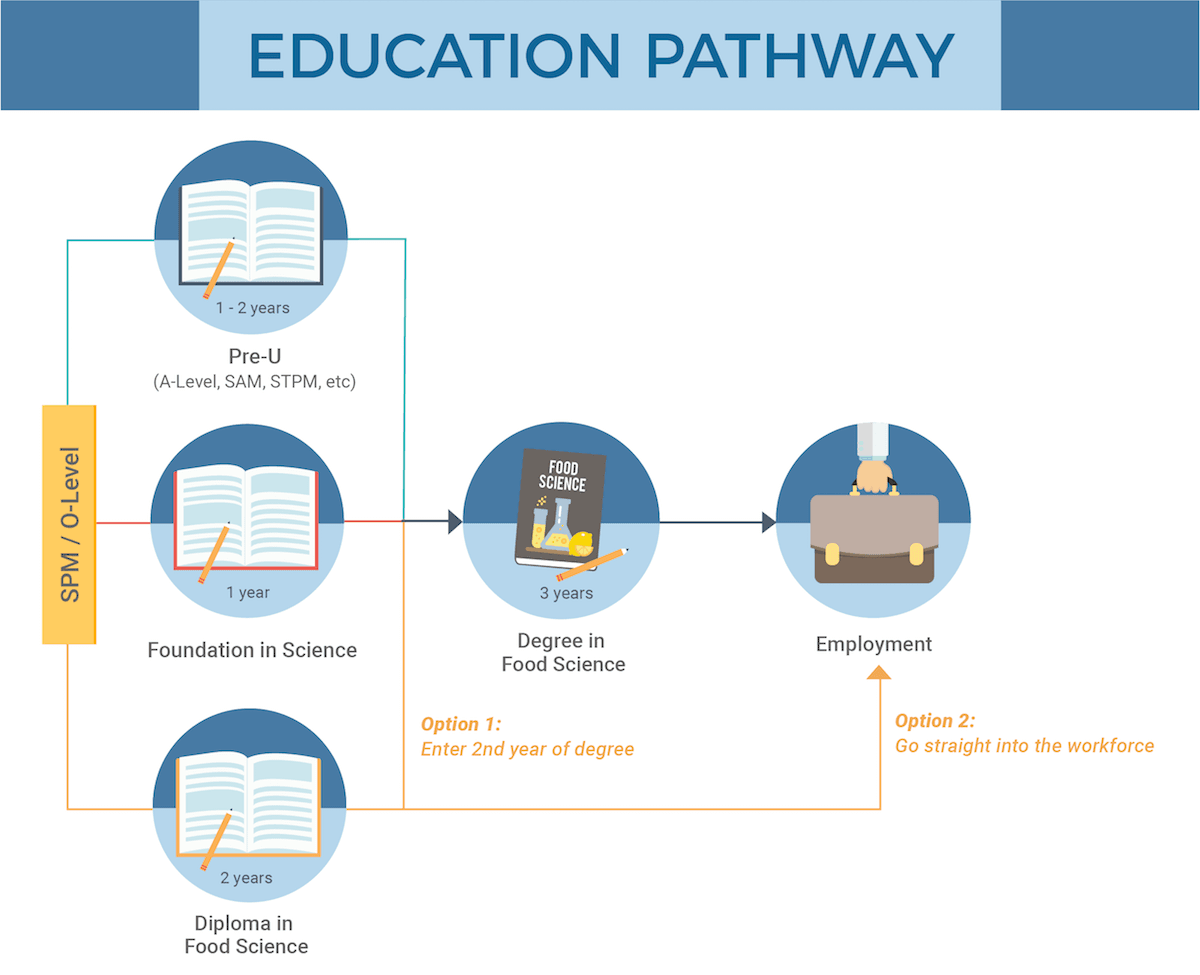 Upon the completion of your SPM or equivalent qualification, you can opt to enrol into a pre-university (STPM, A-Level, etc.) or Foundation in Science programme. Alternatively, you can also choose to pursue a Diploma in Food Science.
Completing a pre-university or foundation programme will enable you to proceed to a Food Science Degree.
c) What Will You Study in Food Science?
Food science degrees are designed to provide you with a wide range of knowledge and skills related to the food manufacturing industry.
Typically, you will be exposed to the basics of biochemistry, microbiology and nutrition, as well as have the opportunity to gain hands-on practical experience using cutting-edge technology and laboratory equipment to develop new food products and design new processes to improve the safety and quality of food.
Some examples of subjects commonly taught in a Food Science Degree are:
Food Chemistry

Human Nutrition

Microbiology

Food Biochemistry

Food Product Development and Innovation

Food Processing, Preservation and Packaging

Food Safety and Quality Management
At some universities, you may be required to undergo compulsory industrial training or internships as part of the university's degree programme. This is for you to obtain practical work experience, which can help you better understand and apply what you have learnt in university.

#3. Why Should You Study Food Science?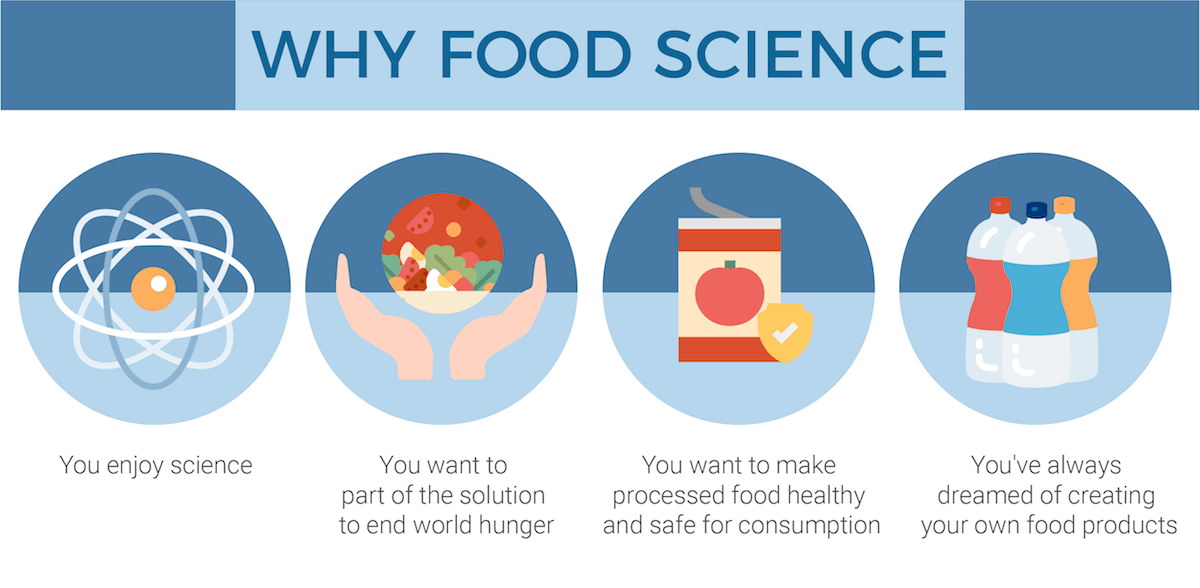 Still unsure if food science is for you? Here are some reasons why you should consider taking up the course.
(a) You enjoy science
You're a scientist at heart and enjoy figuring out how things work. In particular, you're captivated by the science of food production and preparation — be it baking, boiling, frying or freezing. Whether it's creating exciting new food products or testing food for quality and safety, this field can be fascinating for those who have a love for the science of food.
(b) You want to part of the solution to end world hunger
Do people dying of starvation and malnutrition children upset you? If you want to create change to improve their lives, food science can be a solution. Some ways food science can help include extending the shelf life of food products and developing new forms of protein at a low cost (think chocolate-covered crickets, mealworm brownies and bug fried rice).
(c) You want to make processed food healthy and safe for consumption
Many people are highlighting the dangers of processed food to the health, especially with an increasing amount of reports of tainted food being sold. With so many foods being processed to the point of losing its nutritional value, food science can be a way to provide consumers with safe and healthy foods that will benefit them.
(d) You've always dreamed of creating your own food products
If you've always wanted to create your own brand of ice cream, sauces or snacks, then studying food science will be the perfect way for you to learn the foundation of food development and manufacturing, preservation and packaging, while maintaining its nutritional value.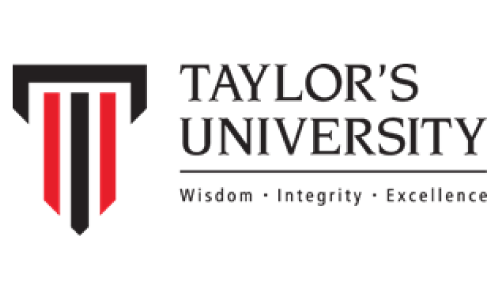 Bachelor of Food Science (Honours)
✓Insights from industry experts to ensure an industry-relevant curriculum, as well as partnerships for internship placements with Nestle, Dutch Lady and F&N
#4. What Skills Do You Need for a Food Science Course?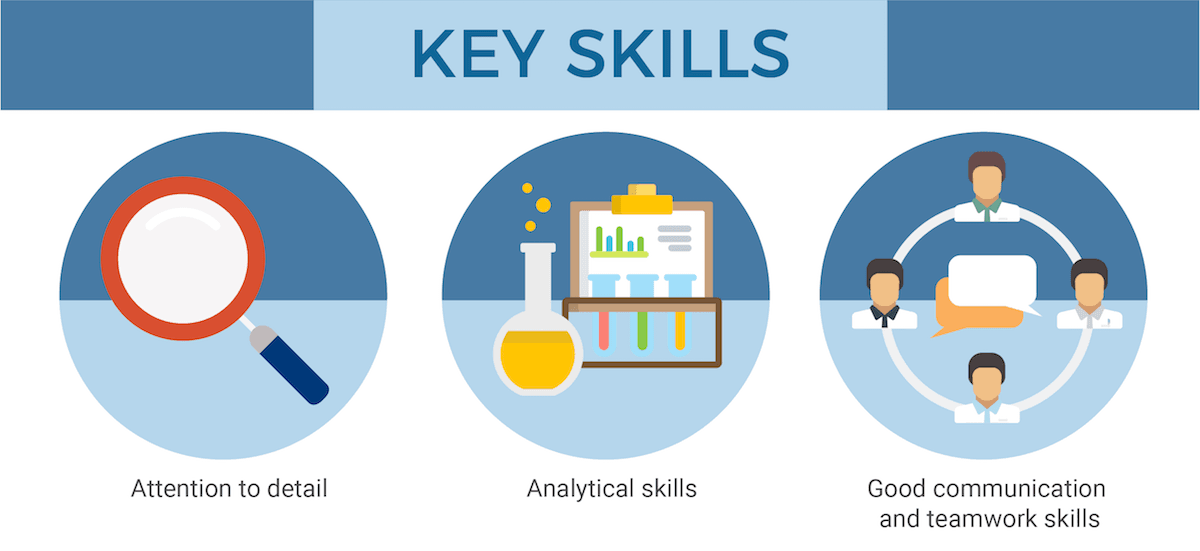 Here are some of the key skills and qualities you need to develop when studying and pursuing a career in food science.
(a) Attention to detail
As part of your job, you will need to ensure the quality and safety of food products, and deal with hundreds of components, compounds and ingredients every day. Health, safety and hygiene is of utmost importance. A slight mistake can lead to major losses for the company, so you'll need to have an eye for spotting irregularities during food manufacturing and production.
(b) Analytical skills
Food scientists need to be analytical in order to analyse the nutritional content in different foods, decide on which flavours would be more appealing to consumers and advise on the best food preservation techniques.
(c) Good communication and teamwork skills
Food scientists often work in teams to improve and research new ways to create, preserve and package various food products. Being able to work well with others to produce results for a common goal, as well as communicate effectively to convey your findings and research, is crucial to a successful career.
Don't worry if you have yet to master any of these skills. You will gain these skills eventually while pursuing your diploma or Degree in Food Science.
#5. What Career Options Do You Have With a Food Science Degree?
Food science graduates can seek employment opportunities from companies such as food manufacturers, retail companies and specialist research/scientific sectors.
Here are some careers that you can seek upon graduating:
Food scientist

Food technologist

Food product/process development specialist

Food safety inspector

Flavour chemist

Quality assurance associate

Raw materials procurement executive
You can also pursue other relevant qualifications to seek for more advanced career options.
#6. Where Can You Study Food Science in Malaysia?
If food science suits you, then check out some of the best universities to study food science in Malaysia.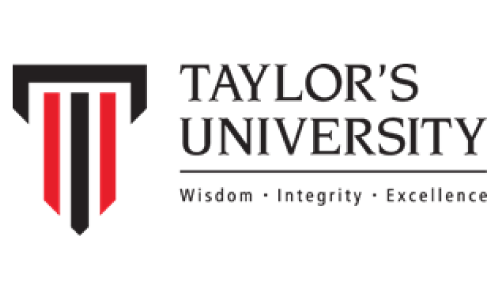 Taylor's University
Subang Jaya, Selangor
Bachelor of Food Science (Honours)
Tuition Fees
RM105,996
A further discount of RM1,000 is available for eligible students enrolling in this programme. Contact us to find out more.
Top #284 and 1% in the world
View other institutions