The Complete Guide to Studying Automotive Technology in Malaysia
Wondering where you can study an automotive course in Malaysia? Discover everything you need to know about studying automotive technology in Malaysia with this guide.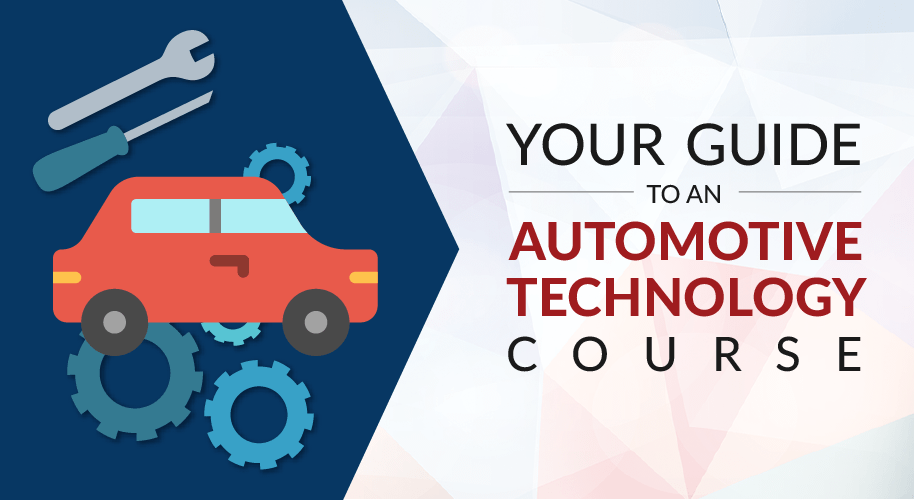 The automotive industry is a growing market in Malaysia.
With more than half a million new registered vehicles every year, there is an increased demand for the automotive service and repair industry, since every vehicle requires servicing. The government is also keen to transform the industry, introducing the Automotive Transformation Programme (ATOM) to provide accessible soft loans for automotive workshop operators.
If you're one of those who eat-breathe-sleep cars, the automotive repair and maintenance field is definitely something you ought to look into!
So put your seat belt on, as this guide will take you through everything you need to know about studying an Automotive Technology course in Malaysia.
#1. The Basics of Automotive Technology
a) What Is Automotive Technology?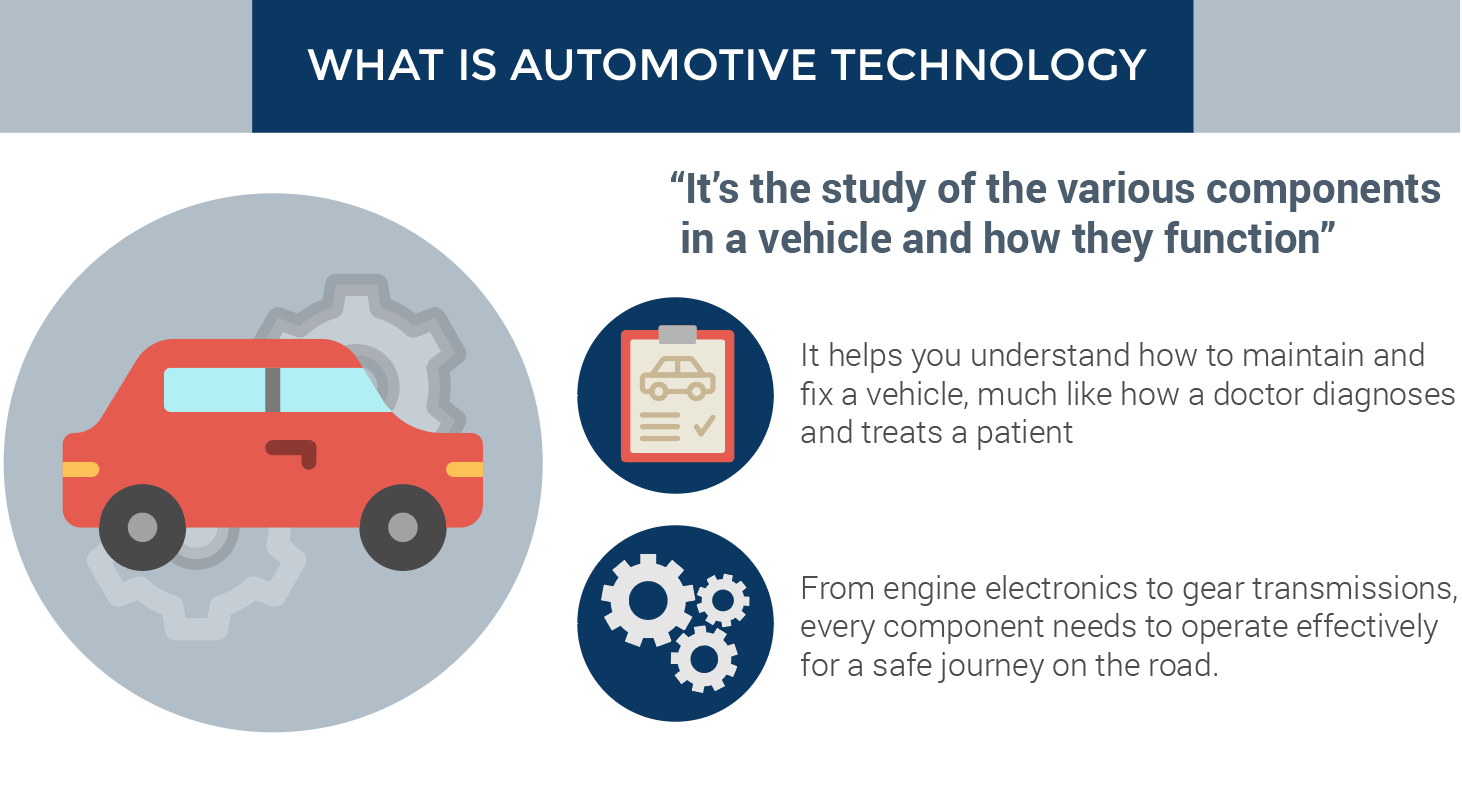 Automotive Technology is the study of the various components in a vehicle (engines, braking systems, sensors, etc.) and how they function. It helps you understand how to maintain and fix a vehicle, much like how a doctor diagnoses and treats a patient.
Automotive maintenance plays a huge role in the automotive industry, given that every vehicle (whether it's a car, truck or motorcycle) needs to be serviced at least 2 – 3 times a year.
From the electronics in the engine and gear transmission to brake and steering fluids, every component in a vehicle needs to operate effectively and efficiently to ensure a safe and hassle-free journey on the road.
As a field of study, this can also lead you to the repair and maintenance of motorsport vehicles. Yes, we're referring to the skilled technicians in racing competitions, fixing and repairing cars within seconds!

#2. Studying an Automotive Technology Course
a) Entry Requirements & Qualifications
In order to pursue a course in Automotive Technology, you will need to meet the entry requirements set by the universities.
(i) Diploma in Automotive Technology
To pursue a Diploma in Automotive Technology, you will generally need:
SPM / O-Level: Minimum of 3 credits including a pass in Mathematics
A Diploma in Automotive Technology is typically 2.5 – 3 years long, covering the basics of diagnostic, repair and maintenance of motor vehicles.
Upon completion of your Diploma, you can either choose to start working or continue on with a Degree in Motorsport Technology, Automotive Technology, Automotive Engineering, or even Mechanical Engineering.
Generally, you can start from Year 2 of your Degree after you complete your Diploma.
(ii) Degree in Automotive Technology or Automotive Engineering
To pursue a Degree specialising in Automotive, you will need to have completed SPM or equivalent, AND completed a Pre-University, Foundation or Diploma course.
In general, the requirements for your Pre-University, Diploma or Foundation level are:
Compared to a Diploma in Automotive Technology, a Degree related to motor vehicles will typically emphasise on the understanding of the various systems involved, as well as the designing and developing of motor vehicles. With a Degree specialised in Automotive, you will be able to look for job opportunities in vehicle manufacturing and assembly.
b) How Does Your Education Pathway Look Like?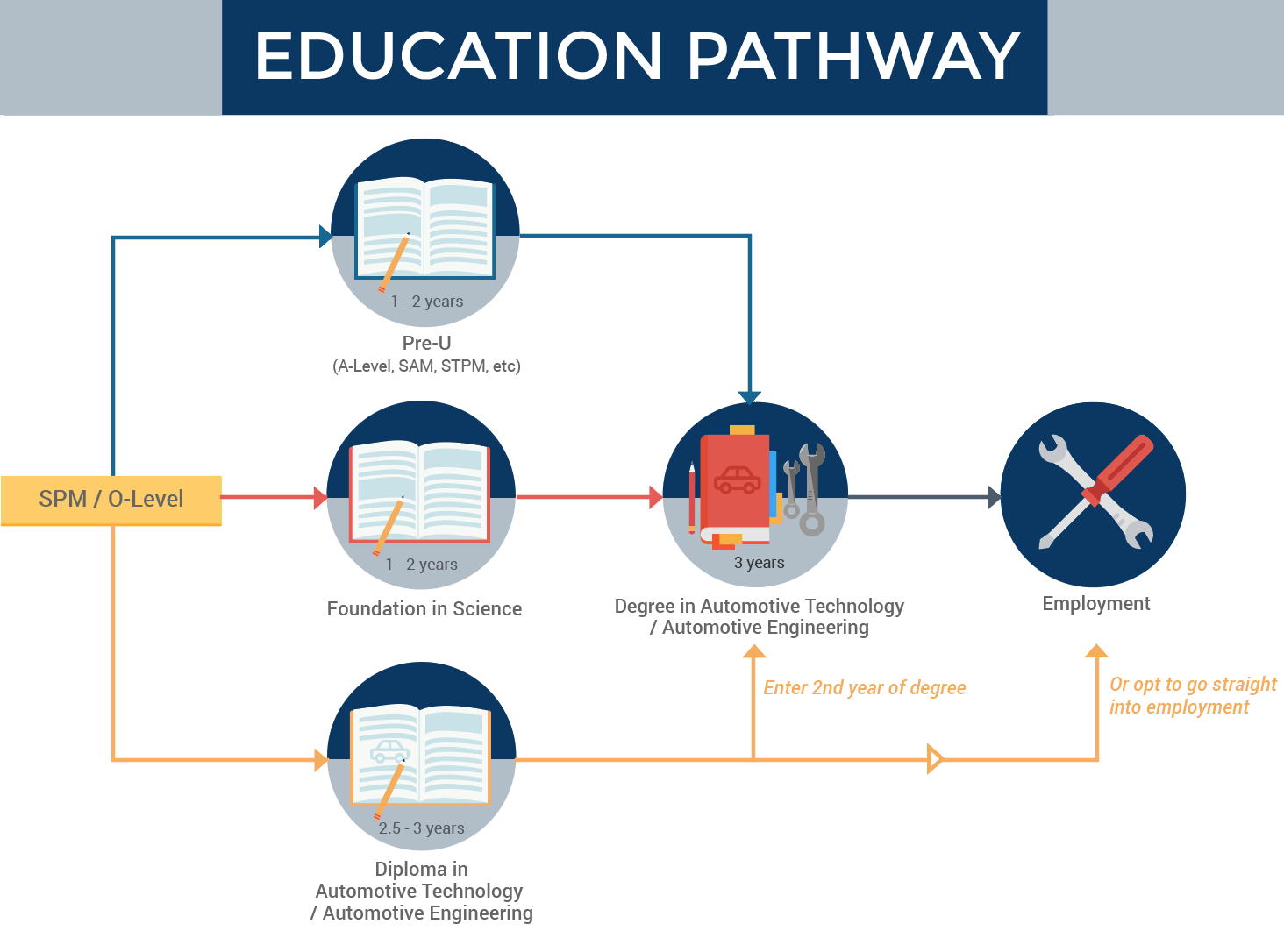 After completing your SPM or an equivalent qualification, you can choose to take a Pre-University course (e.g. A-Level, STPM, etc) or a Foundation in Science. Alternatively, you can also opt for a Diploma in Automotive Technology or Automotive Engineering.
Completing a Pre-U qualification will enable you to proceed to a Degree specialising in motor vehicles, such as Degree in Automotive Technology or Automotive Engineering.
You can take up a Degree depending on which area of the automotive industry that you would like to build a career in.
If you want to own an automobile workshop, you can typically settle with a Diploma in Automotive Technology. If you would like to be involved in the design and manufacturing process of automotive vehicles, then you are encouraged to pursue a Degree in Automotive Engineering.
For those who are driven by the rush of adrenaline, you can also choose to pursue a Motorsport Technology pathway, completing a Diploma before moving on to a Degree.
c) What Will You Study in Automotive Technology?
Automotive Technology courses are usually tailored to equip you with the necessary technical knowledge and the industry-related skills for you to kickstart a bright career in the automotive repair and maintenance field.
Here are some of the subjects that you may study in an Automotive Technology Diploma:
Engine, Chassis & Steering Systems
Petrol & Diesel Engines
Automotive Drive Train
Engine Electrical & Electronics System
Mechanical & Workshop Management
Air-Conditioning Systems
Vehicle Maintenance & Servicing
Most automotive maintenance courses are very practical-based, so expect to get your hands dirty!
Many institutions will have lots of practical sessions, where you will be exposed to various automotive systems and service equipment, including brake fluid testers (for brake checks), common rail injector tester (for engine diagnosis) and wheel alignment machines (for wheel alignment checks).
Naturally, most institutions will also require you to undergo a semester-long industrial training (internship) as part of your curriculum to gain extra hands-on skills and practical knowledge to hone your skills as an automotive technician.
Make sure you take good advantage of your internship to obtain as much exposure as you can as an apprentice. In the automotive service and repair industry, you will find that there is much more to learn from actual hands-on work instead of just cramming books.

#3. Why Should You Study Automotive Technology?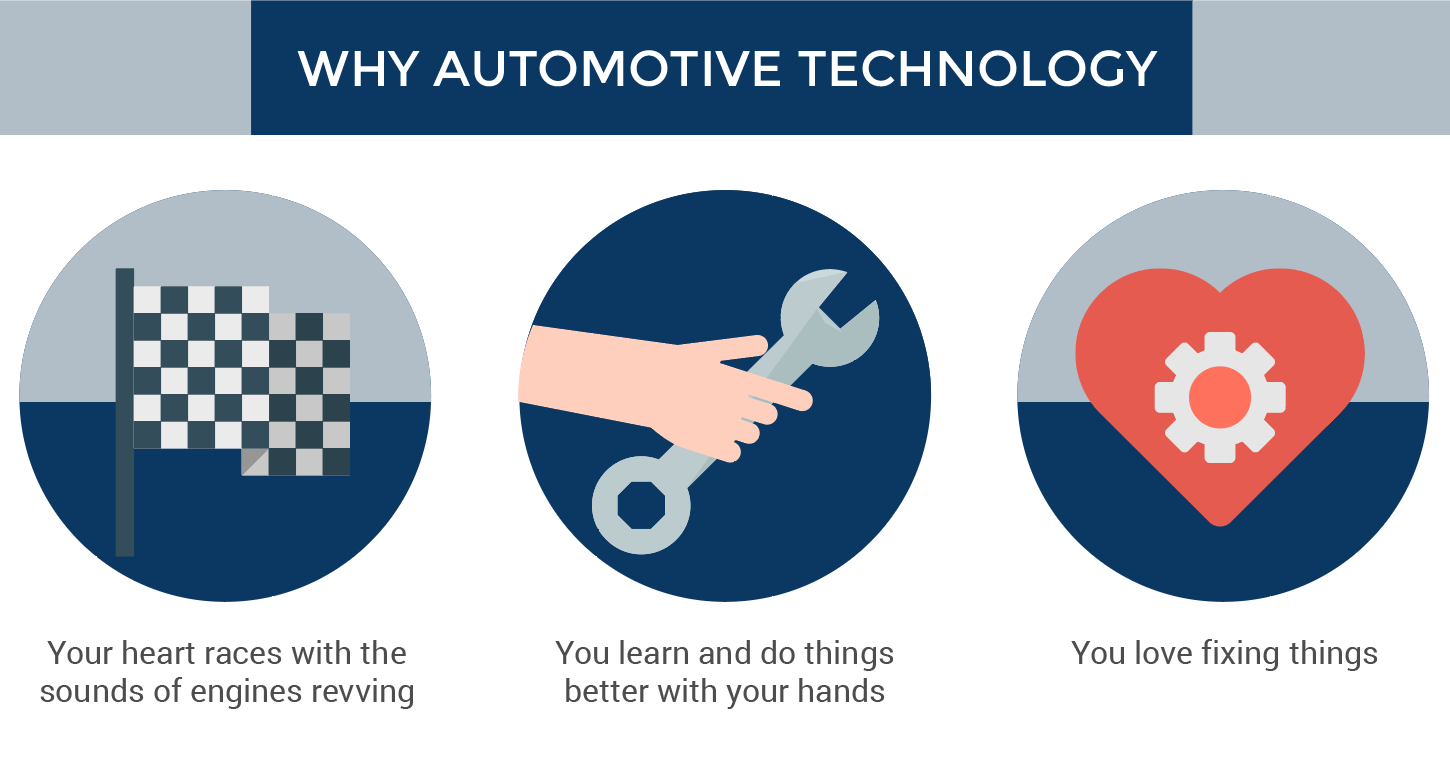 The automotive industry will be both fulfilling and challenging for those of you who have a penchant for cars. Here are some reasons why you should study Automotive Technology.
(a) Your heart races with the sounds of engines revving
90 percent of your Facebook updates are about cars. You eat, sleep and live cars. You tend to fall into a slumber with the voice of your teachers in the background but spring awake by the sound of engines roaring. Everything about you is about these four-wheeled, engine-powered machines. So it's pretty obvious that your calling is probably related to cars.
(b) You learn and do things better with your hands
Being in the automotive maintenance field requires you to be working with your hands. A LOT. If you find yourself learning better by meddling and putting things together compared to deciphering how-it-works diagrams and processes, then Automotive Technology may just be the right field for you!
(c) You love fixing things
Do you find indescribable joy in successfully fixing broken or faulty things? Always spend your free time taking things apart and putting them together again? Even if you fail or can't make them work like how they should, you'll continue trying until you've figured out a way. In the automotive service and repair industry, each day at work will provide you with new tasks and challenges, and you will likely never run out of things to fix.
#4. What Skills Do You Need for an Automotive Technology Course?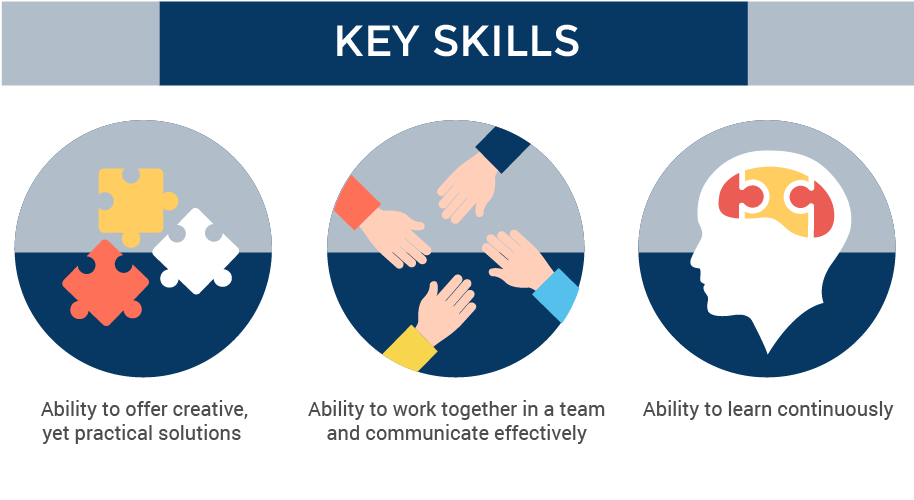 Strong competition is not absent in the Automotive Technology course. In order to perform well in this course, here are some skills that you need to quickly adopt.
(a) Ability to offer creative, yet practical solutions
A lot of times, people will come to you with their machines with a blank look on their faces. They will have completely no idea what and where is wrong with their cars, and they expect you to be able to sort everything out for them – at a reasonable cost, and fast!
This is where it gets tough. You'll need to strike a balance between costs, time and results that can satisfy all parties (your financials, teammates and customers). This is when you'll need all your creative juice to present your customers with the most practical and cost-efficient solution.
(b) Ability to work together in a team and communicate effectively
The automotive maintenance service industry can be very labour intensive. At times, there may be up to 3-4 technicians working on a single vehicle, with a long queue of cars waiting for attention. In order to move fast and work effectively, the ability to work together and communicate well with your teammates is crucial.
You're also expected to be able to communicate clearly to your customers. Good technicians will brief and inform their customers the issues and the approximate budget involved before proceeding to perform the repairs. This is important to avoid any misunderstandings.
(c) Ability to learn continuously
The automotive industry is constantly changing. From the advent of automatic transmission cars to autonomous driving cars, each step of progression means that the things that you've learned about cars may not be relevant in another 10 years.
You will need to constantly keep yourself updated with the latest technology and software programmes associated with future cars. Learn to embrace change and be able to adapt or you could hit a speed bump in your career!
Don't worry if you haven't mastered these skills yet. An Automotive Technology course will sharpen these skills so that you will be effective in your future career. However, it's important that you are mentally prepared for the challenges of studying a course related to Automotive Technology.

#5. What Career Options Do You Have with a Qualification in Automotive Technology?
After completing your Automotive Technology course, here are some of your career options:
Automotive Technician
Foreman
Technical Supervisor
Sales Advisor
Service Advisor
Workshop Manager / Supervisor / Owner
For those taking the Motorsport pathway, your career opportunities could include:
Motorsport Technician
Motorsport Team Captain
Motorsport Scrutineer
#6.

Where Can You Study Automotive Technology in Malaysia?

Here are some of the most popular institutions for Automotive Technology in Malaysia.