The Complete Guide to Studying International Relations in Malaysia
Find the best universities to study international relations in Malaysia. Explore its entry requirements, degree pathway and career opportunities here.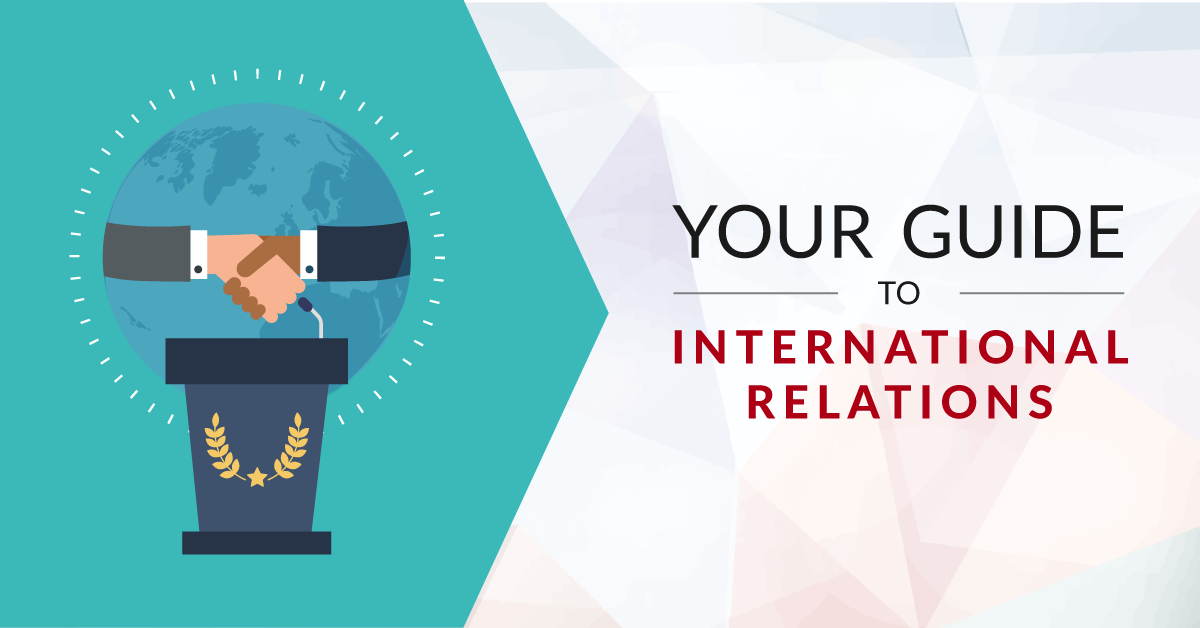 Are you known in your circle as a political pundit? From Brexit and Greta Thunberg to Malaysian politics, you're highly aware of current issues that are occurring not only locally but also globally. Even better, you have well-thought-out opinions on what can be done.
If you resonate with the statements above, then an international relations course may just be it for you.
In this guide, you will find everything you need to know about studying a Degree in International Relations in Malaysia, including what you'll learn, what careers you can pursue and which institutions are the best for international relations.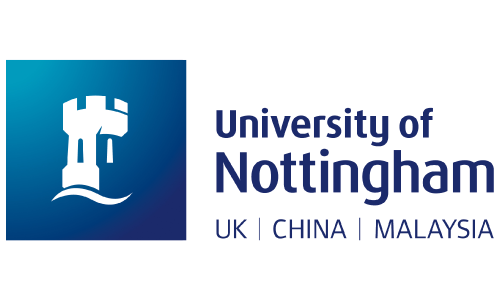 University of Nottingham Malaysia
International Relations BA (Hons)
✓Taught by field experts from 7 different countries and territories
#1. What is International Relations?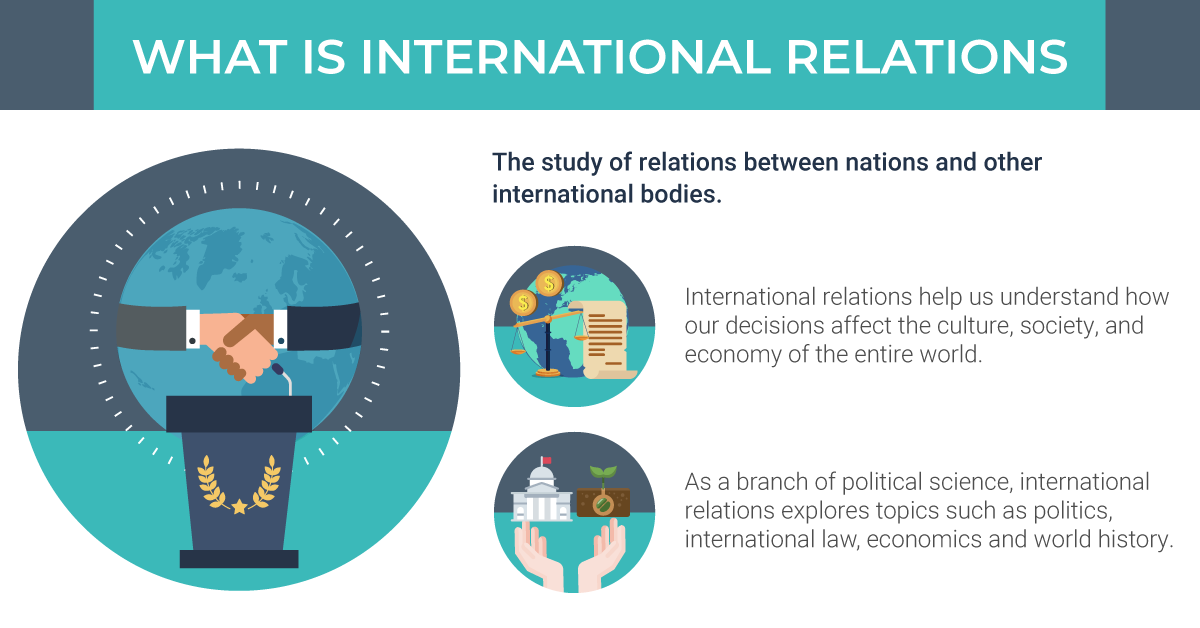 International relations is the study of relations between nations and other international bodies such as the United Nations, World Health Organisation and European Union. As a branch of political science, international relations explores topics such as politics, international law, economics and world history.
As the world becomes increasingly connected, international relations help us understand how our decisions affect the culture, society, and economy of the entire world. Whether it's a financial crisis, a pandemic or a war, these issues shape government policy, affecting job prospects and people's lives all over the world.
By pursuing a tertiary education in international relations, you will explore political and environmental perspectives, both locally and globally. You'll learn how to critically analyse various social and cultural issues (e.g. human rights, global poverty, threat of terrorism, environmental sustainability), dissect the reasonings behind the actions of foreign policymakers and come up with solutions to major problems that the world faces.

#2. Entry Requirements for International Relations
a) What are the subjects required to study international relations?
In general, there are no subject prerequisites to study international relations.
However, you will need to have a credit in English at SPM or equivalent.
(b) Requirements for Diploma in International Relations
These are the general entry requirements for a Diploma in International Relations:
SPM (or equivalent): Minimum 3Cs including English
(c) Requirements for Degree in International Relation
To pursue a Degree in International Relations, you need to complete a pre-university programme and meet the entry requirements:
In addition to that, you will also need at least a credit in English at SPM or equivalent.
Important Note:
Entry requirements for some universities may be higher, so it's important that you scrutinise the details carefully.
#3. Studying an International Relations Course in Malaysia
a) What subjects will you study in international relations?
The academic study of international relations is designed to prepare you to be a creative and critical thinker with vast knowledge of social issues, political systems, history and culture. During the course of your study, you will be exposed to political ideologies, theories and concepts and learn how to solve some of the world's most pressing issues.
Here are some of the subjects you may cover throughout your international relations studies:
Global Comparative Politics
Revolutions, Popular Uprising and Social Movement in World Politics
International Political Economy
Global Diplomacy
International Law and Organisation
International Security
International Conflict Negotiation, Mediation and Resolution
Political Communication, Public Relations and Propaganda
Sustainability and Environmental Politics
ASEAN Regionalism in World Politics
Research Methods in International Relations
Some universities also have modules that are ASEAN or Malaysian-focused where you'll explore politics and public issues affecting the region and country.
As part of your Degree in International Relations, you may be required to complete either an internship or a dissertation.
b) How long is an international relations course?
A Diploma in International Relations takes 2 years.
A Degree in International Relations typically takes about 3 years to complete.
c) How much does it cost to study international relations in Malaysia?
An International Relations programme could range from RM79,300 to RM111,400.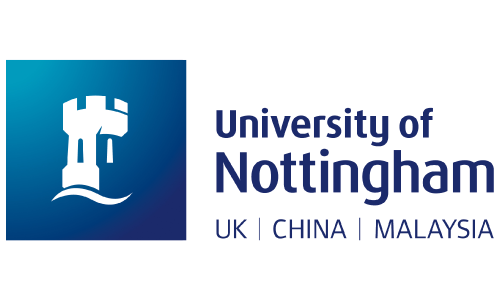 University of Nottingham Malaysia
Foundation in Business and Management
✓Established programme and quality teaching that will provide you with a seamless transition into your preferred business degree programme
#4. Your Education Pathway for International Relations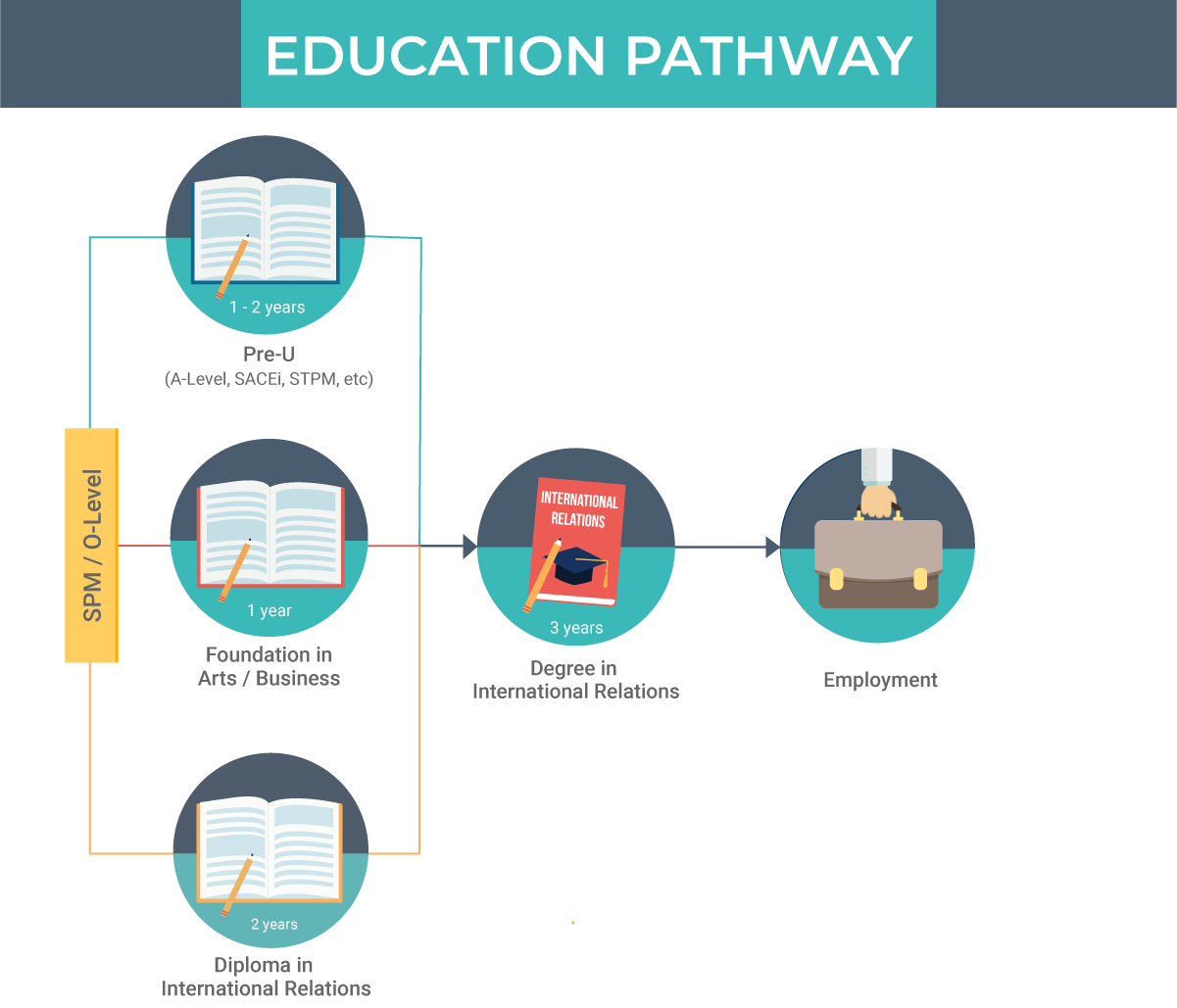 Upon the completion of your SPM or equivalent qualification, you can opt to enrol into a pre-university (STPM, A Levels, etc.) or Foundation in Arts or Foundation in Business programme. Alternatively, you can also choose to pursue a Diploma in International Relations.
Completing a pre-university or a foundation programme will enable you to proceed to a Degree in International Relations.

#5. Should You Study International Relations?
a) Is International Relations right for you?
If you're wondering whether you should pursue this programme, here are some questions to think about:
Do you consider yourself an investigative person with critical analytical skills?
Do you enjoy debating and engaging in challenging issues?
Do you aspire to make a difference in the world?
Are you open to learning about different cultures and governing systems?
Are you comfortable with group discussions and public presentations?
Do you have ambitions to have a career in politics, government or international security?
If you answered yes to most of these questions, this course may be right for you!
b) Skills required to pursue a career in international relations
Here are some key skills a good international relations graduate should have:
A keen interest in policy, politics and social issues and a desire to promote change
Ability to hold a strong and balanced argument
Ability to think critically and quickly
Ability to understand diverse perspectives and successfully negotiate and influence others
Good research and analysis skills
Good written and verbal communication skills
Adaptable and can fit in in any environmental setting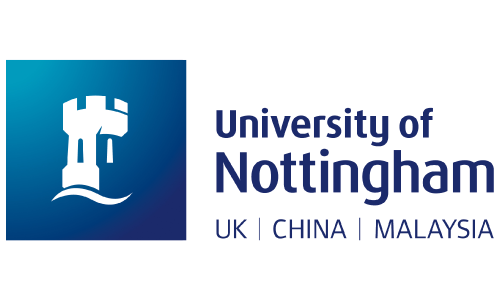 University of Nottingham Malaysia
International Relations BA (Hons)
✓Taught by field experts from 7 different countries and territories
#6. Jobs You Can Get with an International Relations Degree
With an international relations qualification, you can seek employment opportunities in a range of industries, including local and national government, aid and non-governmental sectors, finance and international businesses, foreign ministries, international media and journalism and international organisations.
Here are some careers you can pursue with an international relations qualification:
Political Analyst
Diplomatic Officer
NGO / International Aid Worker
Politician
Political Activist
Communications Specialist
Researcher in Think Thanks
Reporter
Social Entrepreneur
#7. Best Institutions for International Relations in Malaysia
If political studies is where you shine the brightest, then check out some of the best institutions for International Relations in Malaysia.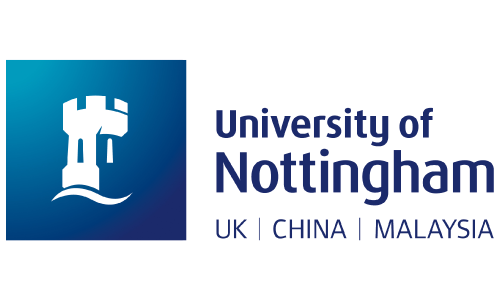 View other institutions