7 Unique Hotels Around the World That Will Mesmerise You
Who knew you can sleep in the sea and dine in the sky? Well, these unique hotels from around the world let you do just that and so much more.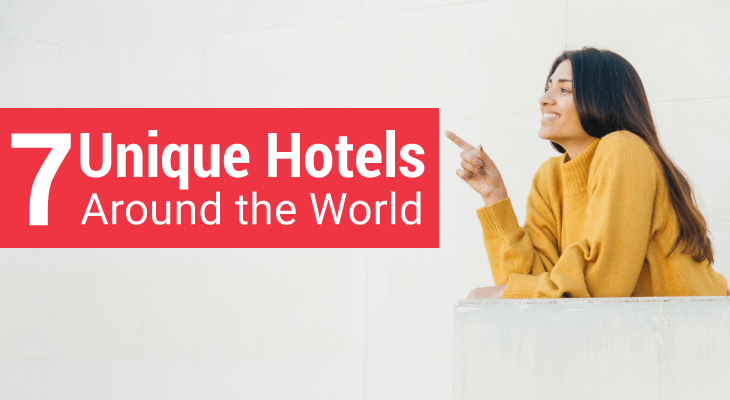 Calling all travel enthusiasts! Do you love going on adventures and experiencing different hotels as you explore the world? Then, this article is for you.
Check out these cool hotels from around the world that'll get you in the mood for another adventure!
#1. Kakslauttanen Arctic Resort, Finland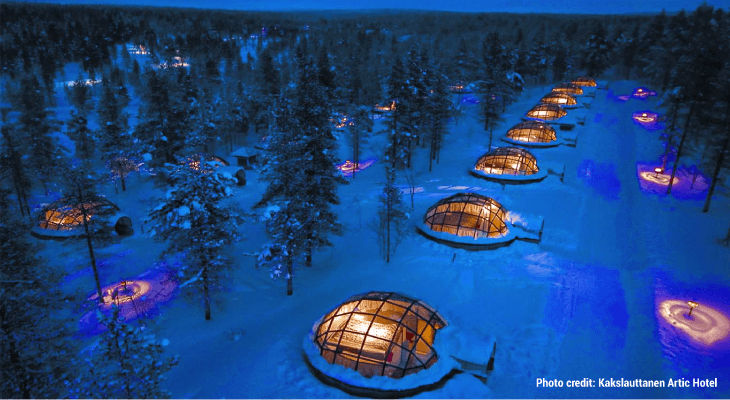 Imagine being able to watch the magical northern lights (aurora borealis) from the comfort of a cosy glass igloo, surrounded by picturesque views of Finland's snowy wilderness. This is one of the main attractions offered at the exclusive Kakslauttanen Arctic Resort in Finland.
Located 250 kilometres north of the Arctic Circle in Finnish Lapland, the Kakslauttanen Arctic Resort provides guests with more than 7 unique accommodation options to choose from — including its iconic Glass Igloos. The roofs of the igloos are made of thermal glass, which keeps you warm while you enjoy the magnificent views of the painted night sky.
Fun Fact:
The resort's founder, Jussi Eiramo, was returning from a fishing trip when his car ran out of fuel. After being forced to camp out in the wilderness area called Kakslauttanen
,
he had the idea to open a café — which later evolved into a resort.
#2. Hotel Costa Verde, Costa Rica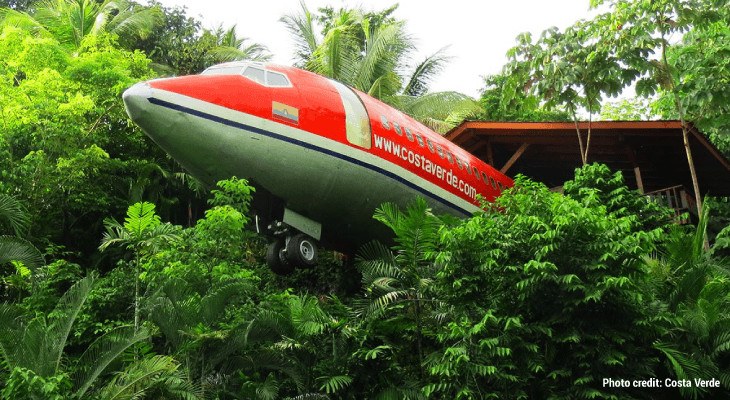 Do you hate boarding aeroplanes solely because of the limited legroom, turbulence and the fear of sitting next to an annoying stranger who snores non-stop? Well, Hotel Costa Verde's 727 Fuselage Home in Costa Rica is one aeroplane you wouldn't mind being in. This refurbished vintage 1965 Boeing 727 has been transformed into a two-bedroom suite complete with its own kitchenette, private bath, dining area foyer and more.
Perched on a 50-foot pedestal and nestled in a National Park, this unique aircraft accommodation will allow you to enjoy heavenly views of the surrounding ocean and jungle.
#3. ICEHOTEL, Sweden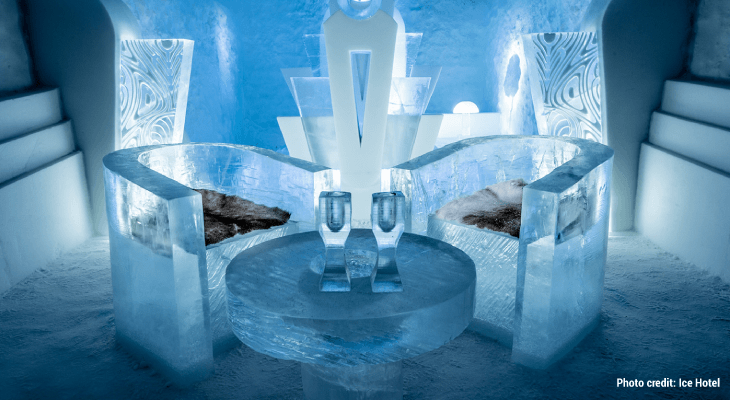 Thanks to the world-famous ICEHOTEL in Jukkasjärvi, Sweden, your fantasy to live in Elsa's frozen castle is now possible.
Just as its name suggests, ICEHOTEL features enchanting rooms and suites made entirely of ice. On top of that, it's also an art exhibition made of ice and snow, where new sculptures are reincarnated by selected artists every winter.
The creation of this extraordinary hotel is spectacular. Every winter, natural ice is extracted from the Torne River that stretches 520km long. Snice (a mixture of snow and ice) is sprayed onto moulds that will later make up the hotel's strong metre-thick walls and base for ice sculptures. Artists from around the world then gather to create their unique ice sculptures, and during the summer when the hotel melts, the water returns to its source. It's purely sustainable!
DID YOU KNOW
ICEHOTEL has been revamped to ICEHOTEL 365, which can now be visited all year round (even during the summer months) thanks to the help of ice-cooling solar panels that prevent the hotel from melting.

#4. Conrad Maldives Rangali Island, Maldives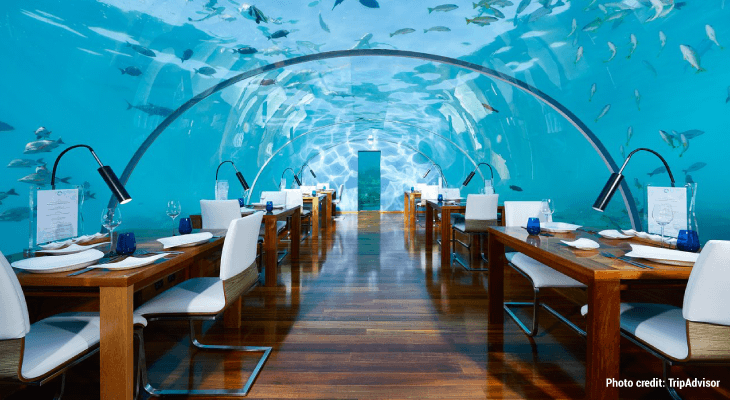 Are you a fan of the sea and its creatures? If so, you can now take your travel experience to a whole new level by spending the night underwater!
The Muraka residence in Conrad Maldives Rangali Island is the world's first underwater hotel suite, which opened in November 2018. The awe-inspiring 2-level, 3-bedroom suite sits 5 metres below sea level and features floor-to-ceiling glass windows that offer panoramic views of the sea.
Furthermore, although the hotel suite is fully submerged underwater, it is fully equipped with modern amenities and luxuries such as Wi-Fi, air-conditioning, an infinity pool, an ocean-facing bathtub, a personal chef and even 24/7 Instagram Butlers who are trained to help you take the most Instagrammable pictures.
Enrol for college with EduAdvisor
There's no best college — only the one that's best for you. Speak to our advisors.
Start now
#5. Kokopelli's Cave Bed & Breakfast, New Mexico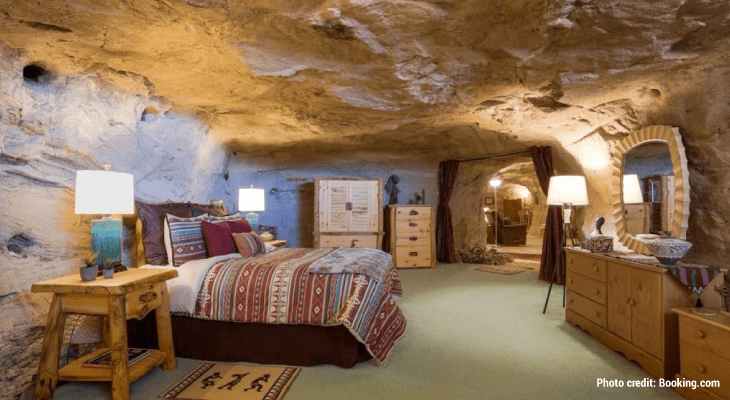 If The Flintstones was your favourite show growing up, this could be your dream stay. Kokopelli's Cave is built into the vertical cliffs of Tertiary Ojo Alamo sandstone, overlooking the Four Corners; the states of Arizona, New Mexico, Utah and Colorado. From the cave and cliff tops, you will be able to witness the breathtaking view of the southwest sunsets over the picturesque La Plata River valley.
This cosy cave gives out a homey vibe, especially since it is fully furnished with a bedroom, kitchen, bathroom and even a fireplace (not that you need it). A night in Kokopelli's Cave would surely be a memorable one!
#6. SiloStay, New Zealand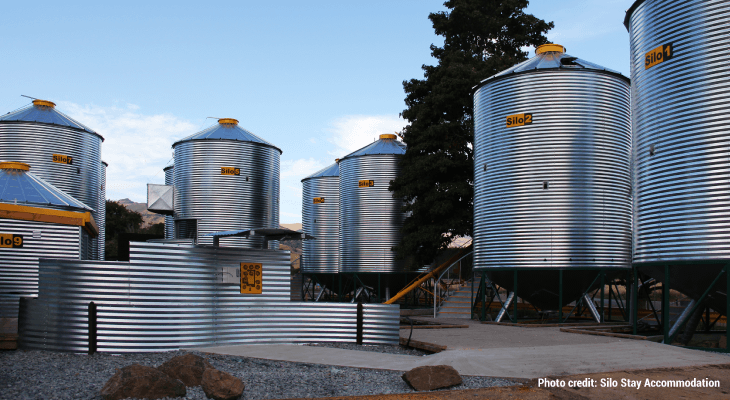 A silo is a structure commonly used in agriculture to store grain, fermented feed and other bulk materials. Have you ever spotted any silos during your car rides back to your hometown? Surprise, surprise, you can actually stay in one when you check into StiloStay in New Zealand!
The founder of SiloStay, Stuart Wright-Stow, is an innovative man who has the ability to visualise objects beyond their primary form. Located in the peaceful Little River, this eco-friendly accommodation complex offers an escape from the hustle and bustle of the city. It is designed as a 2-storey suite with a queen-size bed and bathroom upstairs as well as a kitchen and living area downstairs.
Want to know what it's like to live in a silo? Be sure to add this place to your adventure bucket list!

#7. Book & Bed Tokyo, Japan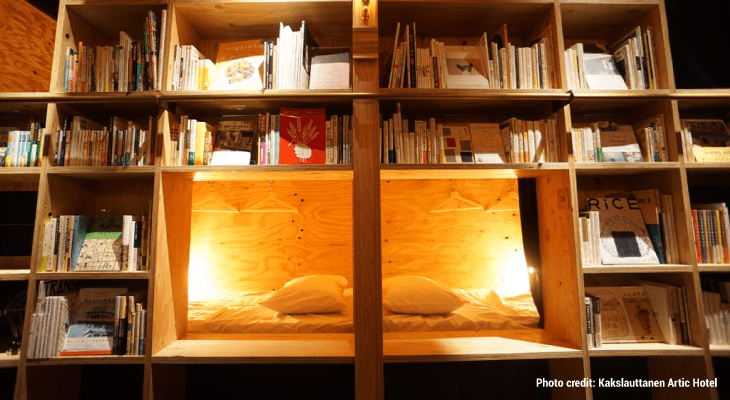 Do you enjoy reading before going to bed? The Book & Bed in Tokyo was designed for people just like you.
This Accommodation Bookshop in Japan is an all-you-can-read experience for bookworms. Featuring shelves full of books plus beds so you can fall asleep reading, it is the perfect place for bibliophiles.
Here, you can enjoy your stay in a tiny den made of bookshelves that hold more than 2,000 books and comics (in English and Japanese). Aside from beds and books, the hostel is also equipped with a shared bathroom including shower stalls and toilets, free Wi-Fi, slippers, lockers and a personal reading lamp in each of the book and bed cubicles. How cool!
From underwater getaways to sky-high wonders, all of these hotels from various locations offer a different unique experience. If you could pick one to visit, which one would you choose? Let us know in the comments below!