8 In-Demand Jobs You Can Do With a Diploma in Malaysia
Want to stay relevant in the ever changing job market? Here are 8 in-demand jobs you can apply for with a diploma.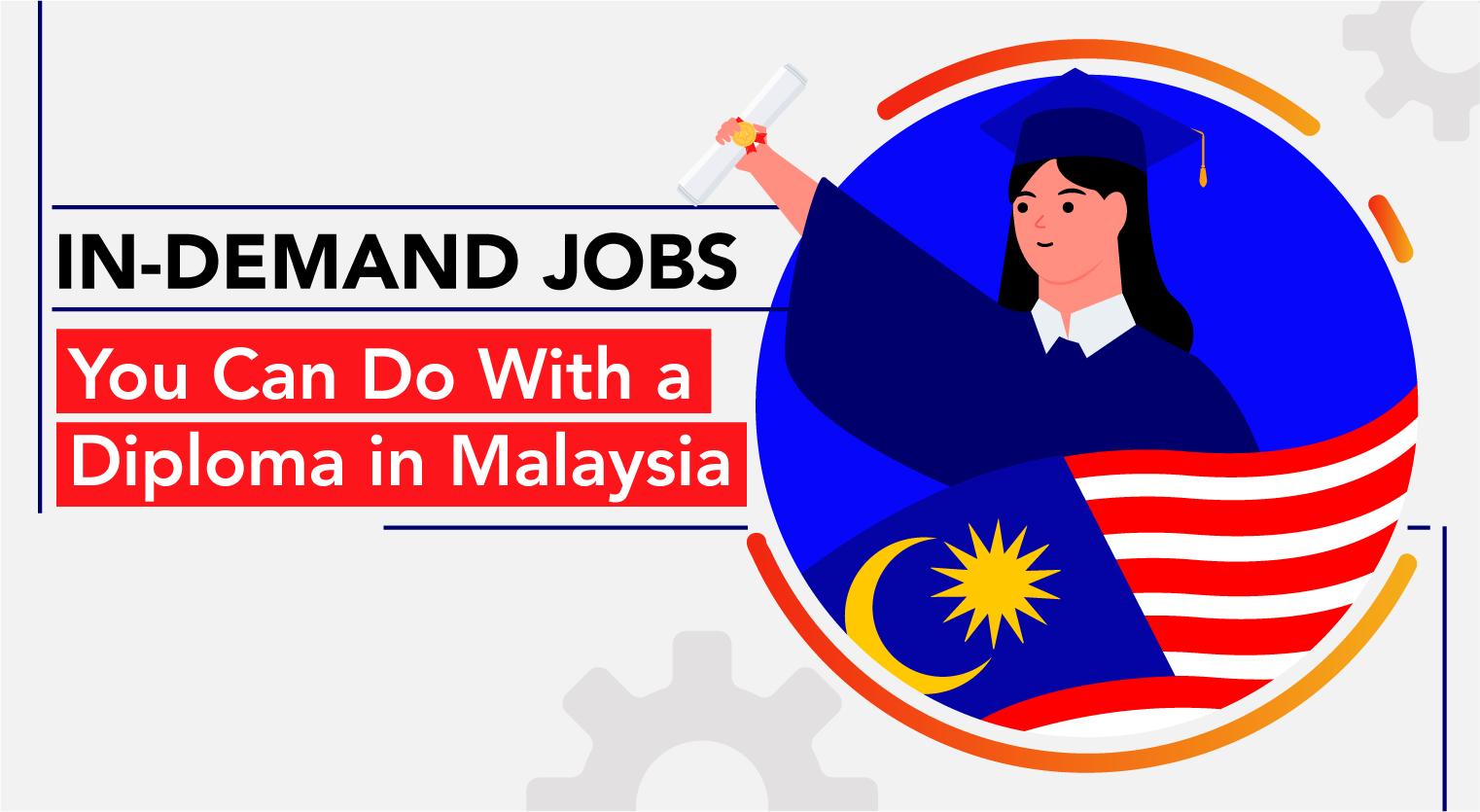 In partnership with:

What can you do with a diploma? Turns out, a lot.
Lower fees, shorter duration and a more relaxed entry requirement — there are plenty of reasons why you should choose a diploma.
That's not all. A diploma qualification can be a gateway to many jobs. If you're not sure what a diploma can do for your future, here are 8 in-demand jobs you can go for with a diploma.
#1. Content creator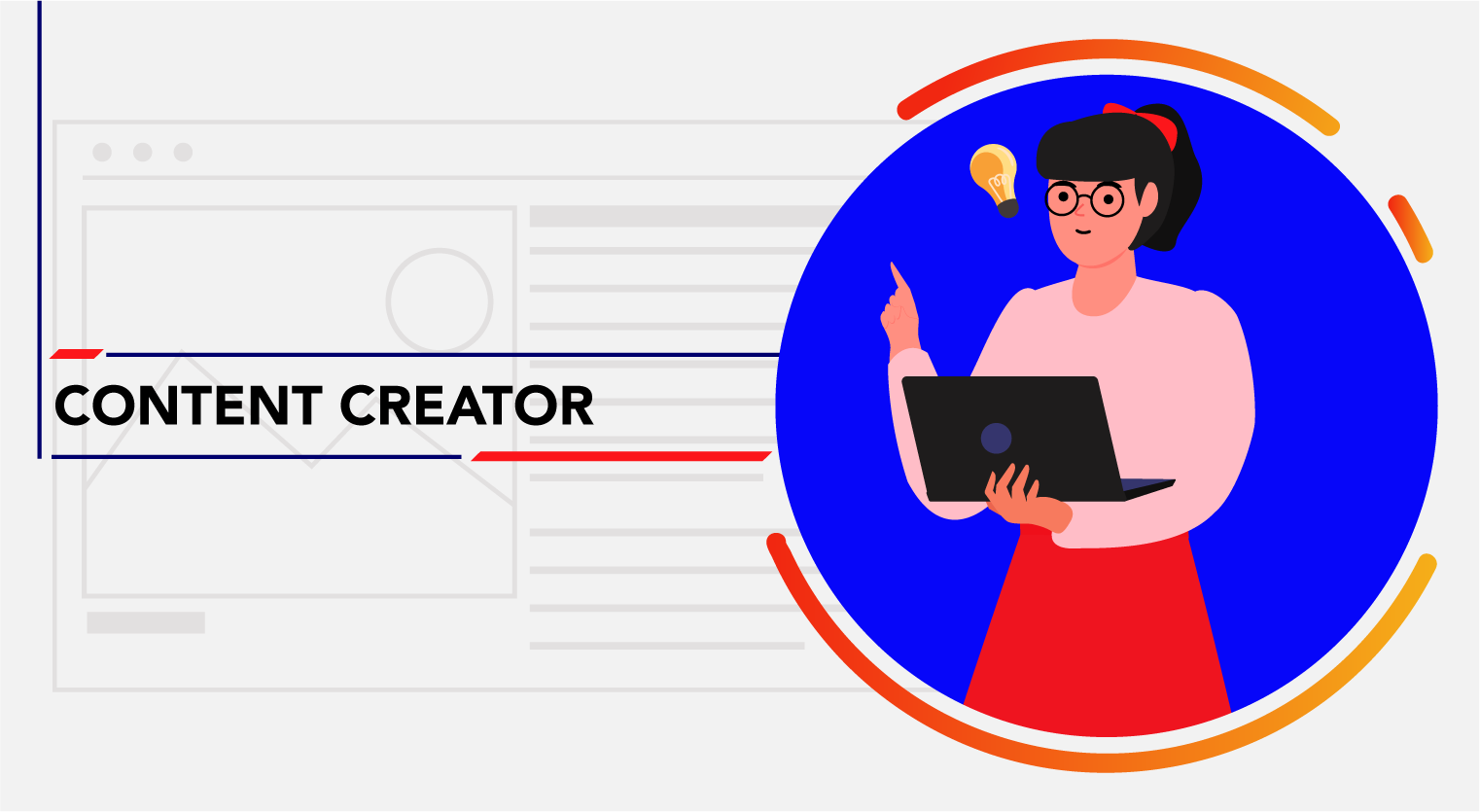 A content creator is someone who creates content for informational, entertainment, marketing or entertainment purposes. The content can come in many forms, be it videos, articles, graphics or even social media posts.
Content creators are highly sought-after in the creative multimedia industry and an indispensable part of today's digital economy — and it's not hard to see why. Every company wants to sell their products and services and to do so, they need to market them. Content creators, with their skilful ability to craft stories and messages that resonate with the target audience, can do just that. What's more, this is a job you can venture out on your own.
To work as a content creator, you'll need to be a creative and critical thinker with comprehensive knowledge of digital platforms and advertising concepts, as well as technical skills such as writing, graphic design or video editing. A good diploma can equip you with these skills.
PRO TIP
To be a successful content creator, you'll need to know how to communicate with the masses. Register with Taylor's Diploma in Communication now to develop your skills and get started on your journey as a content creator.
#2. Mobile app developer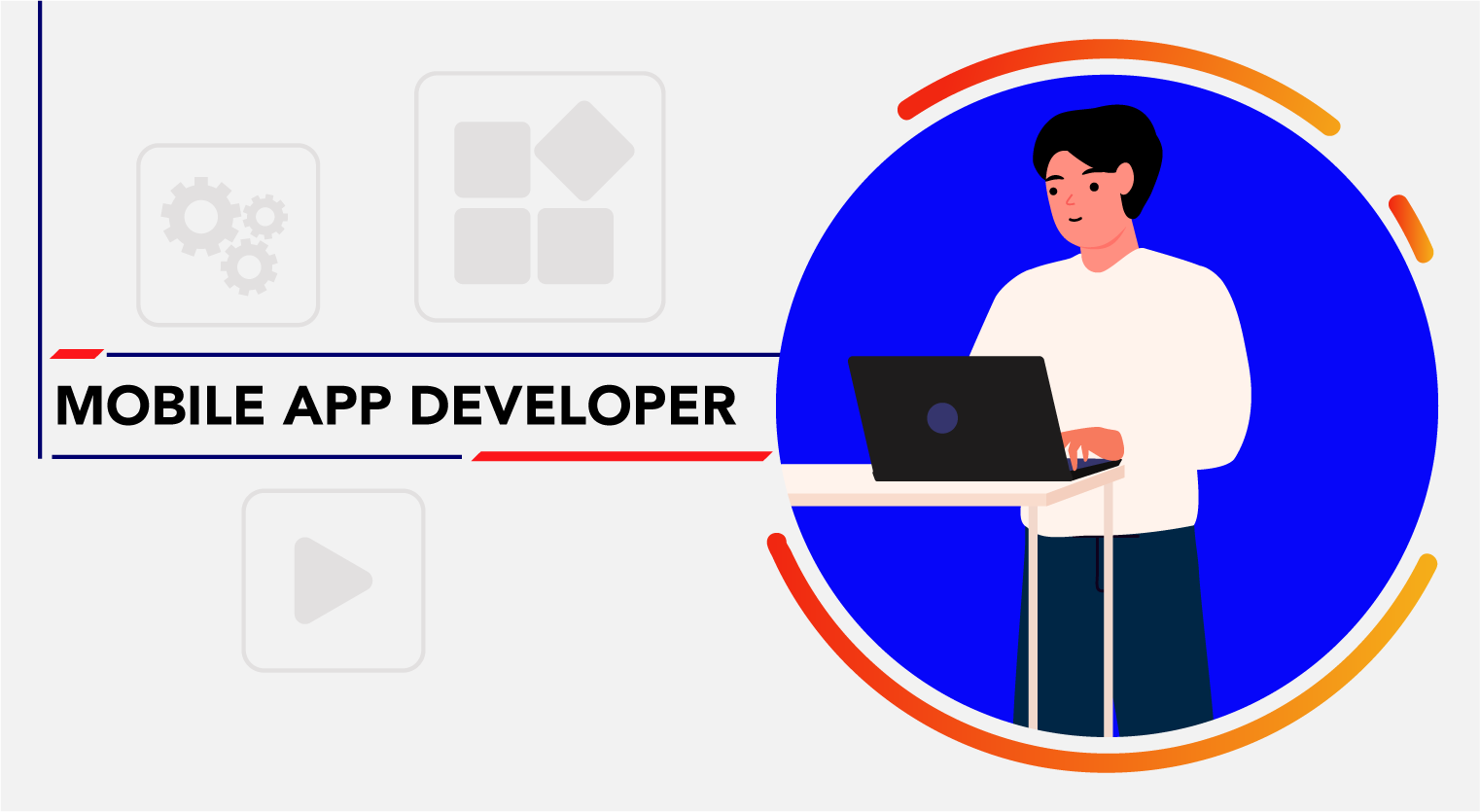 A mobile app developer is someone who creates, tests and develops mobile applications. With smartphones quickly becoming an integral part of our daily lives, it's no surprise that this is a job that's high in demand right now.
Succeeding in this job requires that you be knowledgeable in a variety of areas including programming, backend computing, UI/UX and cross-platform solutions. It's a challenging field that requires lots of technical skills so knowing how to put everything you learn into practice is important.
This could be why employers seek out those with relevant diplomas to fill this role. Due to its strong practical-based curriculum, a diploma is an ideal measuring tool to find proficient mobile app developers. So if you want to venture into this field, make sure to pick the right diploma programme.
PRO TIP
Not quite sure if you want to work as an app developer? Knowledge in IT can score you many other tech jobs. Free yourself up to a world of opportunities with a Diploma in Information Technology from Taylor's College.
#3. Social media executive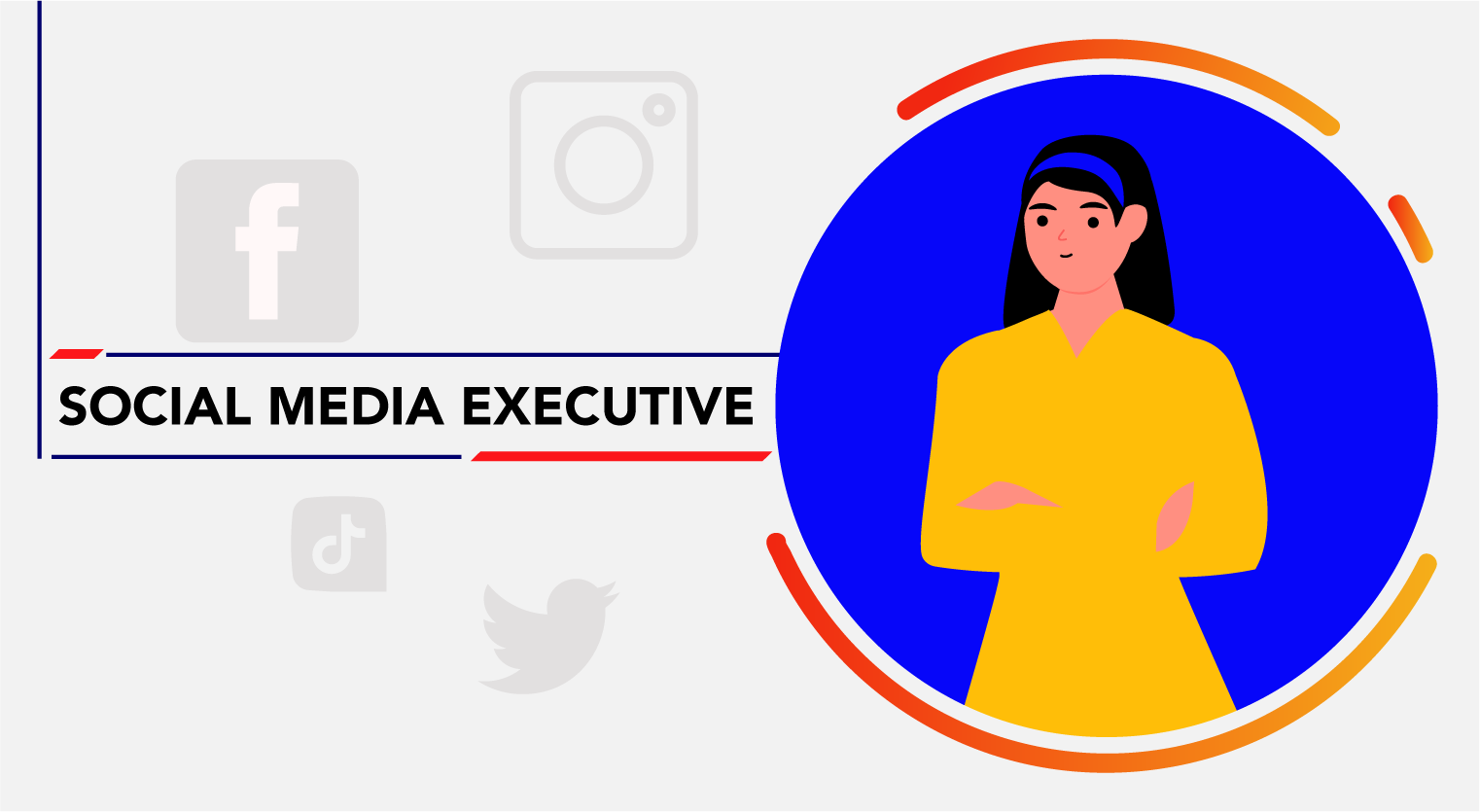 This job was virtually unheard of 15 years ago, but it is now becoming commonplace in many organisations. As a social media executive, you are in charge of strategising, developing and producing content for your company's social media platforms.
To engage with the online community, you'll need to be tech savvy and have the ability to think creatively and communicate effectively. Being proficient in several languages (English, Malay and Mandarin) is an advantage, as well as being knowledgeable in the latest digital marketing technologies and trends.
Plenty of companies only require a diploma for this job as what's crucial is your ability to create and execute social media marketing campaigns. And with rapid digitalisation, you can expect the demand for social media professionals to rise.
DID YOU KNOW
Knowing how to communicate with your audience can make all the difference. Learn more about the art of copywriting and the principles of online communication with Taylor's Diploma in Communication and start sharpening your communication skills now.
#4. Web developer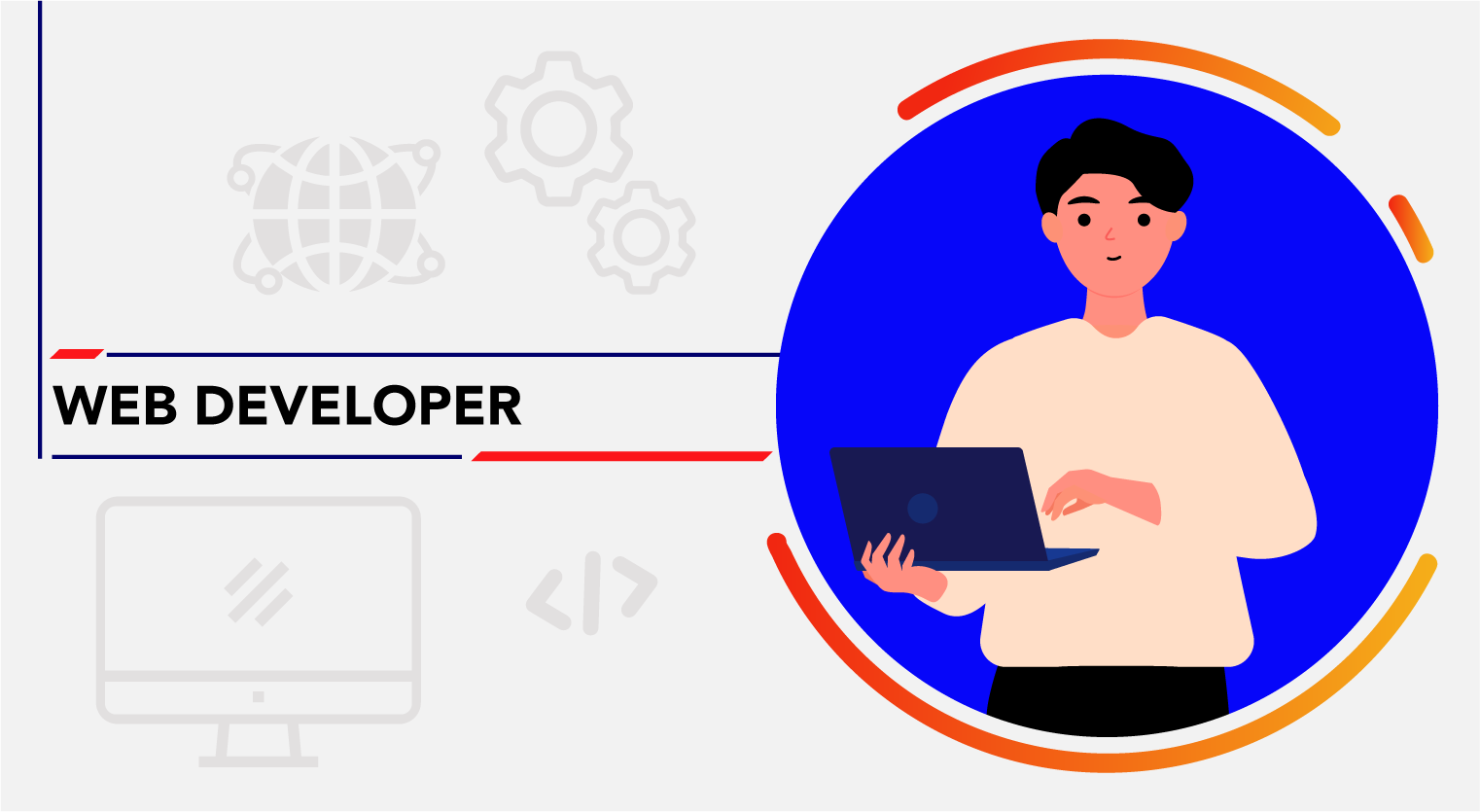 A web developer plans, develops and codes websites. This often includes writing codes, designing user interfaces and integrating multimedia content to bring a combination of texts, pictures and graphics to life.
To pursue a career in web development, you'll need a host of technical skills to ensure that you're able to build reliable and high-performing websites. A relevant diploma can provide you with demonstrable knowledge, particularly in programming and web design.
In this age of social media and digital communication, any company that wants to establish an online presence needs a web developer. As such, it's no wonder that the job is constantly listed among those in-demand.
PRO TIP
A good web developer must know both the theory and practice of web development. As part of the course, Taylor's Diploma in Information Technology will expose to you the principles and practices of web development, which will come in handy for this role.
#5. Animation professional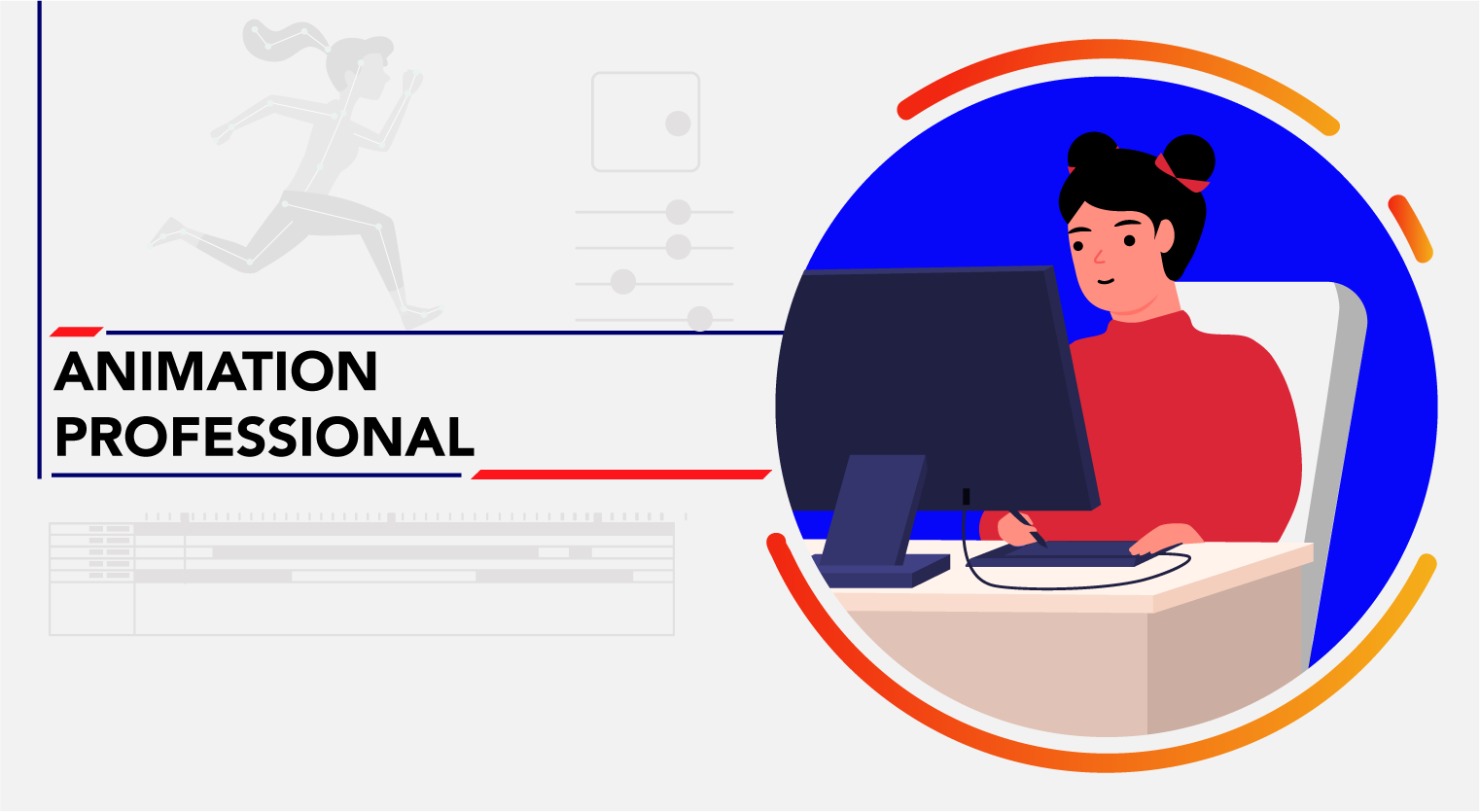 Wondering where you and your love for design fit in the job market? As a matter of fact, Malaysia is currently in dire need of animation professionals such as 3D animators, CG modellers, lighting artists and composite artists.
Animation professionals bring characters and objects to life using animation and special effects. It's a job that requires lots of technical skill and utilises a myriad of tools and software programs, which is why a diploma is a good choice if you intend to pursue a career in this field.
From video games and commercials to documentaries and your favourite Pixar films, animation is a popular form of media. And with growing investment in the creative multimedia industry, you can be sure that the demand for animation and visual effects professionals will continue.
DID YOU KNOW
As part of its curriculum, Taylor's Diploma in Interior Design will also teach you how to use computer applications to create designs. This transferable skill is not only useful in interior design, but you can also find work as a graphic designer, furniture designer and 3D visualiser.
#6. Sales and marketing executive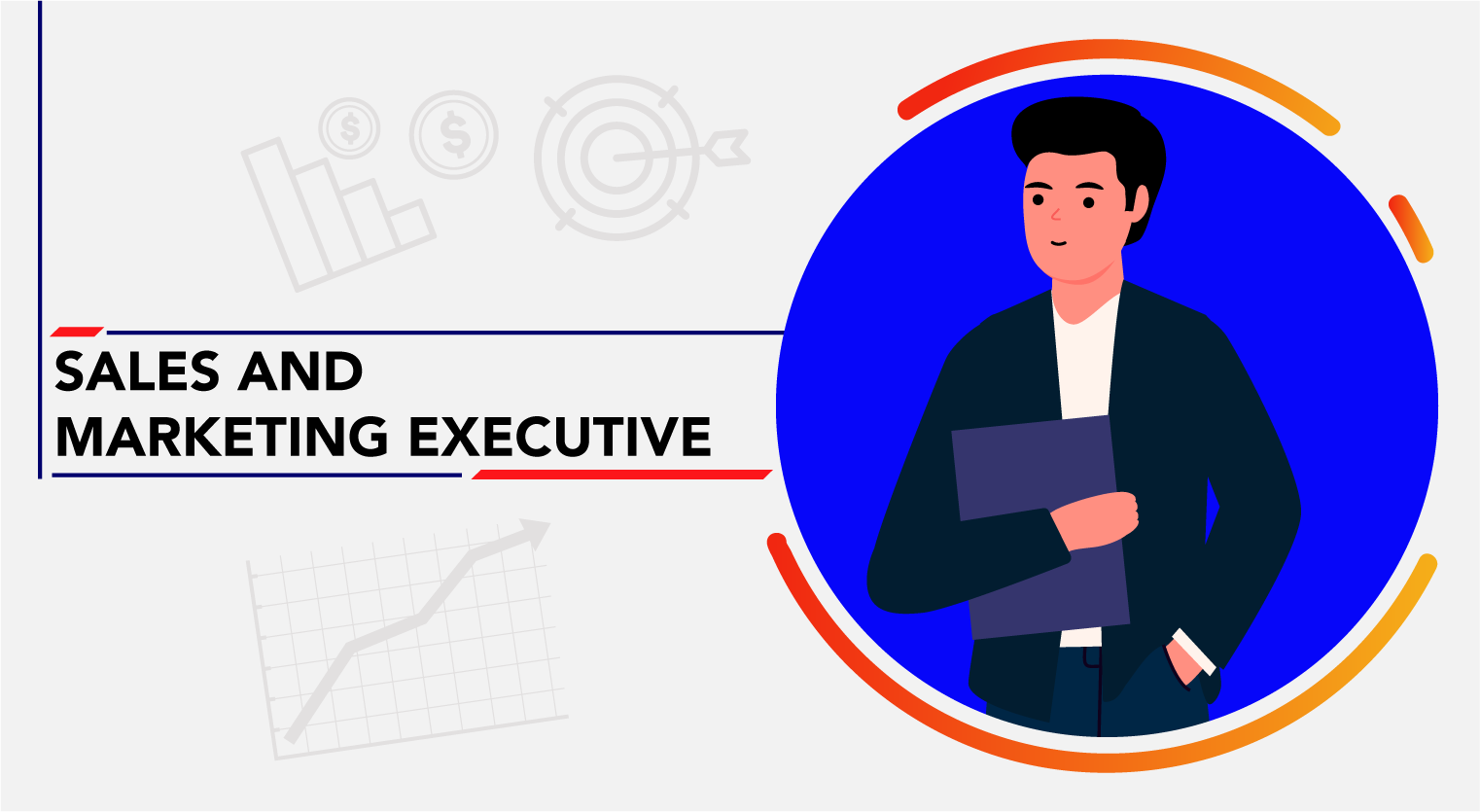 As a sales and marketing executive, your job is all about marketing and optimising the sales of your products and services. This means knowing not only the market, but also marketing and sales techniques that will appeal to your target audience.
Interpersonal and communication skills, technical skills, problem-solving skills and industrial knowledge — these are all important skill sets a sales and marketing executive must have. However, having these skills is not enough. A good sales and marketing executive should also know how to put it into practice and use it to their benefit.
A diploma, which is often noted for its emphasis on practical education, can help you in this area. Honing these skills through participating in practical classes, on top of a good education in business, will make you a prime candidate for many opportunities in this field.
DID YOU KNOW
Taylor's is ranked 97 for Business and Management Studies in the QS World University Rankings by Subject 2022. This makes it the top private business school in Malaysia and Southeast Asia. Tap into your business side and unleash your potential with a Diploma in Business from Taylor's College.
#7. Finance executive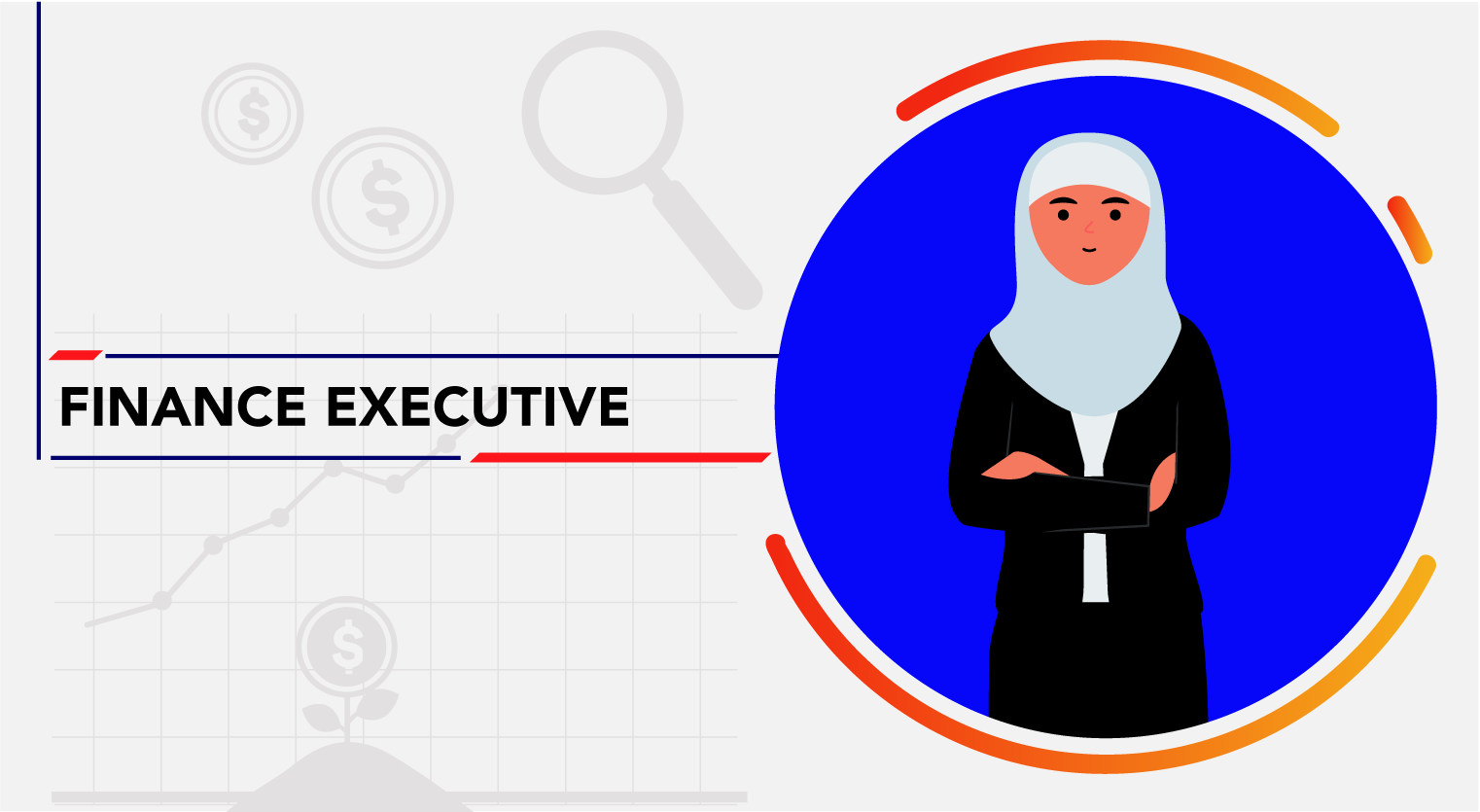 A finance executive is someone who oversees the financial management of a department or a business. Their responsibilities can include managing the company's investments and expenses, writing financial reports and finding ways to maximise the company's profits.
Employers are currently finding it difficult to fill this role due to the lack of talents with expertise in e-commerce, which is a major part of today's economy thanks to the advancement of technology.
To become a finance executive, you need strong organisational and analytical skills. On top of that, you will also need to have a solid foundation in the principles of economics and finance. A background in accounting can also help boost your prospects. As such, finding a comprehensive diploma programme that covers these areas is important.

#8. Account associate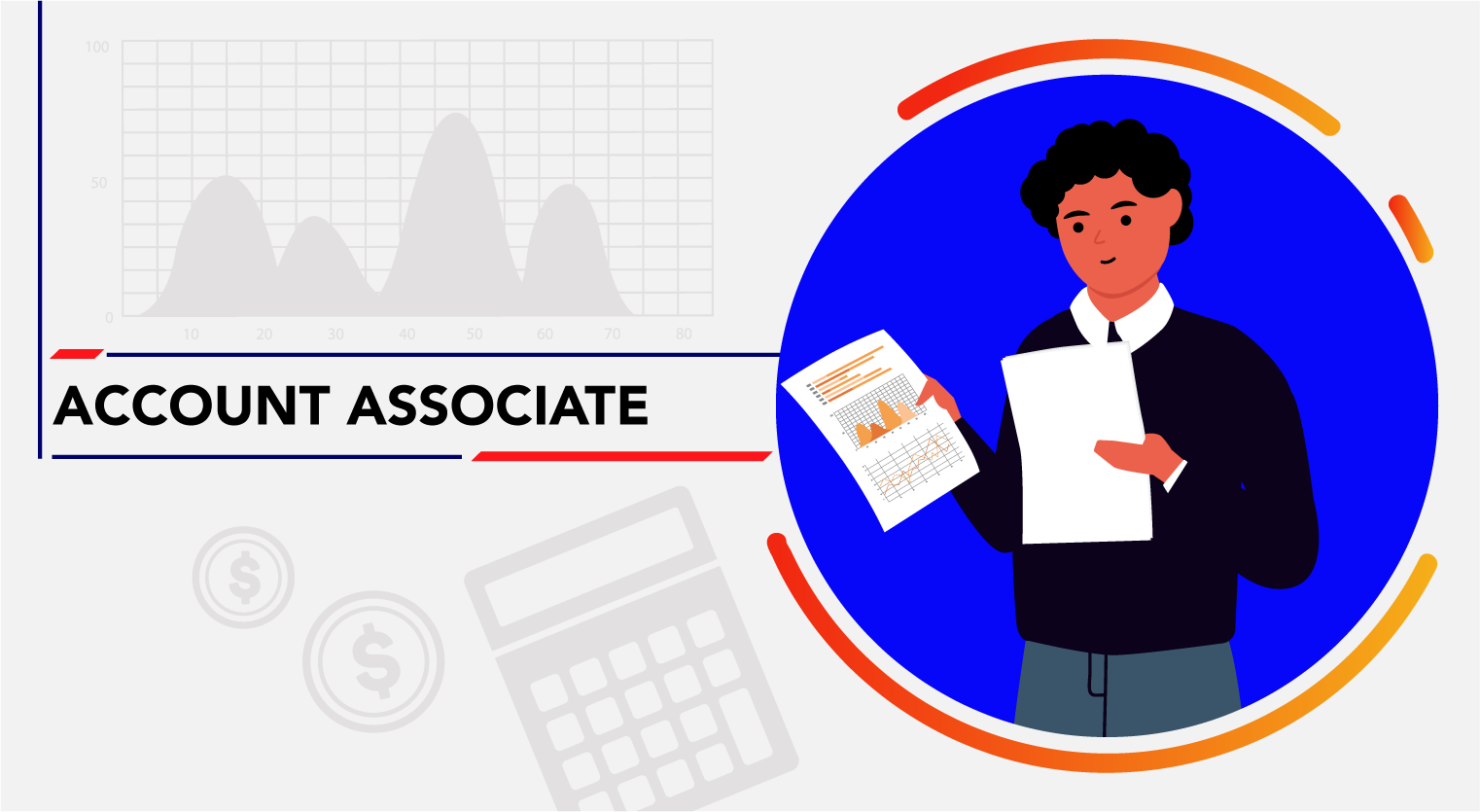 If you prefer to work with numbers as opposed to people, then you'll probably like accounting.
An account associate helps with administrative, accounting and bookkeeping tasks. They keep track of the company's financial history, understand its financial health and ensure that the company is making decisions that are focused on increasing efficiency and profitability.
To become an account associate, you have to have working knowledge in basic accounting principles and practices. You will also need to be sufficiently proficient in MS Office and popular accounting software. There's currently a lack of accounting talents with proficiency in financial reporting standards (FRS) so knowledge in that area can be helpful.
If you're aiming to pursue this career, a good accounting education is important. You can start with an accounting diploma to build a strong foundation. Subsequently, you can further improve yourself by upskilling with professional qualifications.
PRO TIP
Want to be an accredited accountant? Make sure to study a recognised accounting programme like Taylor's Diploma in Accounting.
Bonus Point: Early Childhood Educators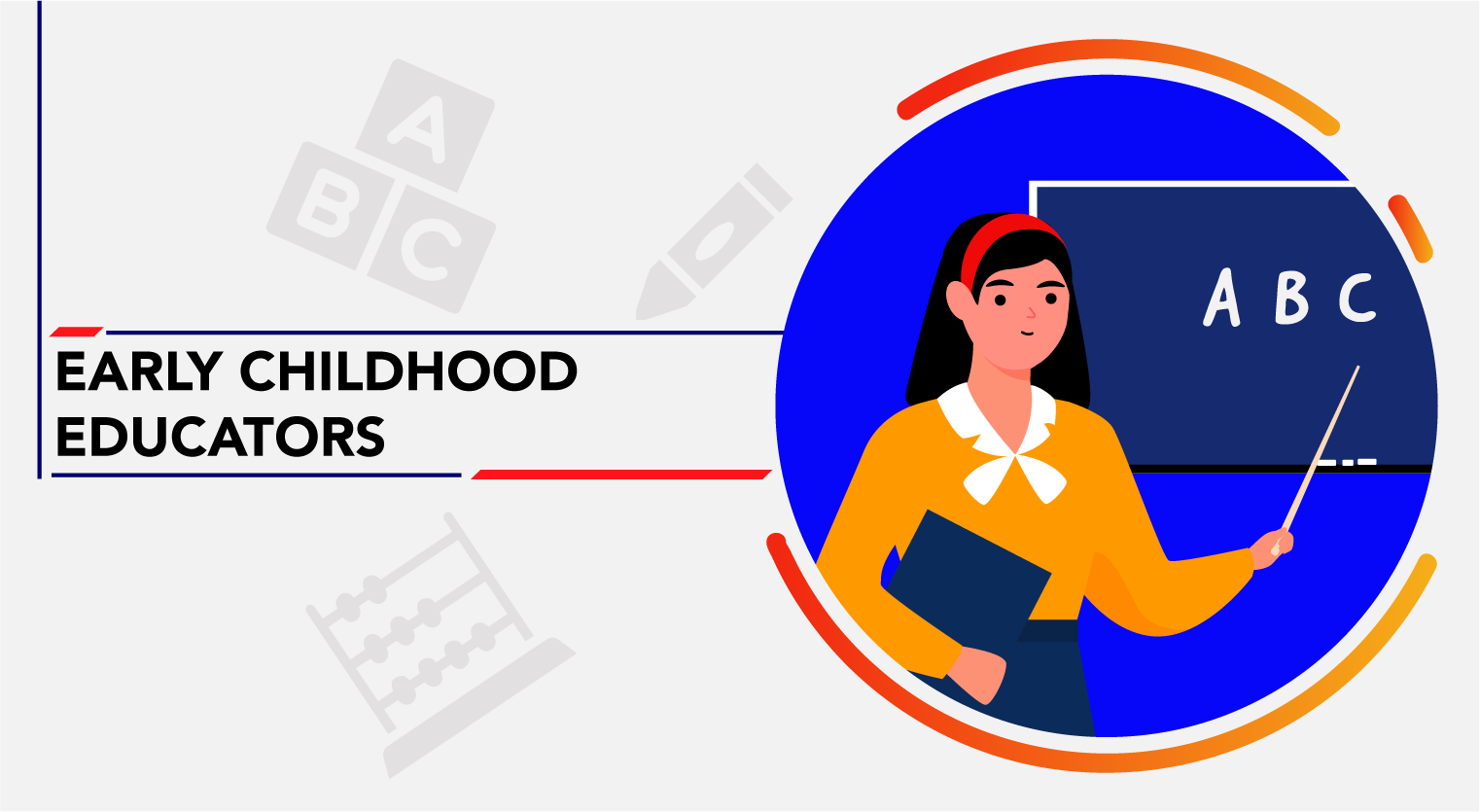 Curious about what other critical jobs you can try your hand on? How about becoming an early childhood educator?
An early childhood educator is a teacher who specialises in the education of young children, helping them develop their academics, social, motor and adaptive skills. It's not an easy job and not everyone can do it. After all, as an early childhood educator, you will be in charge of nurturing a person in their formative years where they are most impressionable.
If this is something you're interested in, you should seriously consider going for Taylor's Diploma in Early Childhood Education. The programme is specially designed to help develop you into a teacher with a deep understanding of the important principles and practices of early childhood education. Taylor's Diploma in Early Childhood Education is especially relevant due to its focus on real-world application through Work-based Learning as well as experiential teaching and learning workshop.
Need another reason to take the programme? Since 2020, the Ministry of Education has made it compulsory for all preschool teachers to hold at least a Diploma in Early Childhood Education.
Why Study Diploma at Taylor's?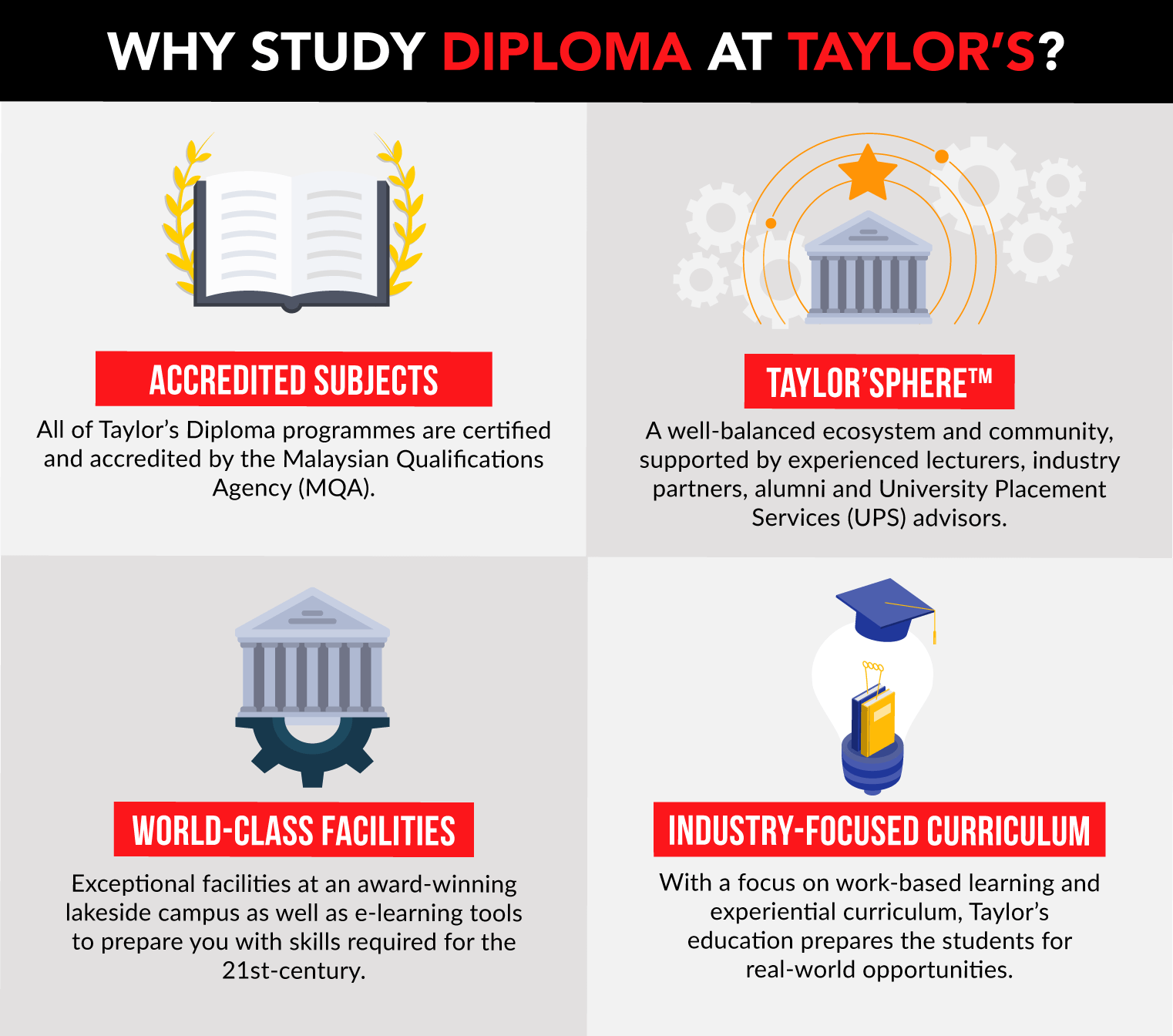 There are plenty of jobs you can go into with your diploma qualification. So which career are you interested in?
Study MQA-accredited diploma programmes at Taylor's College, Malaysia's leading private college and get a direct pathway to Taylor's University, the no. 1 private university in Malaysia.