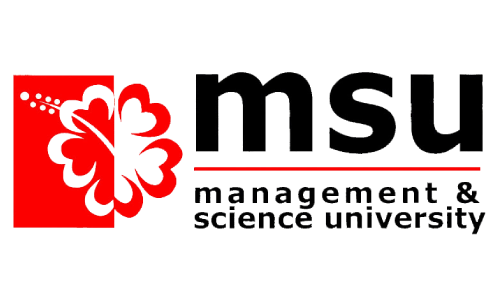 Management & Science University (MSU)
Shah Alam, Selangor, Malaysia
About Management & Science University (MSU)
Established in 2001, Management & Science University (MSU) is a private university and a member of the MSU Holdings. The institution prides itself in the success of its graduates in both academic excellence and soft skills in order to produce graduates that are holistic, balanced and well-rounded.
MSU offers various study levels, such as pre-university, diploma, degree and postgraduate studies for over 170 accredited programmes. This includes Business, Health Science, Information Science & Engineering, Medicine, Pharmacy, Education and Hospitality & Creative Arts.
The Management & Science University is a global university that emphasises on producing a holistic, balance and well-rounded graduate. MSU students are given the opportunity to broaden their horizon and expose themselves to different culture through the The Global Mobility Program (GMP), Global Leadership Program (GLP) and Global Internship Program (GIP) with MSU international university partners in the UK, Australia, Japan, Korea, Hong Kong, China, Indonesia, Brunei, Sri Lanka, India, and Pakistan.
MSU Ranking & Reputation
MSU is rated 5-Stars in the latest MyQUEST rating.
---
Campus Location
Management & Science University (MSU) is conveniently located at the main entry point of Shah Alam's educational hub, surrounded by the vibrant greenery. The campus can be easily accessed through major highways and other forms of public transport.