 Get the flexibility you need in this challenging climate
Start your Foundation in July 2021 and have the flexibility to change courses, restart at a later intake or even withdraw.
Flexible Foundation

Flexible Restart
Start your Foundation in July and have the flexibility to restart in September — at no extra cost! You can even change your mind and switch to another Foundation programme.

Flexible Fee Payment
Option to pay your tuition fees over 6 instalments. In addition, if you choose to withdraw by 30 Aug 2021, you'll get a 70% refund of your tuition fees.

Flexible Commencement
There's no reason to commit yourself to a specific intake. Start your Foundation in July or September — it's your choice!

Flexible Study Mode
Get the best of both worlds with Heriot-Watt's Responsive Blended Learning that features both face-to-face and active online learning.
Foundation Programmes
Foundation in Science

Learn to conduct research at an early stage
Transition seamlessly into a science or business degree
Foundation in Business

Develop independent learning skills
Progress to a variety of business-related degrees including actuarial science, psychology and quantity surveying
Get a high-flying start
Apply for the July 2021 Intake and receive a RM4,000 waiver
Available Scholarships

High Achiever's Scholarships
Get up to 35% tuition fee waiver

Financial Hardship Scholarships
Fee waiver of 50% or 100% for those with financial hardship

Partner Scholarships
Get 50% to 100% scholarships with Heriot-Watt's partner organisations
Pre-Foundation Summer Camp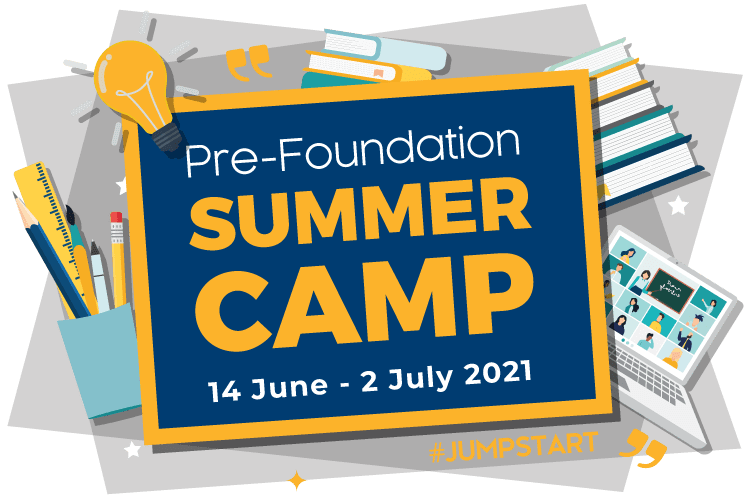 #Jumpstart your pre-university studies
The past year has been challenging with school being disrupted.
Fill in the gaps with Heriot-Watt's Pre-Foundation Summer Camp, a 3-week programme where you'll be exposed to both science and social science subject domains so that you can better decide your study pathway.
Most importantly, it's not all just talk. You will be working hands-on on a sustainability challenge that will build critical thinking, collaboration, leadership and social skills.
Date and Time: 14 June – 2 July 2021 from 9.30am to 4pm (Mon – Fri)
Why Join: Learn self-directed online learning skills, develop a positive mindset through positive psychology and gain skills that are crucial for the 21st century
Fee: The programme costs RM1,000 but will be offset from your first-semester fee should you apply to Heriot-Watt's Foundation programme
Why Heriot-Watt University Malaysia
Study at one of the most innovative institutions in Malaysia.

Global Campuses
A truly international university with 5 global campuses and 27,000 students worldwide

Highly Sought-After
Over 90% of students are in graduate-level jobs or further study 6 months after graduating

High Impact
A world-leading university with strong links to international business and industry

Exceptional Facilities
Excellent facilities, highly-rated teaching and world-leading research activity
Apply Now
Sorry, the deadline for application is over. For more information about studying at Heriot-Watt University Malaysia, click here.