MUET vs IELTS: What's the Difference?
MUET or IELTS? Which English proficiency test should you take? Learn the difference between the two here.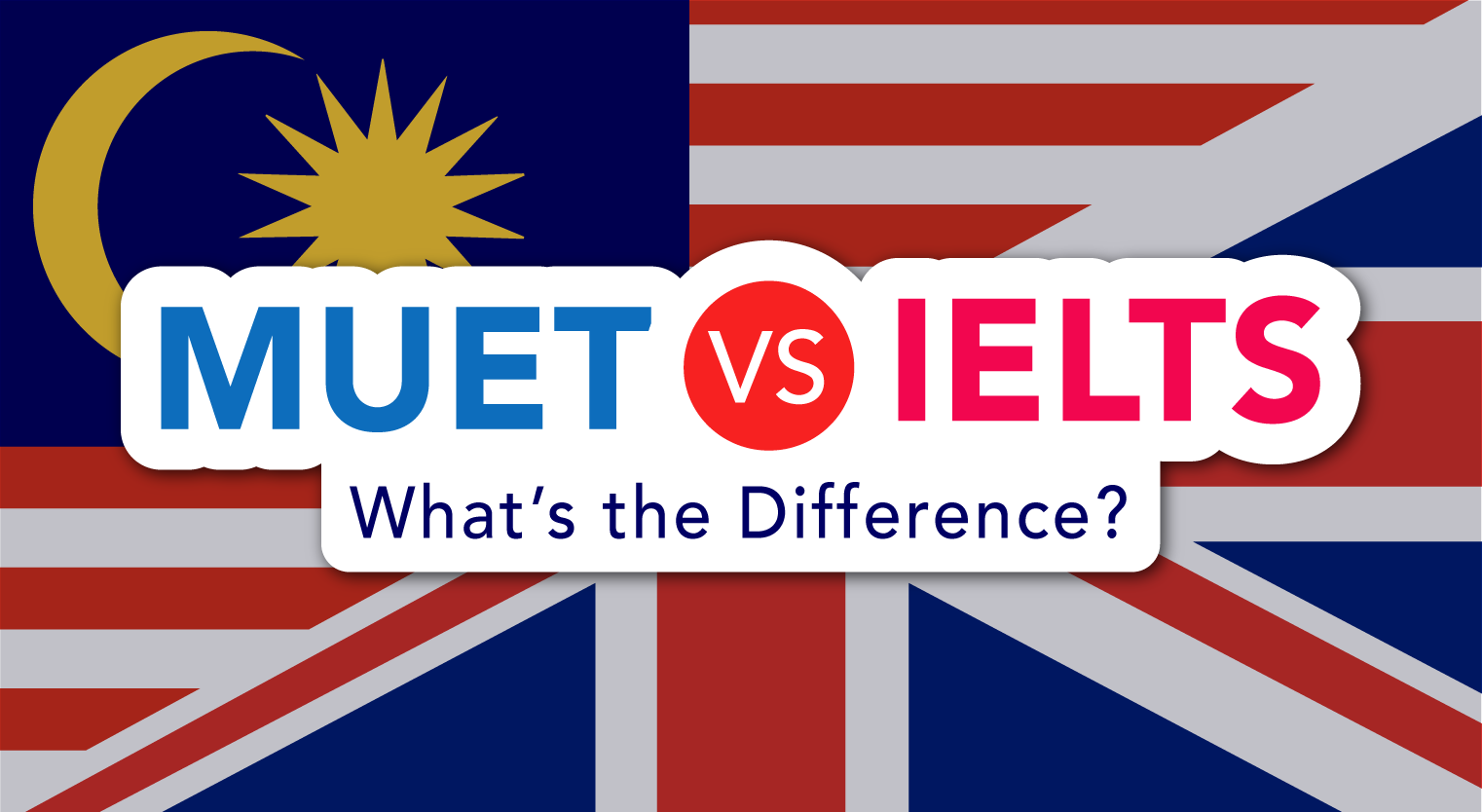 So you need to prove your English language proficiency before you can enrol into a university. Some people would tell you to take MUET while others would advise that you take IELTS instead.
But how are the two different? Aren't they both English proficiency tests? Does it matter which one you take?
If you find yourself asking these questions, then you're at the right place. Here's a quick guide to MUET and IELTS and what makes the two different.
#1. They are offered by different organisations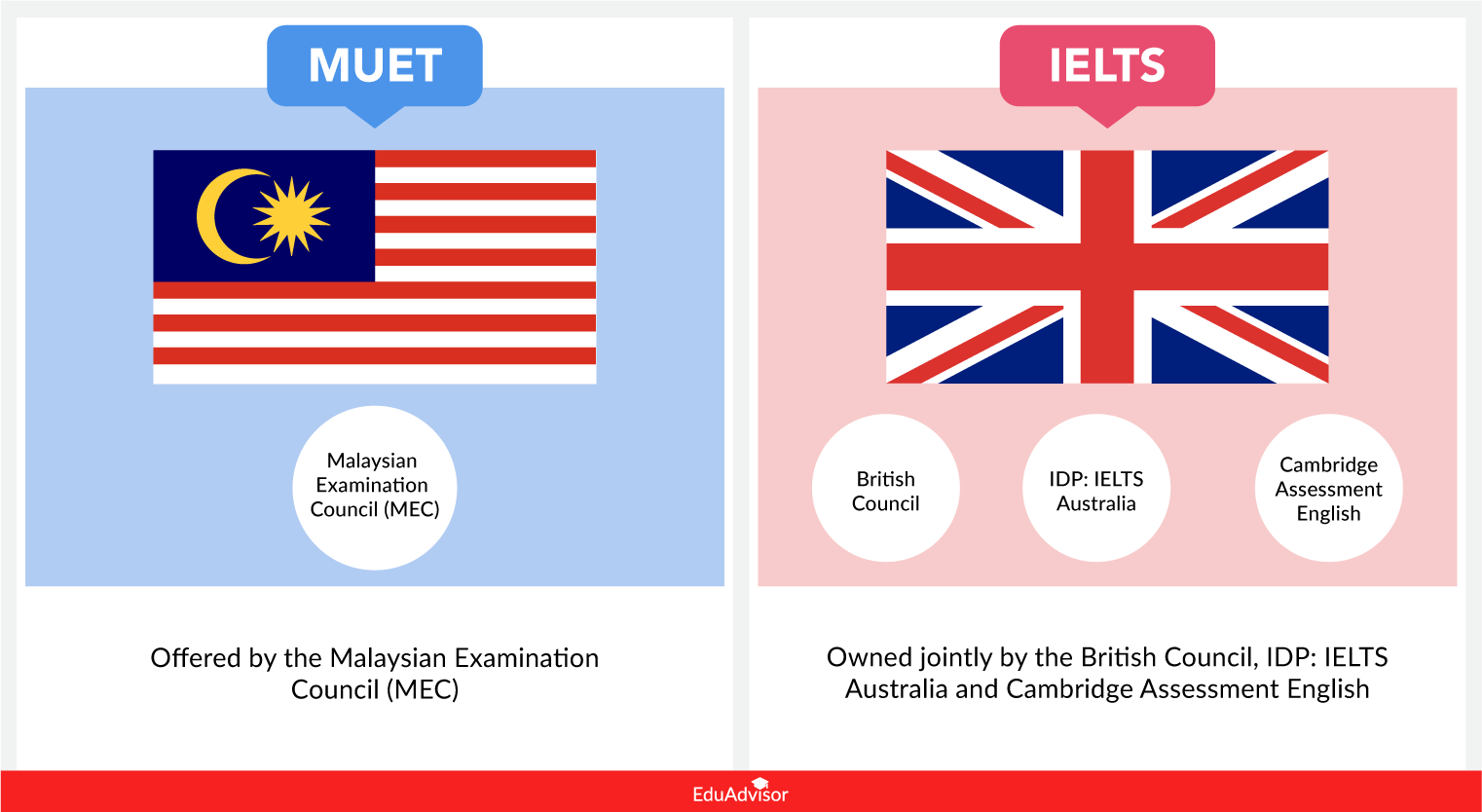 While both MUET and IELTS are used to gauge your English language proficiency through a series of standardised tests, they are administered by different bodies.
MUET, otherwise known as the Malaysian University English Test, is an English proficiency test administered by the Malaysian Examination Council (MEC).
On the other hand, IELTS, short for International English Language Testing System, is a certification owned jointly by the British Council, IDP: IELTS Australia and Cambridge Assessment English.
Your certificate will be awarded by the relevant body depending on which test you take.
DID YOU KNOW
You can also register to take IELTS with EduAdvisor, an Authorised British Council IELTS Registration Centre. Register for IELTS here.
#2. They have different levels of recognition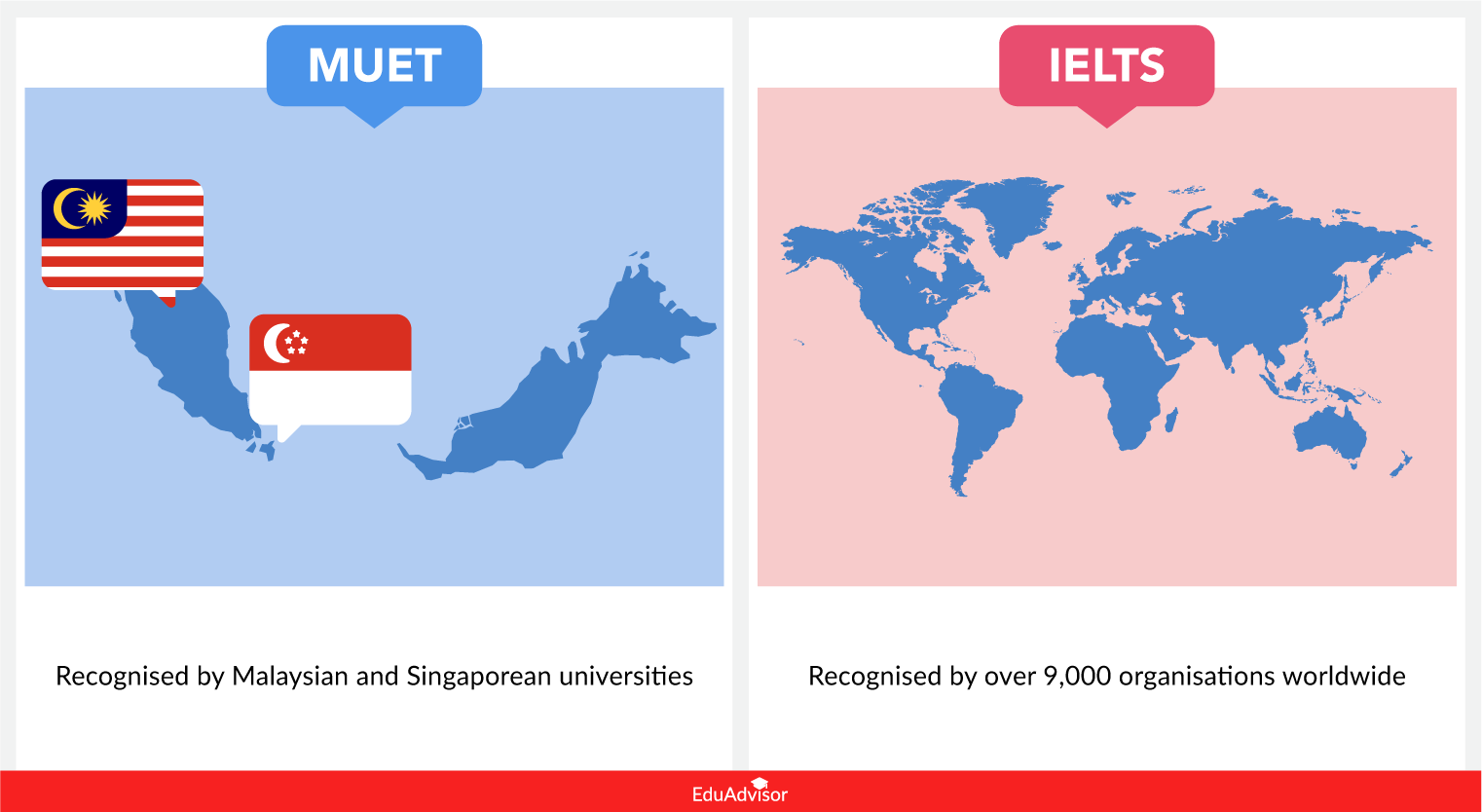 MUET, as made evident by its name, is mainly acknowledged locally. Generally, you can use MUET to gain admittance into Malaysian and Singaporean universities. In fact, most public universities in Malaysia prefer that you take MUET before you apply for your degree.
IELTS, being an international testing system, is much more preferable internationally. The IELTS certification is recognised by over 9,000 organisations worldwide. This makes it a much more preferable test for those interested in going overseas.
It's important to remember that the different levels of recognition accorded to both tests is not indicative of its quality. It just caters to different purposes. If you want to apply for local universities, you're better off taking MUET, though IELTS is also recognised. Meanwhile, students looking to go overseas may want to go for IELTS instead.
#3. One of them can be used for purposes other than studying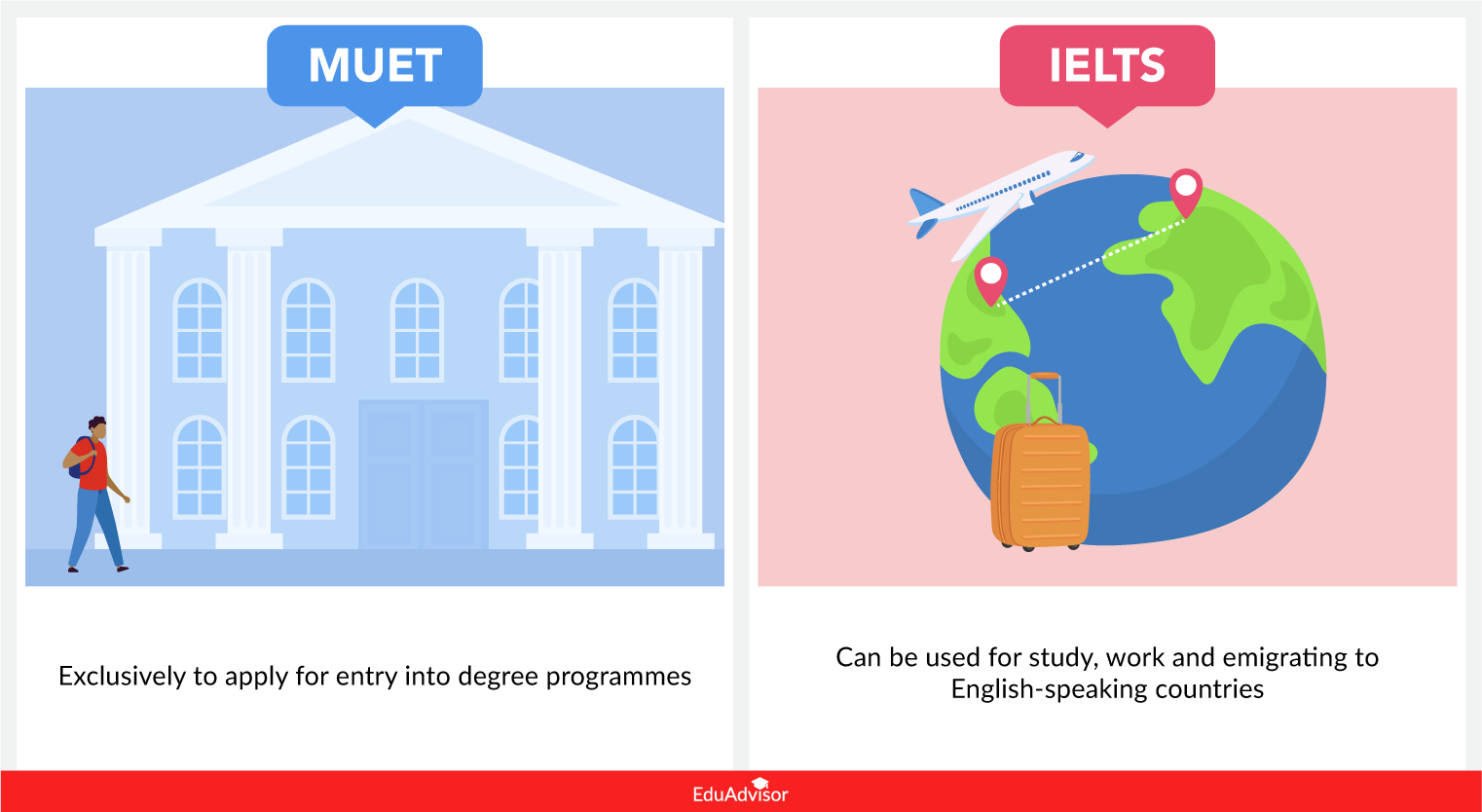 While you can use both MUET and IELTS to get into local and international universities respectively, one of them has uses that extend beyond the education sphere.
Generally, MUET is used when you want to apply for degrees at Malaysian universities. However, it's a different story for IELTS.
On top of serving as a prerequisite for university entrance, IELTS also functions as an English proficiency test when emigrating to English-speaking countries. This is because you will need to prove that you are fluent in English to ensure you assimilate well. IELTS, being a standardised international English proficiency test, is the best and most efficient way to do this.

#4. The tests happen on different intervals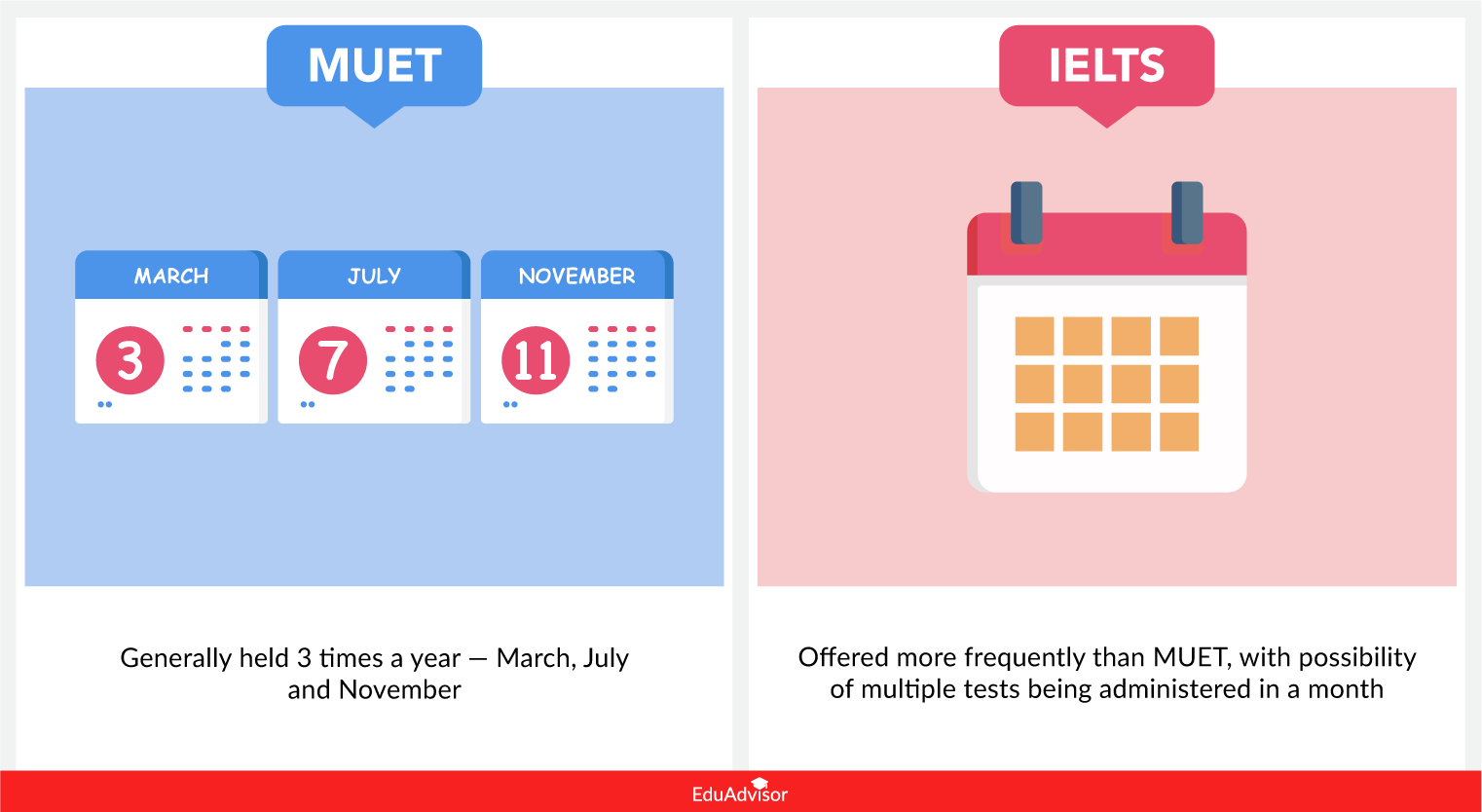 The frequency by which these tests are administered also differ. You might want to take this into account when you're planning when to take the exam.
Generally, the MUET examination is held 3 times a year — March, July and November. If you're planning for a September university intake, you have to make sure you're registered for either the March or July test. Be sure to take note of the results date as well to ensure that you'll get your results before the deadline of your university application.
IELTS, being one of the most popular English proficiency tests in the world, is offered more frequently than MUET. In fact, the test is often administered multiple times in a month. So you don't really have to worry about having to wait long before the next test. You can check for the nearest date on the British Council website.
Reminder: There might be slight changes to the test dates because of the COVID-19 pandemic so make sure to refer to official sources to ensure you're not missing deadlines.
Join Us on Telegram
Get the latest news on events and scholarships delivered straight to you phone.
Join Now
#5. One is a lot cheaper than the other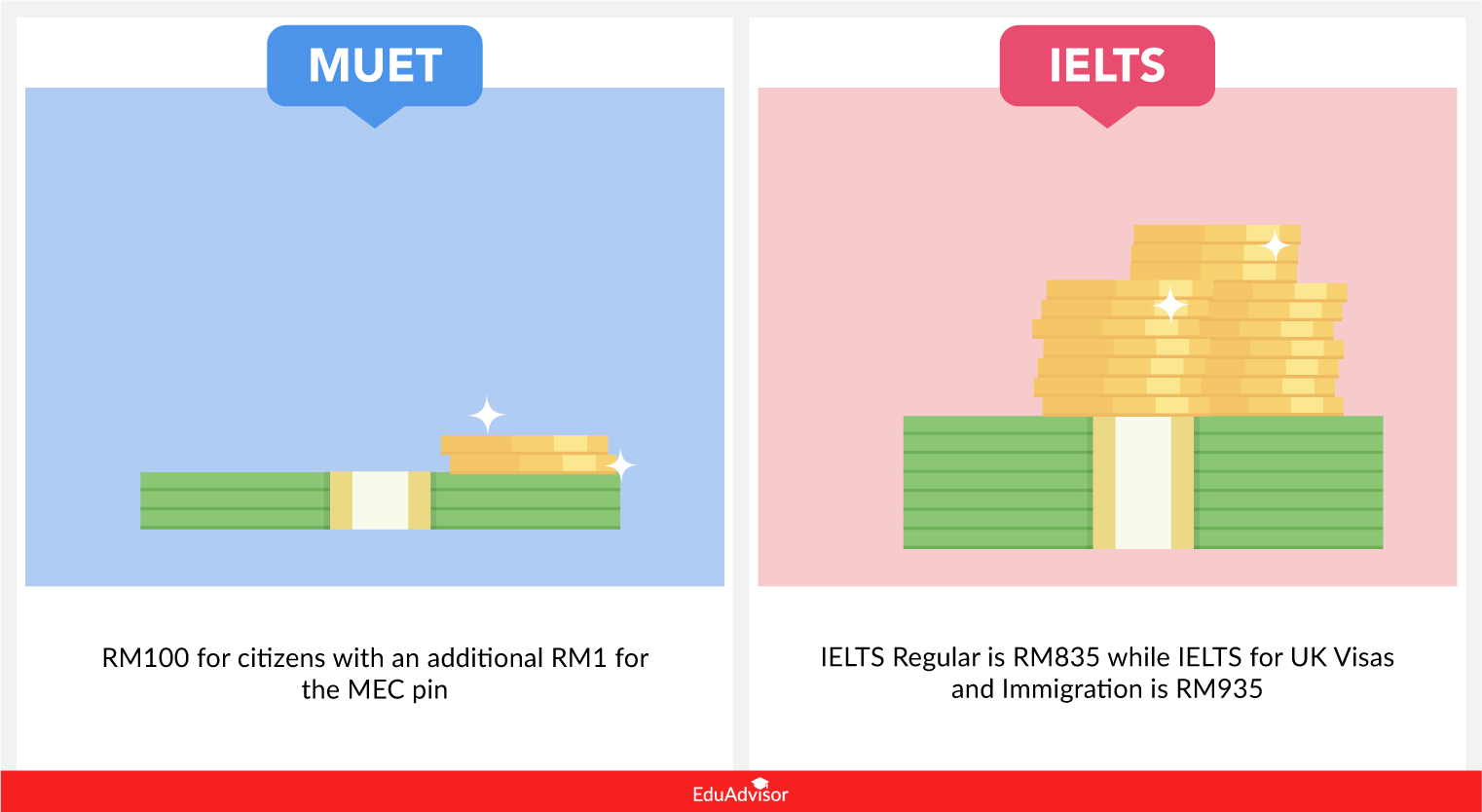 Another major difference between the two tests is the cost of the examination fees.
At only RM100 for citizens with an additional RM1 for the MEC pin, MUET is relatively cheap. A reason for this could be because it's a local proficiency test offered by a local examination council.
IELTS, being an international English proficiency test, is much more expensive. IELTS Regular costs approximately RM835 while IELTS for UK Visas and Immigration is RM935. The test fees also include study materials, practice tests and others.
You may not have a choice if you're planning to go to the UK since it's compulsory that you take the IELTS before you study or work there. But knowing how much the test cost will give you the ability to prepare your finances beforehand. However, if you're planning to stay in Malaysia, you can always opt for the cheaper option.
#6. They have different grade system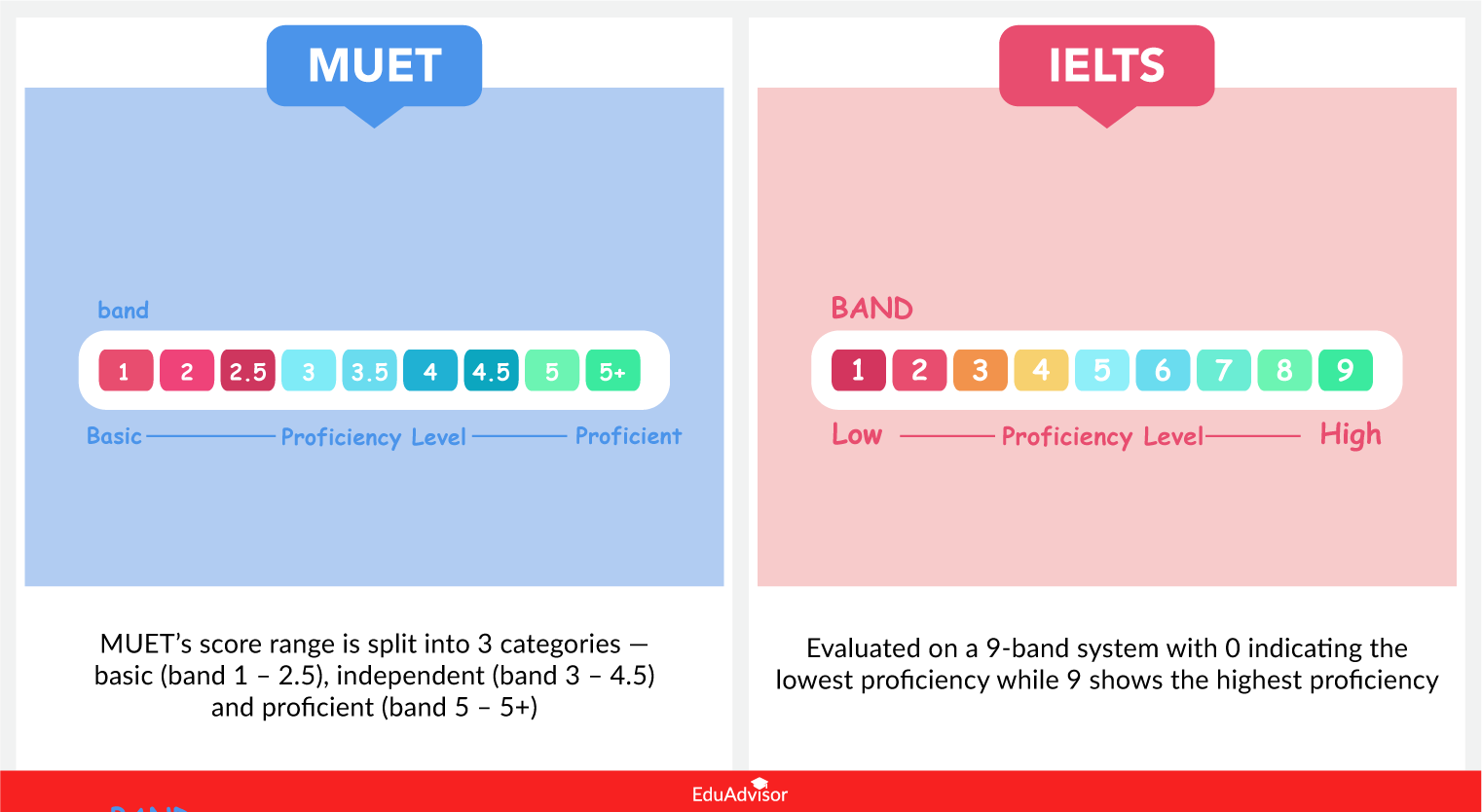 Both MUET and IELTS are graded using the 9-band system but how it's ranked varies.
MUET's score range is split into 3 categories — basic (band 1 – 2.5), independent (band 3 – 4.5) and proficient (band 5 – 5+) — where band 1 reflects the lowest proficiency and band 5+ indicates the highest proficiency. The maximum score you can get is a band 5+.
In contrast, the score range for IELTS is pretty straight forward with 1 indicating the lowest proficiency while 9 shows the highest proficiency. If you did not answer the question, you will be given a band 0.
Different universities and organisations have different minimum requirements concerning MUET and IELTS so don't feel discouraged if you did not do as well as you had hoped for.

#7. They have different validity periods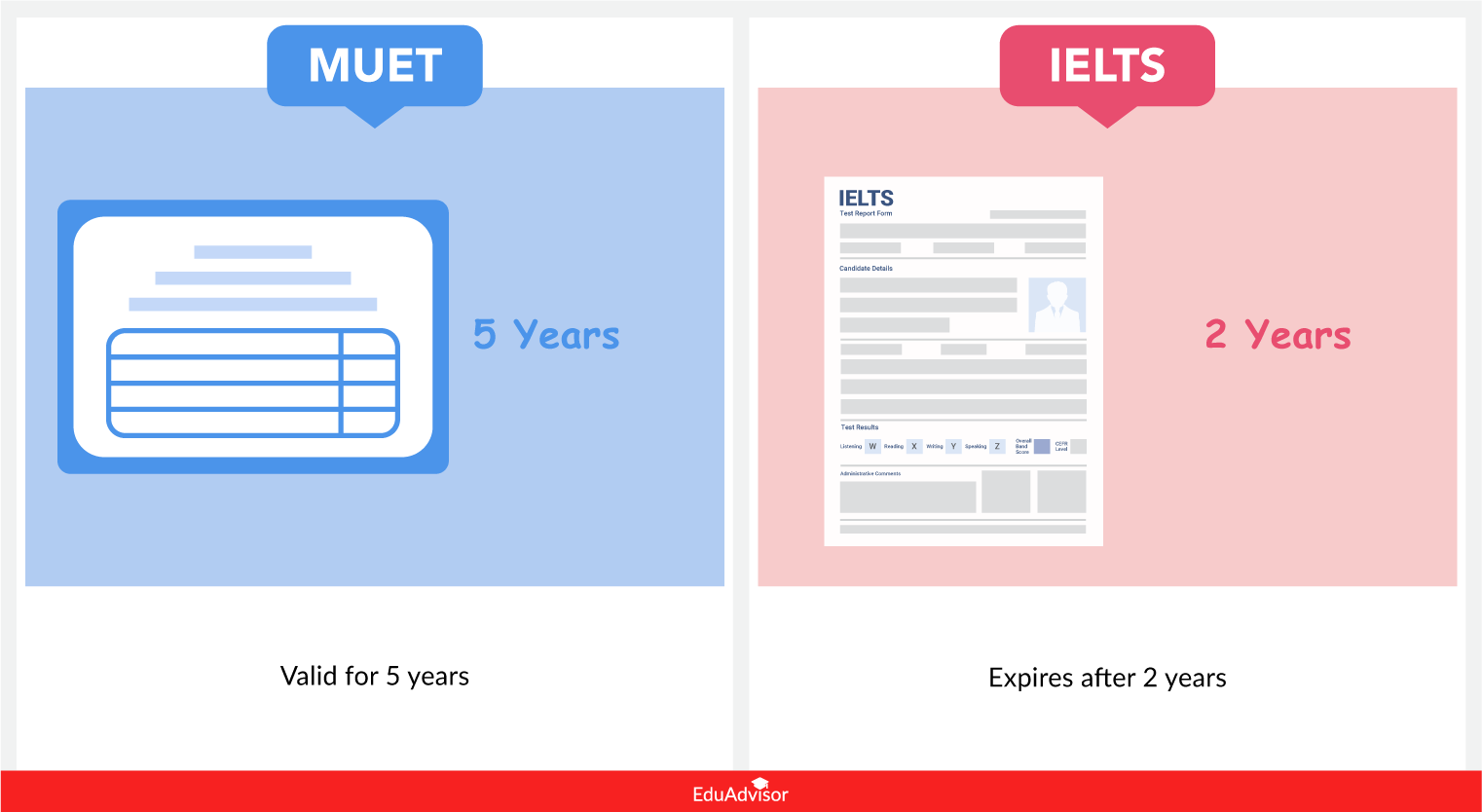 The MUET and IELTS certifications are not valid for all time.
Your MUET results are only valid for 5 years from the date stated in your results slip. This means that you must apply for a degree within the 5-year period. Once that period is over, your results are no longer valid and you must retake the test before you can apply for a degree programme.
If you think that's short, wait until you hear about IELTS. The IELTS Test Report Form actually expires after just two years. Most institutions and organisations rarely accept results that are more than two years old.
When planning to apply for college (or in the case of IELTS, work), be sure to take the validity duration into account. These tests are not free so make sure you plan everything thoroughly to avoid wasting money.
So there you have it. We hope this article has helped clear some confusion you may have had about these two English proficiency tests.
Check out our course guides to learn more about MUET and IELTS.